Mon Jun 22, 2009 10:15 pm
Got some good seat time today, cultivated lettuce, beets, spinach, onions, potatoes, peas, beans, in the large garden.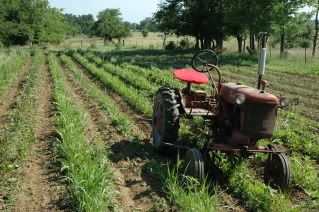 The small garden near the house has tomatoes, peppers, squash, cukes, watermelon.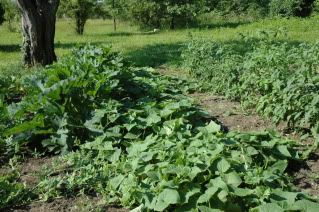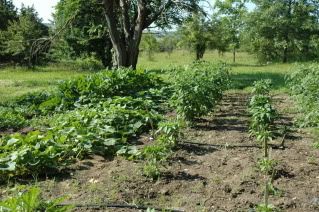 These are on 40 inch rows also and did cultivate with cub but now too big to get the cub in.
Wed Jun 24, 2009 9:37 am
Looks good for being so late, guys!---now keep the WEEDS ,and VERMIN from destroying everything then there might be a good harvest yet!-----I HOPE!!!
Things,(what little I got planted here) look good and growing good,--except the VERMIN, (rabbits, robins, and some sort of small brown bird) are destroying the whole garden this year!
The repellent is keeping the deer away (so far) BUT not the stupid rabbits (the young dumb ones), and there so many of them I cant keep up with shootin them, (do get all I can see)!
The potatoes have some fist size spuds and are waist high and have fallen over ,covering the row middles, so no more cultivating for them.
the onions are making some nice size bulbs this year too.
The late planted peas, peanuts, squash, beans, and sweet potatoes are up and growing, but I think most of it will run out of growing weather, (has now turned into the hot muggy season when nothing grows here in the gardens).

The compost pile is making squash,pumpkins tomatoes and spinach, so that is the main garden this year! thanks; sonny
Wed Jun 24, 2009 2:50 pm
Some of our stuff here in WV are further behind than what you guys are showing and we'll still get a great harvest. Guess it comes with the territory of knowing when to grow what for your location. I'll still be seeding in beans for another few weeks and they'll make it. Just have Brussel Sprouts popping up now. Succession planting is the key. I also do a fall garden and the planting for that won't even begin until late July at the best. The hot season is when the semi-tropical plants like tomatoes and eggplant really shine.
Wed Jun 24, 2009 10:10 pm
We tried the fall planting here and nothing produces from it because the bugs and vermin devour the tender seedlings before they even clear the surface!----I dont know of anyone around here that has any luck with the fall planting, even with being enough days before frost if vermin would leave the plants alone!--I cant even spray fast enough to keep them off! thanks; sonny
Thu Jun 25, 2009 9:08 am
Sonny,

You must have some bad bugs and vermin. My garden is fenced so that pretty well takes care of the vermin. As for bugs, I've been growing organically since 1979 and fall plantings are the least bothered by bugs. The key is understanding the life cycles of the insects. If your plants come up after the particular bug of concern has passed the devouring stage (usually the worm/caterpillar one) then they won't do any damage.

Here's some information based on the article "The perpetual kailyard: Gardening in a winter wonderland" by Jeffery Goss, Jr. in the September/October 2007 issue of Countryside & Small Stock Journal. Mr. Goss is writing from Springfield, MO, which is in USDA Hardiness Zone 6a which has an average minimum winter temp of -5°F to -10°F. I'm in Zone 5b (the next lower one) with an average minimum winter temperature of -10°F to -15°F. I've never seen it that cold however. With this in mind the guide should be pretty accurate.

My average (mean) first fall frost date for the years 2004-2006 is October 14th. Planting dates are based on this.


Summer solstice (around June 21st)
Plant winter leeks in a shaded spot (Blue de Solaise and Prizetaker)
Plant rutabagas and turnips

10 weeks before frost (August 5th)
Plant winter lettuce (Winter Density or Rouge d'Hiver)
Plant endives (Bavarian Full Heart)

8 weeks before frost (August 19th)
Plant winter radishes (China Rose, Chinese White Winter & Munchen Bier)
Plant fall crop of spinach

7 weeks before frost (August 26th)
Plant Italian Black Cabbage (i.e. Black Kale, Tuscan Kale, Lacinato Kale, Cavalo Nero, etc.)
Plant Russian-type kale (Siberian, Red Russian, Ragged Jack, etc.)

5 weeks before frost (September 9th)
Plant spring spinach (Winter Bloomsdale)
Plant arugula
Plant syllvetta (wild rocket)
Plant wintercress and/or watercress (depending on climatic zone)
Plant mache (corn salad)
Brunswick and January King cabbages can be planted in cold frames at this time

3 weeks before frost (September 23rd)
Plant lobe radishes for late fall/ early winter harvest

2 weeks before frost (September 30th)
Plant garlic


Mr. Goss did not mention planting peas for a fall harvest but I usually aim to plant in late July. I hope this information is of some value to those of you who would like to have a fall garden.
Thu Jun 25, 2009 10:30 am
Got in and cultivated some of the garden last night.Looks a lot better than last years garden
Wouldn't take much on that though.Peas, green beans are doing real well.Corn needs ferilizing bad.Was to get some last night but the place in town forgot to set it out.OOPPPSS!!! Tractor all set to go!!! Maybe the corn will spurt real quick and catch up!!Squash, cucumbers and such and doing great also!!! Could be a good year!! Hot and sunny for the next week,need a little rain.Might have to break out the sprinkler.Kevin last year everything drowned
Thu Jun 25, 2009 11:24 pm
You cant even begin to visualize the bug volume that we have to fight here!---Thats why I plant only super early, so most of harvest is over before they come!
Our frost date here is September 14, but I just might try the turnips and china rose radishes,---maybe a few other things again and see what gives this year!----as screwed up as this years weather is who knows.----we usually plant hot weather peas,---in fact they are about 4" tall right now,---the early peas are producing a few, after the rabbit attack,---and now they are after our soys!---wanted to try to make homemade vegetable spread from them.----(and tofu if your into that stuff)----Virginia is looking into the process to convert the beans to usable oil product at home!---just an experiment and nothing lost if it dont work!!!

The garden that we did get planted late is growing fast, so maybe if the spray will ward off the bugs, we will get something from all the weeding!----weeds this time of the year here are also a major battle! thanks; sonny
Fri Jun 26, 2009 6:28 am
I think everyone has a better garden this year I sure do. Peas and beans are on the third picking. Trish is out getting peppers now. The second planting of salad greens are up so is the second beets. I should have silver king in a week to 10 days. Second corn is ready for first cultivation. Cucumbers are just starting and we have a few pumpkins as big as basketballs. I have had few bug problems this year. I sprayed the corn at last cultivation and hit the vegetables at the same time. Now the only problem is the weeds and grass from all the rain last week. Indian corn is over 10 feet high and just starting to tassel. Farmers Market tomorrow. Live well and eat well!
Fri Jun 26, 2009 9:44 am
Wow,

Some of you guys are way ahead of us. All I have harvested is asparagus, rhubarb and lettuce. The early turnips are basically ready and everything else is really starting to pick up now but July and August are our prime harvesting months. Won't be long till the early peas are ready.
Thu Jul 02, 2009 1:44 pm
Green beans,peas are blooming real nice!!Squash,cucumbers and zuccini are doing great.Lot better than last year.Tomatos and pepers coming right along.Hey where is Al Gore ??? Gobal warming my rear 60s here today need heat!!!!
Sun Jul 05, 2009 10:41 pm
Picked cukes, tomatoes, squash, peppers, and zuccini today.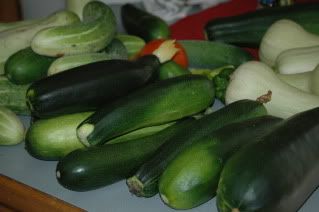 also made 12 quarts of dill pickles
Not enough tomatoes to can yet.
Mon Jul 06, 2009 9:08 pm
Had the first major harvest of the season here as I picked a nice basketful of peas this evening. The peas always mark the real start of harvest season for me.
Mon Jul 06, 2009 10:14 pm
The cucumbers are now a daily pick. The zuchini soon will be with the hot weather coming. Had nice mess of fried zuchini on the 4th! Yum!
Thu Jul 09, 2009 10:58 am
Started selling already!!! Made $1.50 so far.In the jar for next year.Sold zuccini and squash.Peas and grren beans need picking sunday woooohooo!!!Kevin
Fri Jul 10, 2009 9:46 pm
Last weeks rain brought the beetles, and weeds here and I wont be able to keep up with them this year.---most of the gardens are in waist high weeds and was NEVER planted,---got too late!
limas on right and red beans on the left just starting to blossom
cabbage and late sweet tatoes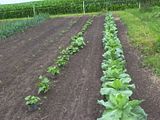 compost pile under this vine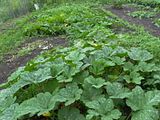 the cotton row
This is some of the stuff I am trying to save from the vermin!