Our corn is just now tasseling and silking!---gotta start hittin it with bug killer!
Today I planted a couple more rows of spuds just to see what they will do!
Have this big ole great smellin Phlox right by the house!
This is some of the seed spuds from storage,---got new spuds growing inside!---might not even grow in the open ground!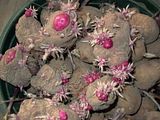 Had the spuds left and had the room to plant them, so might as well test out if they will make anything or not!----not that I need any more spuds, so its just a test! thanks; sonny