Fresh Roasted Peanuts from our garden.
Tenn. Reds
Virginia Jumbos
Oven Roasted Peanuts
We placed shelled air dried raw peanuts, one layer deep in a lightly oiled shallow baking pan and roasted them at 300 degrees F in our oven -- 25 minutes or so. We watched them closely and shook them around in the pan every so often so that they wouldn't burn.We took them out of the oven just short of being done because they will continue to cook as they cool.
Peanut Butter--one of my favorite foods.
Peanut Butter in the making.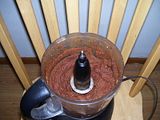 Peanut Butter in jars.
Our Homemade Peanut Butter ---
We took 2 cups of our home grown roasted, unsalted, shelled peanuts; 3 tablespoons of melted butter, 1/2 cup of water,1/2 teaspoon of salt and 3/4 cup of Sugar and Blended them together in the food processor until smooth.
Another favorite of mine---Peanut Butter Cookies
One pan of peanut butter cookies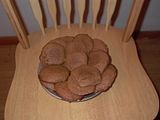 And another pan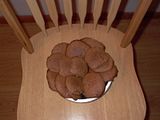 Peanut Butter Cookies
2-1/2 cups all-purpose flour
1 1/2 tsp. baking powder
1 1/2 tsp. baking soda
1/4 tsp. salt
3 cups Creamy Peanut Butter
1/4 cup butter, softened
1/2 cup milk
1 cup granulated sugar
3/4 cup firmly packed brown sugar
1/2 cup powdered sugar
4 eggs
2 tsp. vanilla extract
Preheat oven to 400 degrees F. In small bowl, combine flour, baking powder, baking
soda and salt; set aside.
In large bowl, beat Peanut Butter and butter until smooth. Beat in sugars, then eggs, vanilla and milk until blended. Beat in flour mixture just until blended. (If necessary, refrigerate dough
until easy to handle.)
Shape dough into 1-inch balls. On greased baking sheets, arrange balls
2 inches apart. With fork dipped in sugar, gently flatten each cookie and
press crisscross pattern into tops.
Bake 10-12 minutes or until lightly golden. On wire rack, cool completely.
Store in tightly covered container.
Makes approximately 6 dozen cookies
ENJOY!!
I hope you like.
Thanks; Virginia