Thu Sep 10, 2009 2:24 pm
Sonny, I saw the picture of the onions you grew. What's the secret? I just can't grow big onions.
Thu Sep 10, 2009 11:39 pm
Good loose ground, good drainage but still have lots of water, hot dry growing season, plant VERY early in the spring and use plants instead of sets! ---I also hoe between the plants with my special onion hoe. ---dont pile soil up around the plants if you want big bulbs, now if you only want green eating onions then pile it high to make a nice long white plant,--set type onions work well for this.
Also for the big bulbs, be careful when hoeing or cultivating so you dont break off the big leaves.--these feed the plant and need all of them intact to do the job!
Keep all weeds and grass from ever getting a start in your onion rows or beds,--you can also put them in wide rows to save space, but dont plant them too thick, as they swell and start getting crowded rather quickly!
I had 6" between mine this year and they were pushing the next guy out of the rows.---we had lots that were a one pound average with many going 2 1/2 pounds. I have them in the dryer now and they are looking pretty good so far as to the curing process.
I will get a couple pics of the dryer posted for you too because this is the way to keep them from rotting before they get cured. thanks; sonny
Fri Sep 11, 2009 9:56 am
Here are some pics of the big sweet onions in the dryer!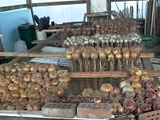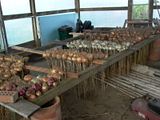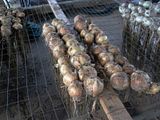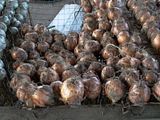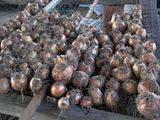 I dont know how many bushels we had, but this dryer can be made to any size!---we put it in the greenhouse where the heat and air flow is good.
You can see in the pics. that the skins are curing real good and the tops hold the onions in the 2 x 4 mesh really good!---takes a little time to load them into the slots, but worth every bit of it.
The varieties we planted were:(these were plants)
Reds
White Bermudas
Spanish
Yellow Bermudas
Walla Walla
Candy
Texas
Big Daddy
and a quart of sets
The varieties that might work for your are will require a little research to see what might be best! thanks; sonny
Fri Sep 11, 2009 10:01 am
Wish my onions turned out that good. You are doing something right.

Billy
Fri Sep 11, 2009 6:47 pm
Sonny,
That is awesome.

I need to try a few next year.
Sat Sep 12, 2009 9:56 am
Just showing it like it is for us. Have tested this for several years with good results. Some varieties are not long term keepers----never had good luck storing red onions at all. The others do fairly well, but they are limited in shelf life. So eat hearty if you over plant as we do. We have found they store the best in an area where you live, have stored them in the basement but had mixed results--the best storage we ever had was in the unfinished front room next to the furnace vent. Thanks; Sonny
Sat Sep 19, 2009 5:47 am
Very nice Sonny. I'm not sure that I've ever seen anything but green onion sets for sale around here. How are they different from the plants?
Sat Sep 19, 2009 10:12 am
Sets are a small dry bulb (mini onion) and the plants are the long green dudes. Plants are sold by the bundle, bulbs are usually sold by the quart. Thanks; Sonny
Sat Sep 19, 2009 6:22 pm
Thanks Sonny, I've been using onion plants. I suppose I'll have to work on locating one of your "special onion hoes"......thanks for the information.
Sun Sep 20, 2009 9:39 am
I made mine. Just take a regular large hoe and cut the sides down to about 1 inch wide in the center, then sharpen the edges with a big grinder, make a good cutting edge on the bottom, and you have your onion hoe. There are ready made ones but I do not know where you would find them. I also use mine between other close growing plants. Saves a lot of hand weeding. Thanks; Sonny
Sun Nov 08, 2009 7:39 pm
Took a couple pics of these today.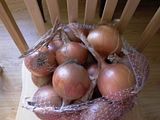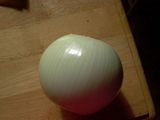 The top pic. is after they have been in the dryer and have aged good!--NOW you can bag them and store them,---this bag has around 35 pounds in it!---they are heavy!
Notice that I have lightly removed some of the loose skins, BUT dont rub off the roots!---dont take any skins that are tight!
This is the golden brown clean color that you should end up with!
The bottom pic. is one that I cleaned for Virginia to make chilie with( it was a 1-pounder) and it was excellent! Thanks ; sonny
Thu Nov 12, 2009 10:15 am
Nice onions. I like how you made your drier.
Thu Nov 12, 2009 11:03 am
Nothing like a guy knows his onions!!!!111
Thu Nov 12, 2009 9:04 pm
Thanks guys!-----If you make a dryer,---just size it for your needs! We had over 750 onions on this one, so its a lot bigger than most folks would need. they all did cure out really good this year! So far they are keeping pretty well too. we have had them until April of next year, the max shelf life for most of them they say is around 3 or 4 months, but I think it actually is longer than that! thanks; sonny