Thu Apr 08, 2010 10:16 am
Always read the label. This is not negotiable. The label will list plants that are OK with the product. However it probably won't list plants that can be injured with the product. Read and follow the safety items. Please take this very seriously. Among other things I had to sit through a 3 hour video on safety as part of getting an applicators certificate.
Thu May 06, 2010 7:38 pm
For the last couple of weeks we have had a lot of nice tender radishes, that we gave away,and the peas are up, except 1 variety rotted in the ground so will see if I can fill in that spot with the hardy kind.---spuds are a foot or more tall and need to be mounded up soon as well as more chems applied to the rows to help keep them clean.--The garlic is over a foot tall, looks good so far and the strawberries are flowering heavy plus have big green berries on the plants.--We only have a half row of onions this year, but that will do for our use. thanks :sonny
Thu May 06, 2010 9:16 pm
hey sonny been thinking a lot bout you. been eating broccoli and scratched a few red taters, corn butterbeans and tamatos lookin good. keep on keepin on
Sun May 09, 2010 11:13 pm
We had frost again last night and the high winds broke off our pear tree!--it was loaded with little pears this year too!
our taters are over a foot tall and need the mounds started soon!---today I tilled up the rest of the fall plowed ground, covered with a crop of weeds and grass!---chopped it up really good since it was so dry! thanks; sonny
Wed May 12, 2010 8:44 pm
Our mens' group from church have been busy also. We have sweet corn 4'' tall. Will have to sidedress in about a week. Potato's are about 6" tall. Sweet peas struggled but are slowly filling in the row. Didn't help having old seed! 1st time we tried spinach. I didn't know what it looked like when it is little. Had to wait untill I could distinguish the rows to start weeding..rain wiped out my planting tracks. Cauliflower,cabbage, and broccoli looking good too. I'll sidedress that in two more weeks. Guess I better figure out how to put the sidedresser on the cub..lol..Strawberries have a few berries 1/2 red. Won't be long now if we get some heat. Still have some plowing to do yet. I found this interesting..my cub pulled the plow with ease in 2nd gear. My JD 850 with 28 horse and better than twice the weight couldn't pull 2-12's. Need alot more weight in the rear end. Tires a full of fluid. Wheel weights for it cost $500 for only 100 more lbs..ouch!..Greg
Sat May 15, 2010 8:28 pm
The spuds got buds!!!---they are almost knee high and today I did get a little dirt drug up around the plants!---It was kinda wet, but I had to get it done before they got any bigger and then I couldnt get between the rows!--It was a tight fit today, but ole Troy-built and hiller just did fit,--kinda leaned some of the plants.
Strawberries are starting to turn but the damn voles are hackin them off!---I did set a couple mouse traps with a dab of peanut butter on the trigger and got a vole an hour later!---THIS is going to be a slow way to get them, but had to try something to save a few of the berries ,---Been shooting the birds with the 12ga. and it kinda keeps them moving when their buddies dont return.!
Garlic is getting tall and big stalked,---onions are a little over a foot tall,--the few peas that came up are 10" or so tall and look good.
Dont have the corn planted yet or greenbeans,--or the soybeans!--tomatoes in the flats are 4 or 5 inches tall and the ground is cold and wet, so I dont think this will be a tomato year again this year! thanks; sonny
Mon May 17, 2010 10:15 am
Plastic went down with the irrigation tube last week. Cub did a great job. Transplanting gladiolus and snap dragons this morning.... the vine crops, peppers, beans, lettuce,and tomatoes tonite. I get to drive, my spouse does all the hard work. Need an extra body to sit back there in the extra seat with her so it goes faster. Transplanter too big for the cub. Got a video of laying the plastic with the cub. Just can't figure how to get it posted.
Last edited by tractordad on Mon May 24, 2010 7:03 pm, edited 1 time in total.
Mon May 17, 2010 6:54 pm
Tomatoes, peppers, lettuce, spinach, beans, egg plant all went in tonite. Spouse looked happier planting vs driving!
Yup, that's me!!
Found a pic of the cub laying plastic
Mon May 17, 2010 9:07 pm
Thats quite an operation ya got goin there!!!---looks great!---keep us posted as the season and crops mature!---keep the pics coming ! thanks; sonny
Mon May 17, 2010 9:31 pm
Took the cub on a road trip today. Traveled down to a farmer friend whose equipment is too large to plow a garden. He let's me use his JD71 planter for sweet corn so I return the favor by plowing his garden. The sod(as in yard) was so full of roots it litterally just stood straight up. I even had cover boards on!! Then drove another 4 miles and did a co-workers garden. Was a great day.. Greg
Tue May 18, 2010 12:06 pm
My daughter's home from college so she posted this for me. You can seee the spool of T-tape irrigation tubing going down at the same time.



Mon May 24, 2010 12:28 pm
Well most of my garden is in!!!! Wooo Hoooo !!!! I have some plants to put in tonight.Trying to catch grass and plant at the same time.Rest of the corn goes in weds!!!! Hope its going to be a great year!!!! kevin
Mon May 24, 2010 5:34 pm
Can't get too much in the lot in the big city, but I did plant some peas (rabbits like them) and just sowed some carrots and brussel sprouts. I had good luck with bare root brussel plants a few years back. From GA if I recall.
Lots of folks baling hay over where the land isn't so pricey (Mass).
Been eating asparagus for a month now....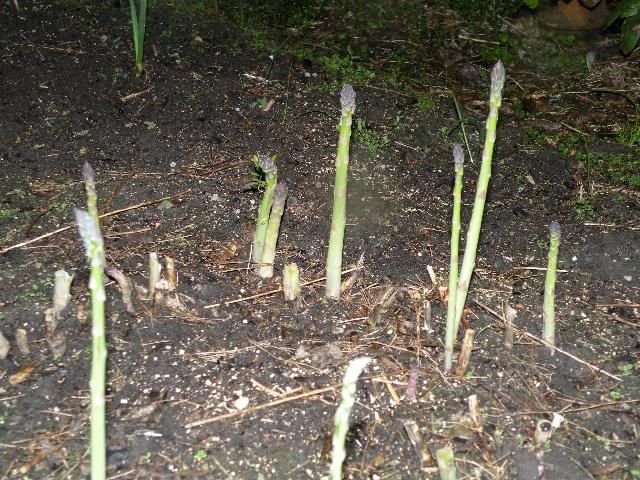 Mon May 24, 2010 10:37 pm
Nuts...sprayed the driveway with 2,4D and glyphosate. But I didn't see the Mrs. bring out 6 tomato plants and put them on the hood of the cub cadet. I was busy in the garden picking strawberries. They were only on it for maybe 20 minutes. Remember earlier I agreed with DanR about safety or....oooops.. I got 6 dead plants now. Just the vapor of 2,4d will KILL tomato's...
Greg
Tue May 25, 2010 5:39 am
RATS! Sorry to hear about the tomatoes. Accidents do happen. I was loading the hopper on the side dresser and managed to fill my shoe with ammonium nitrate. I have to remind myself of safety sometimes.