Sat Apr 16, 2011 8:33 pm
I've been wanting to do this since Sonny started this a few years ago. It just seems there's no time now days. We started breaking ground the other day, usually this is done in the fall but this year we're running behind.
This is a good look of what Missouri clay soil looks like when plowed. I guess you're wondering what could possibly grow in this…
Hopefully this… with a little fertilizer. …
maybe a lot of fertilizer!!!!
Last edited by Jack fowler on Fri Apr 22, 2011 4:48 am, edited 1 time in total.
Tue Apr 19, 2011 8:54 pm
Looking good Jack, yeah that soil looks a bit different than what I have here in central Illinois.


Sonny, if I had a canoe I could prolly float 20 miles to ya, d*mn rain. Doesn't mother nature know I have 149 pounds a taters to get in the ground!! Oh the pressure, lol. I keep telling myself "patience is the key". That's so hard to follow this time of year.

adam
Wed Apr 20, 2011 8:31 pm
Hey Jack!---sweet corn or field corn in there???---It did turn over good,---now all ya gotta do is get it worked down---I didnt get any fall plowed last year either, so we in the same canoe without paddles!--LOL!---
(There are a couple pics of my plow/till job in the upper part of this thread!)---Shiggy got his fall plowed, so he would be ok, EXCEPT for the 2.1 rain we got over the last couple days!,--AND more in the forecast!---I want to do a late planting of taters, so maybe 1 of the plantings will make something!(and NO I am NOT planting them in the garden that had the floodwaters on it last year! LOL!)
So far the 1,400 onion plants look good!---no sun here for several days, just cold wet wind every day and night---Didnt get the weed preventer put on the taters yet,(to muddy to walk in there right now)
Shiggy,---put them seed taters in the coldest dark place you have until you can plant them!---also turn the bags over every couple days to confuse the sprouts which way is up!---it will slow the sprouting down a little for you!---mine are in this supercold basement and they are still sprouting kinda bad, so this time of the year they just want in the ground!

I still have a few stumps to carry down to the burn pile when it drys up some, (dont want dirt/mud sticking on them)---Am going to try to disk up as many smaller roots as I can with the big IH 14' disk, then hand pick some more, but need it to be dryer to do that too!
Thats kinda where we all stand around this area!---How you other guys getting along??? Jump in here and talk to us,---also put up some pics of your gardens/grounds/equipment/ etc! LOL thanks; sonny
Wed Apr 20, 2011 9:02 pm
Sonny you should venture down to the Project Forum. I've been posting some pics of what I construct at work. Hopefully you'll find it somewhat interesting.

Picked up a wide frontend for our 656 today. Tractor is still up in Polo. Now gots to find me a 4 bottom for this fall.

Thanks for the heads up bout turnin the bags of taters. As long as they don't start to shrivel I think I'm good.

Adam
Fri Apr 22, 2011 4:47 am
Shiggy,
Everybody that looks at the soil around here always says "you should be using this for making brick rather than trying to grow things in it".
Sonny,
Sweet corn in front (what you're looking at) and field corn in the back part of picture. Almost got dry enough to work yesterday, but we're looking for a canoe now.
The problem is with this heavy clay dirt the water just sets in puddles for days.
Fri Apr 22, 2011 5:00 am
shiggy, you all got some pretty soil so ark and no stones WOW
Fri Apr 22, 2011 5:14 pm
Yes it is.
I still cuss when I work the ground where they dug in a new water main that goes through our field. I do not think the kept seperate piles for topsoil and clay. But the more I keep working it and plowing the garden under, it's bound to get back how it was. It's going to take a long time, I know.
Still getting rain rain rain here. Garden is soaked. Work will prolly call if it rains again tonight, might have to put some Water On Pavement signs up. Ditches are running at max. I guess I could go throw my 149 lbs of taters up in the air and let them plant themselves when they hit.
I think I'll do a tune up on our 140 this weekend. Might even grab another roll of concrete wire and make some more tomato cages. So I guess this weather isn't all bad, there's always something to do.
adam
Fri Apr 22, 2011 9:44 pm
Jack! We used to have your "red clay" over in Woodford county at a farm we sold in 2000, that paid for the one we have now.---the water would never drain off it either, until it was too late to plant a crop!
We had nother 1.5 inches of rain today, and more coming from the looks of it!---that makes 3.1 for the week so far and week not up yet!--almost got dry enough here by the window garden to plant lettuce, but the rain started up again!

The onion plants look like snorkels sticking up out of the wet ground, but are getting new growth, so they have started the cycle, and have roots established, now comes the tops!

Did get a Brinley plow to mess with!-LOL! ----Gotta git!---Storms coming up! see ya!!!! thanks; sonny
Sat Apr 23, 2011 9:32 pm
.4 of rain last night again,--water standing everywhere today!---the forecast for the whole next week dont look good eirher! thanks; sonny
Tue Apr 26, 2011 12:33 pm
Nother 1.2" rain last night----too wet to garden, so I made a couple hand tools to use!
Cobra head look-alike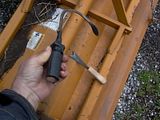 snake tongue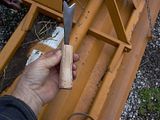 These work from laying on the creeper! ( not much room for long handles on there)---I tested them in the strawberry bed and they did a good job!----Cobra head will do good in the onions, and other close spaced plants,---snake tongue is to go after the big tough stray weeds that show up later in the season!---also good for making plant holes if your hands wont do the job!
Our strawberries have started to bloom,---and the fruit trees are in blossom too!
How you guys commin on your end?? thanks; sonny
Tue Apr 26, 2011 6:09 pm
Plowed a small piece of the garden today. Disked it this afternoon. A little wet, but I'm hoping it will dry out, in the net day or so. Time to get some things planted. Ed
Wed Apr 27, 2011 9:36 am
Rain, and more rain...wettest April on record! As of 2 days ago, the creek hadn't covered my 700 cabbage,ect..As of last night..not so sure anymore. The hillsides along roads a giving away and sliding across the roads.
Update on Jang planter..I planted spinach in a stale seed bed. Where the "shoes" stayed in the ground it looks like a pretty good stand. A smooth, freshly worked seed bed will be a must for this planter. Remember: I have the two row, 3 pt hitch model. A single row would not have as bad of problem.
Started painting a cole mx12 planter. Found a fertilizer support arm broke. Cast iron tooo. Would JB weld work? Greg
Wed Apr 27, 2011 10:33 pm
JB might hold, ---but I would just weld it with cast iron rods and then you know it would hold!---cast is easy to weld if you follow a couple simple steps,---pre-heat the parts---then weld,---then keep the pre-heat going for a while then slowly turn the pre-heat off and put the part in dry sand and leave a day or two to cool to normal temp!---I usually skip the sand step and just lay the part out of the cold draft and let it cool that way!

We are still getting hammered with rain and high winds here too, so still no gardening!---Did get a little grass mowed/bagged and dumped on the gardens to plow/till under when it does get fit!
Got the 185 started today and may have to try to mow some of the wet stuff with it, OR use the DR weed wacker!---I have mowed the whole yard with it before,--takes a while!--plus you cant catch the cut grass with it! thanks; sonny
Fri Apr 29, 2011 12:28 pm
Jack Fowler wrote:Everybody that looks at the soil around here always says "you should be using this for making brick rather than trying to grow things in it".
That would be a Yup. Got more clay then decent soil.
Been waiting for about 1 acre of pasture to dry out to convert to a deer food plot. Plot is located on the top of a ridge, never been plowed, predominately clay, very little top soil, a lot of rocks sprinkled in and the occasional tree root system. WD Allis pulling 2-14s. Tough going. Plenty of power, traction is the problem.
Managed to get about 1/2 acre plowed. Then picked up about a ton of rocks off the 1/2 acre and a bunch of tree roots. Reminds me of growing up in west central, hill country, Iowa. Every year, late February, early March spend several days picking up rocks and hauling them to the ditch.
Sat Apr 30, 2011 1:31 pm
Enjoyed the pictures fellows!