I FINALLY found this unit that I have had forever but couldnt find it!---It turns over, but its tight and is noisy.--I put oil in the end cups but still tight, so might have to do surgery on it!
I dont care if the charge side works or not,--just need the starter side.---I want to mount it on my Lincolin welder so I dont have to use that damn wind up rope that it came with!--if my idea works, I can start it in the winter to get power for the house when power goes off.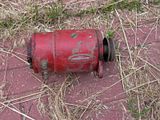 Looks to be in good shape outside the case, so hope I get lucky on the inside!
Never did get the one fixed on the 185, still have not got the hyd. leak found either!---I am about ready to junk that pos tractor! thanks; sonny