Fri Oct 08, 2010 9:41 pm
Hi All,
I posted a couple of weeks ago about my "new to me" Lo-Boy 185 and you folks provided me with some great information and I thank you all for it. As I use the tractor more I'm getting used to it and it's becoming much more familiar, on the down side I'm also noticing things and the title of this post is my biggest concern. How much blow by is normal? It seemed early on that I noticed it coming out of the breather cap when the tractor was working hard or under load. Now it seems, since I'm paying attention, that to a degree there is blow by coming out of the cap at all times. How serious is this problem? Is there anything I can do or is it just compression leaking past the rings that idicates that the motor is getting tired? Is this a death sentence for my motor? Any info would be greatly appreciated.
Thanks again,
Jeff
Fri Oct 08, 2010 9:55 pm
Jeff:
I am no mechanic.. nope.. not in any way shape or form. However, both of my Cubs have some blow-by from the dipstick area and this seems to be kinda normal on older engines. How much is too much
is a question that others with greater mechanical ability must answer. I don't think it is a death knell for the engine, but something that may bear watching.
Have you tried using SeaFoam as an additive to the fuel and to the crankcase
Or maybe Marvel Mystery Oil
Both seem to help the valves and rings reducing blow-by and valve noise etc., and I have used it with success. Ellie my 48 has considerably less blow-by than she did before the SeaFoam prescription.
Fri Oct 08, 2010 11:59 pm
On a newly rebuilt engine you would expect zero or close to zero blow by. The more worn the engine, more blow by.

Do you know the history of this tractor?

Rings might be stuck, so try Seafoam in the oil and fuel and work the tractor. Perhaps this will loosen up the rings. Perhaps not. After about 10 hours of good hard labor conduct a compression test, dry then wet. This will provide considerble information on overall engine condition. Vacuum test will also provide some good information on over all engine condition.

You might try a heavier weight engine oil.

If the engine/tractor performs the required tasks, use it for awhile.

Death sentence for engine. No. Engines can be overhauled. Maybe the engine is due for an overhaul, maybe not.
Mon Oct 11, 2010 11:15 am
Even the older engines had blowby comming out of there breathers. But its not actually blowby its all the rotating parts and the engine taking in air and exhausting the air when the pistons go up and down its actually breathing. You may not notice it during the summer or hotter temps but they all breathe. So having a little so called blowby is normal. You shouldn't see oil dripping or things getting wet from it. An engine that has crankcase breathers will show some "blowby" as its called but really its not. Think about it when the piston goes to TDC the breather takes in air because the crankcase area gets larger, when the piston goes to BDC it expells air because the crankcase area is smaller.

On the older cars that had breathers in there oil caps we would soak the cap in kerosene to clean them. Then blow them from the inside out to remove the sludge/carbon build up. the oil cap being plugged up and smother an engine too it has to breathe freely.

I noticed by using seafoam in the gas tank and engine crankcase it will free stuck rings and reseat them, plus free sticky valves too. You will notice a big improvement in its performance too just after one tank of gas with a seafoam treatment. With the rings being free'd up the blowby will be reduced too.

I never really believed in additives until i tried seafoam and i can actually see the difference. Years ago we would run mobil upper lube in the carb to lube the rings/valves. The only other additive we used was CD-2 for stuck lifters. It would quiet the sticky lifters by freeing them up. We did this at the dealers so we could sell the used cars.
Tue Oct 12, 2010 7:05 pm
Thanks guys once again for all the great information. I went ahead and put the Seafoam in both the crankcase and the fuel tank. I put 8 ounces in each, is that about right, and should I change the oil and do the Seafoam treatment again soon? The engine runs and starts like a new one, I sure hope the engine is ok, it doesn't excatly have "loads" of power especially in 3rd gear, but I suppose thats normal and the extra weight of the loader probably doesn't help. If it does need a rebuild down the road, it's definately worth it Here is another photo since I've gotten it cleaned up.
Thanks again for all the help,
Jeff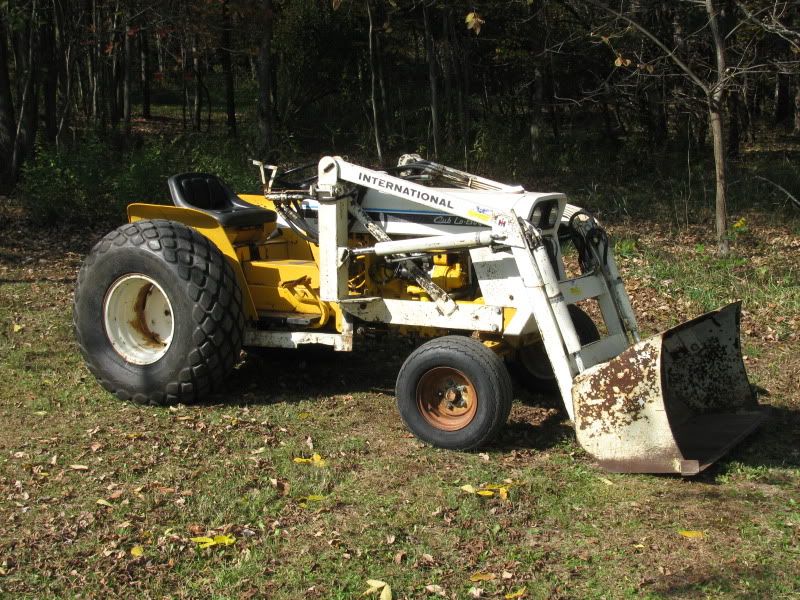 Tue Oct 12, 2010 7:24 pm
Wow!!! I like that loader. Anyone know the model number?
Tue Oct 12, 2010 10:24 pm
Don,
It's a 1050A. I'm glad you like it, from what I hear they are not very common but it sure does work well.
Jeff
Wed Oct 13, 2010 8:48 am
Jeff,
If it ever goes up for sale, let me know. I'm just down the road.
Wed Oct 13, 2010 6:42 pm
Don McCombs wrote:Wow!!! I like that loader. Anyone know the model number?
That loader is in the TC-131 parts manual in the 3rd disk, Number Series Cubs, 154 section of the manuals on your thumb drive.
That is a nice looking loader and tractor.
Fri Oct 15, 2010 9:55 am
Joke - If your rings are worn out and you are experiencing too much blow by, you could do this $15 'rebuild' to eliminate the blow by problem (and it probably doubles the horse power too - hee, hee).
This must be a 'factory' retro fit upgrade !!!! (recall # $%&*$@225).
Funny of the day (I found this picture on a Craig's List ad) - NJDale
You do not have the required permissions to view the files attached to this post.
Fri Oct 15, 2010 4:50 pm
Don:
It is also right here on the Server -
IH 1050A Loader