Mon Feb 28, 2011 2:49 pm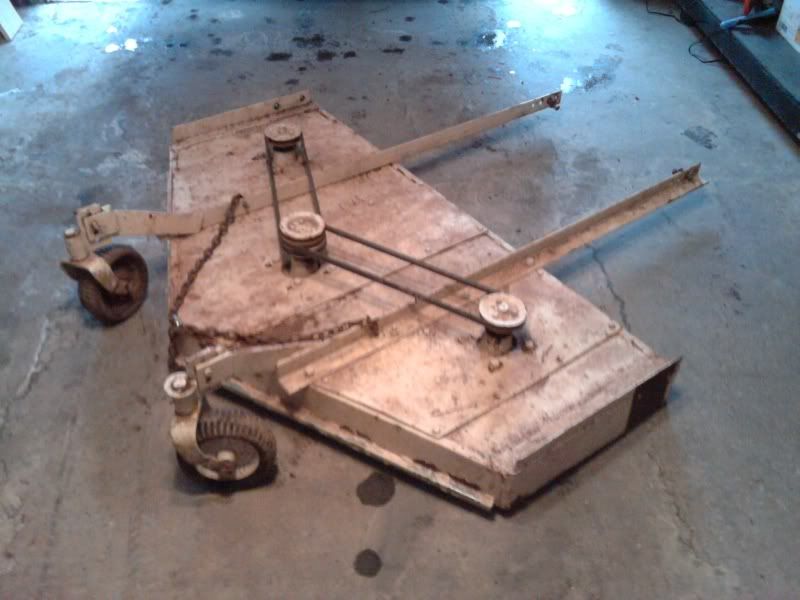 This is the deck that I am looking at purchasing. It is a heavier duty deck than the one that came on my tractor originally. I am curious to know if anyone know what this mower is and whether it will work for me. The price is right.
I think I have to reverse the wheel to go on the flat side so that the orientation of the skies is opposite what they are in the picture. My old one has the wheels on the flat side.
Any ideas?
Mon Feb 28, 2011 7:01 pm
Looks like an IH C-3 belly mower for an offset Cub.
Tue Mar 01, 2011 10:04 am
Anyone know if I can put this on my 154?

Also, from the pics that I have seen here at FarmallCub the mower is oriented differently on a 1966 and 1969 Cub. The pointed side is in the rear.

I am hoping that I can change the wheels around for them to be mounted on the flat side. Then, bolt it up in the rear.
Tue Mar 01, 2011 10:06 am
WestDeerPirate,
The deck that you are looking at looks like a "vanilla" version of a Woods 59" mowing deck. PTO on the 154 turns in the opposite direction from most tractors - the PTO on the 154 is known as a "left hand" PTO. Woods made special mower decks for these tractors known as 59L's. For your use on the 154 you would also need MANY additional brackets to make it work. Deck wise, I do not know what distinguishing features turn a regular #59 deck into a #59L deck.
If the deck is in good shape and if it is only something like the mower blades that determine weather it is a 59L - then you might be able to pick up a rotted out deck Woods 59L mower from a 154 to get all the missing hardware and make one good deck out of the two decks.
Below are two pictures of a new 59L deck with all the associated brackets to mount it on a 154.
Good Luck, NJDale
You do not have the required permissions to view the files attached to this post.
Tue Mar 01, 2011 10:39 am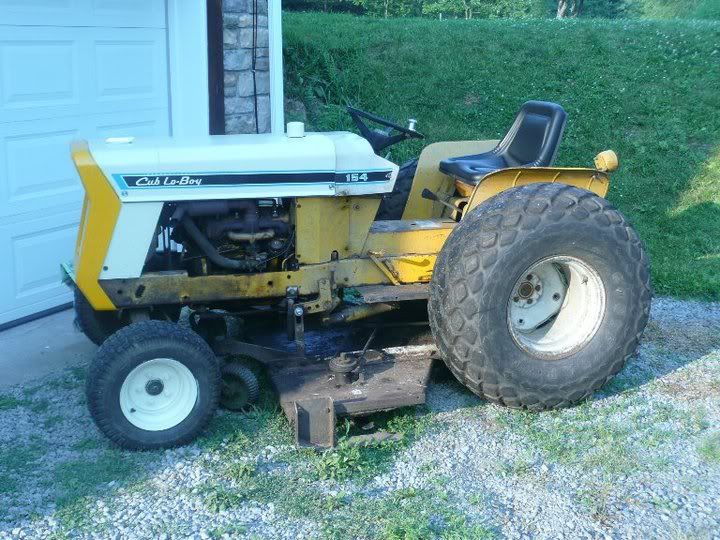 The mower deck that came with my tractor does not have all of those brackets to attach it to the rear of the tractor. My old deck uses 2 arms that mount near the deck wheels up front and then these arms just bolt into the frame in the rear.
Tue Mar 01, 2011 10:46 am
You can see the mounted rails on the back of the tractor. I still have the old deck, pulleys, belts, blades, but the deck just got so cracked and cancerous that it is not usable.
Tue Mar 01, 2011 12:36 pm
Now check out this setup for the same mower. See how the wheels are on the straight side of the deck? So my question is........if I change the orientation like this why would it not work?
Tue Mar 01, 2011 3:23 pm
It looks alot like my IH 3160 which I beleive is a copy of the Woods 59 or variation of the C-3. Compared to my 3160, the arms are on backward because the flat/straight edge should be toward the front. Also looks like a "patch-panel has been added to the side closest to us in the picture. Very easy and inexpesive to rebuild the spindles. Mine is supposed to hang in front with link arms but I use chains.
Tue Mar 01, 2011 3:57 pm
Pirate,
Since it is Winter and you probably have your old rotted out deck removed from your 154, why not just load it up and take it over (assuming that he isn't too far away) to the sellers and lay the two out to compare them side-by-side? If he is too far away, then you will just have to 'picture' compare them. But, remember the 'Left Hand' issue.
NJDale
Wed Mar 02, 2011 7:44 am
No truck and this guy is 4 hours away. I think I am going to buy it and figure out how to make it fit from there. I think it will work.
Wed Mar 02, 2011 4:57 pm
I cut grass for years with a similar mower on a 154. I assumed it was a IHC mower but that may be wrong. Worked well until I hit a stump and pushed the center spindle into the oil pan. The spinning grease fitting drilled a hole in the oil pan and the oil came pouring out. Since it was made to have the narrow portion in front, I would just use it the way it is assuming the spindles turn the correct way. No reason to reverse anything.
Fri Mar 04, 2011 1:13 pm
There is a rod that points down that is about 4" to protect the oil pan. You can see it in the picture of the 154 above just in front of the mower lift rockshaft.
Fri Apr 08, 2011 7:33 am
I am going to try to install this mower deck over the weekend and I will let you know what I find.
Wed Apr 13, 2011 8:47 am
I had sam problem took out 8 bolts holding angle and whls. put wheels
on front. blades turned wrong way. put half turn in belt. blades
turned rite way. I was mowing I later found out my grass was not
discharging rite so I had to cut out other side of deck for left hand
discharge. poor people have poor ways jpcubs
Wed Apr 13, 2011 9:55 am
Doesn't this mower deck need to be turned around so the V faces forward?
This would fix the rotation & discharge issue, but the guage wheels might need to be turned around.