Sat Oct 06, 2007 9:35 pm
Well I dug my taters today using two of IH's finest. The plan was to use the 69 to pull the digger and use Bert to carry the barrels, but dad's 69 wasn't in the mood to cooperate. I had to run it with the choke out to keep it going when I started digging. But gave up shortly because of the mess I knew I was going to get into. Backed Bert right up to the digger and away we went. Check this video out of it in action. Now I can see my seat time dwindleing down as Hope is driving Bert so that I could set the depth of the digger. She was very kind and let me dig a couple rows to.
Dave
http://s110.photobucket.com/albums/n111 ... IM2010.flv
Here is one of me in action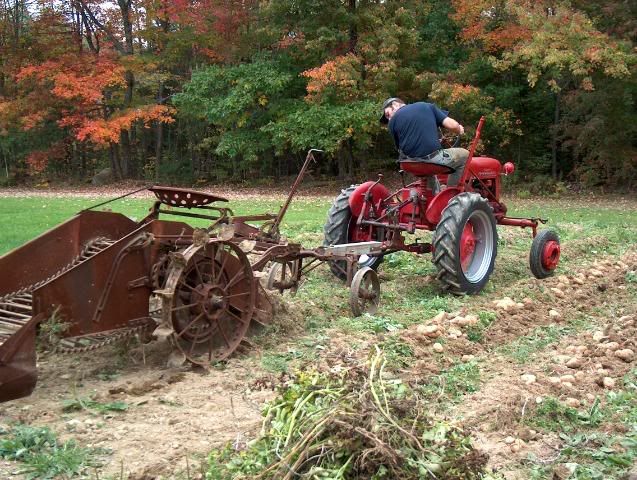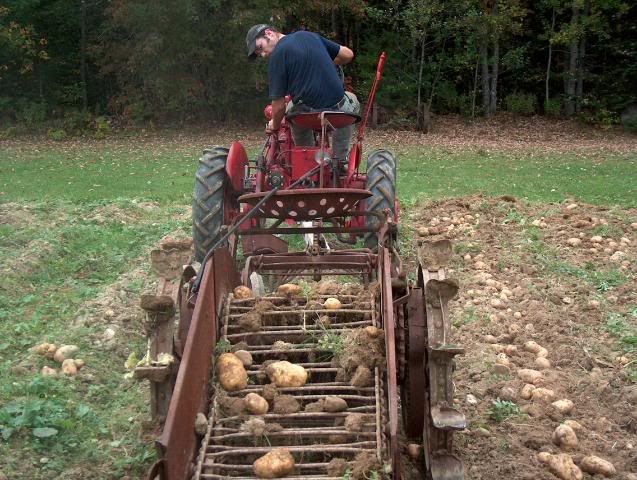 couple hard working machines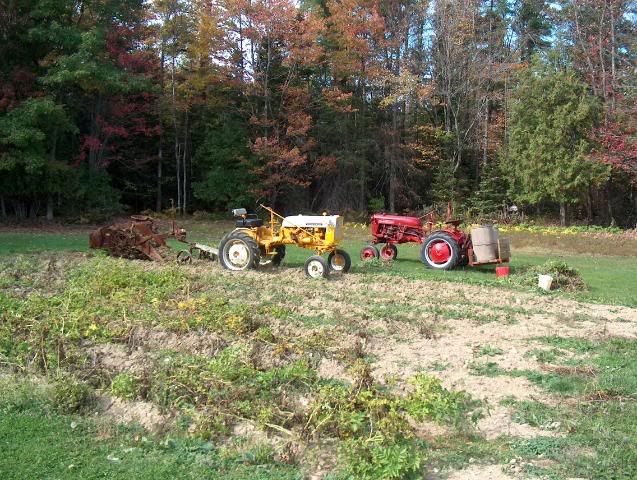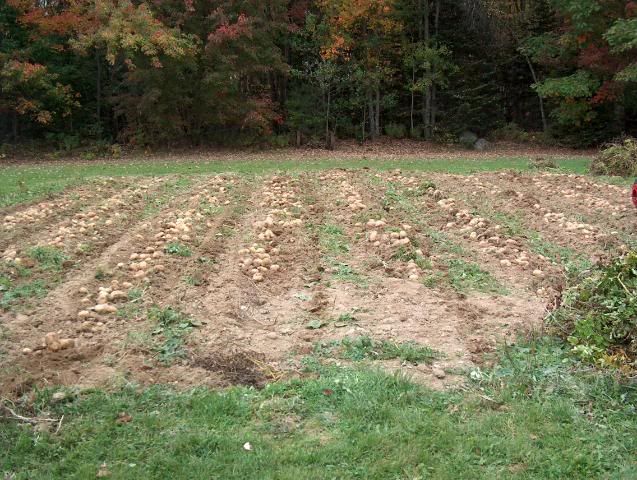 Sat Oct 06, 2007 9:38 pm
Looks great Dave! Glad you got a little seat time too!
Sat Oct 06, 2007 9:41 pm
Looks great
You going to head over to Aroostook county now
Sun Oct 07, 2007 5:51 am
Donny
Maybe next year
My schedual is really busy this year.
Sun Oct 07, 2007 9:01 am
I am impressed, and that ain't easy.
Sun Oct 07, 2007 9:10 am
Very nice! Sure looks easier than using the fork and wheelbarrow method.
Sun Oct 07, 2007 9:45 am
Lookin' good!
Sun Oct 07, 2007 10:07 am
Dave,
You sure got some big ones. Look like footballs. I guess you'll be looking for another Cub now.
See you weekend after next.
Sun Oct 07, 2007 10:39 am
Dirt Devil, I think you have the right name
. I notice how beautiful the leaves on the trees are in the back ground, don't think we will have that here this year because of the drought. Also, those potatoes are something else, the size is amazing and it's good to see a machine still working great after all this time. Thanks for the pics, Pete
Sun Oct 07, 2007 2:19 pm
Now you just need to modify a carry-all so someone can sit close to the ground to pick them up. Looks like the vegetable cellar will have a good season's worth of spuds in it now.

Bob
Sun Oct 07, 2007 4:18 pm
Looks neat how potato's are harvested. Thanks for the picture.
Jeff
Sun Oct 07, 2007 6:54 pm
Don
I have been looking for another Cub for some time but have a hard time with the want and need. Plus there aren't a whole lot in the free for the taking seciton of the local newspaper
Since dad doesn't use his very much I have sort of adopted it. Now I have to tune it up so it will run like Bert.
rjmac
I have thought about fixing something that would work like a transplanter rig set up to pick the taters. With the despeeder I have the right slow speed. I can think about one over the winter.
Dave
Mon Oct 08, 2007 10:07 am
NICE JOB!!!!!Can't wait till Cecils!!!!kevin
Mon Oct 08, 2007 10:29 am
That digger did a realy good job. What gear did you use and how hard did it pill?
Best,
Mike
Mon Oct 08, 2007 11:18 am
Mike

It was in first gear and a little over half throttle. Next time I will put some rear weights on. The tires are loaded so that was a big help.

Dave