Here is our Blue corn experiment from this year!
these ears are close to being ready.
this a jar of blue flour that I ground with the little hand grinder that Virginia has.
That's me standin' in the 10 foot stalks!
and a close-up of some ears, shelled kernels, and a bag showing the blue corn chips (this is the corn they use to make these chips with.)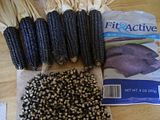 These stalks are the ones I chopped in the Cub Choppin vid ! you can see they do get tall, seem to stand a lot of wind for their size!
We saved some seed from "select" ears to plant for next year and are using the rest for home-ground flour, and for baby chick feed.
We also saved some contender green-beans, king of the garden pole lima beans,sugar baby, yellow tender-sweet , and crimson sweet watermelon , Minnesota midget muskmelon, large fruited cherry tomatoes, black-eye cow-peas, freezonia green peas. (there are a few other's that got saved,--but only for experimenting with)
We can and freeze a lot (mostly freeze since we have 3 deep freezers), but most of the tomato juice is canned. some is cooked down into a sauce. it takes up less space and is concentrated, so add some of it to a cheese pizza, (sister brought one and Virginia got the mato sauce out!), makes it really good!--Virginia maked a seasoning mix to put into tomato juice that make a good thing even better.
Oops!--sorry for the long post, but as you can see we do "live out of the garden" year round! thanks; sonny