Tue Aug 19, 2008 10:12 pm
Thanks Mike!!!-----I wanted this thread to take folks all the way from pre-plant to harvest and show/tell how they preserve/store the harvest, or how the grand-parents did it!----I find this interesting and helpful!
After the season is over, it will be a good time to sit down and plan for next year and work towards that goal! Folks can refer back to this thread for info on varieties , equipment ideas, different methods of doing the garden, etc.----All in one place!
I hope everyone enjoys reading about the gardens, even if they don't/can't have one of their own!

I "tested" the sweet corn today and it's VERY tasty and sweet/tender! We will can some and fill our alloted freezer space with as much as we can!---(I think there will be plenty)! This year we planted Jack pot variety, and it is a really nice one! stalks about 6 feet tall, ears set 3 feet off the ground, and 2 good ears per stalk!
Maters are turning slowly, but getting there!----The eggplants are a little on the slow side, but we had a few nice ones so far,--- some long green ones, some long whites, and the black beauty's -----Had the first big head of cabbage to process, It made 5 bags for the freezer, and a couple more heads coming right behind, so we should get the cabbage quota met!
We have a batch of dill pickles just about ready to can! (the 4 weeks are about up and they look good)

Still waiting to test the "new" spud/peanut digger!!!-----May have to pull it with the other cub,--I think it has more power!---Did consider doing a cub "tandem hitch" (2 cubs, 1 driver, but am thinking if I can regulate the depth well enough 1 should pull it! thanks; sonny
Sat Aug 23, 2008 12:50 am
Here are a few more pics of our harvest!
A couple of Kenebecs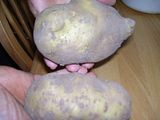 A red pontiac (spud)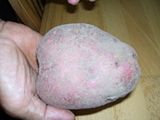 onion assortment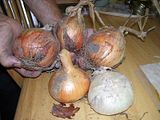 one of the biggest onions that we had!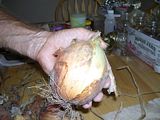 2 more heads of cabbage to process and freeze
SWEET CORN!!!YA!!!---part of the first batch!
Juliet maters!
The juliet maters are about like miniature Romas, but are kind of good tasting.
The 2 cabbage heads will make 3 that we have processed so far!
The onions and spuds are samples from the crop!
The sweet corn is just starting to come on, and we just did the first canner load of 7 quarts and will do 2 more loads!--then we will put a little more in the freezer, (might be long winter)----I kind of like this Jack Pot variety, it is a really nice clean growing hybrid and has a lot of double ears on the stalks, so that makes it really productive!
Did another 7 quarts of green beans too!! thanks; sonny
Sat Aug 23, 2008 8:17 am
Sonny,

Looks like your garden is making you some groceries. You have a good variety of vegatables too. Our garden didn't do like it should have, but we got enough put up to last us through the winter. Thanks for starting this thread. I have enjoyed keeping up with it and learning from it, although I did not get to contribute much to it.

Billy
Wed Sep 03, 2008 9:11 am
Well a lousy year for my garden.The first year sucked like I knew it would.Did get some stuff out of it.Sunflowers I will do again and maybe more of them.I like them.The rains did me in,drowned most of the stuff.Then mud,not be able to cultivate or fertilize.Its now almost a dirt field again,execpt where the plants were.My parents help me with a rock collection party.Wooo Hooo !!!! about 1,000 pounds of rock out.Can't wait till next year to try again.Got to be better than this year.Kevin
Thu Sep 04, 2008 10:50 am
Gettin light rain today, lots cooler. Dug three and a half rows of spuds yesterday, got rained out...gettin dark anyway. Still have four and a half rows to dig--yield still holding, big spuds--lots of 1 to 1 1/2 pounders.
Getting swamped with maters at this point, also. The chocolate cherries are starting to produce, they are good tomatoes but different if you have never had them.
Lima Beans have filled the pods decent and can start harvesting them soon.
Cabbage is excellent quality this year (sweet and tender) and we have about met our quota in the freezer.
Had plenty of eggplants for our use.
Peanuts still spreading.
Chicken corn looks to have pollinated good and ears starting to get fat and good.
Still getting good spinach, even with all the hot dry weather.
Didn't get the fall garden planted it was to hot and dry and had no way to water it so it didn't get planted this year.
thanks;sonny
Fri Sep 05, 2008 6:12 pm
Got 3 inches of rain on the gardens. Kind of messed things up---put tater digging to a screeching halt, split maters, high winds leaned egg plants but they will live got a good crop set on them now.
The 2 pound spud is in process of being mashed potatoes, milk gravy, fried chicken quarter, spinach and sweet corn dinner; might even have sliced maters to go with it....BURP!!!!...Yummy!!!!!!
thanks;sonny
Wed Sep 10, 2008 8:55 pm
In the last couple of days we have been processing veggies. We put boiled corn on the cob minus the cob in the freezer, also put cabbage in the freezer for slaw this winter. Canned tomatoes (juice and sauce).
Had some visitors that took some maters, taters, sweet corn, green beans, spinach, beets, and egg plants--yet still haven't made a dent in what is left out there.
thanks;sonny
Fri Sep 12, 2008 10:57 pm
Sonny, this is awesome! I have never seen any chocolate cherry tomatoes before. Do they taste the same as the regular cherry tomatoes?


Roy
Sat Sep 13, 2008 9:14 am
Well they are different, --- kind of their own flavor, hard to describe. They do taste somewhat like the regular cherries but have a slight kick at the end. But a good tomato ; at least everyone we have gave them to, so far, thought so.
They are the hardest dang things I ever tried to pick because they are hard to see among the large leaves. They taste best when picked in the hot sun and eaten right then--now then it is a really sweet flavor (more so than otherwise).
They claim it's a rare variety, but we think it is just something new (our opinion)----several seed companies offer seed of them.
thanks;sonny
Sun Sep 14, 2008 9:00 pm
Got 4.8 inches of rain at the gardens today. Water over the roads and flooding everywhere.
Did get 27 5 gallon buckets of spuds hauled from the machine shed to the basement between downpours. Got a bunch yet to haul and dig. thanks;sonny
Sun Sep 21, 2008 9:22 pm
FINALLY------Got the spuds dug between all the rains and have about half of them put in the basement in BIG bins!!---little harvest crates werent getting it so we made 4 x 3 x 3 foot bins to store them in until we can find takers for the spuds!-----we cant use 8,000 pounds of them by ourselves!!!!!!!!!!!
Next will be the sweet potatoes and the peanuts------also the pole limas are just starting to produce!-----looks to be good crop of them out there if they fill pods before frost hits!
Still maters and eggplants, also good spinach out there too! thanks ;sonny
Mon Sep 22, 2008 8:13 am
Sonny,

Sounds like you had a good crop year. Ours was disappointing. Got enough for us, but not like we should have. We always give stuff away. Didn't have all that much extra this year. Always next year though.

Billy
Tue Sep 23, 2008 11:41 pm
Made 4 gallons of pear juice the other day, and started on a few apples!----fried enough to see how they will do and think we will can a lot of them for sauce and pie filling!----Will make a little juice here early from some of the smaller wind-falls!---Did that one year and it was some good juice, so will try a sample batch and see how it goes this year! thanks; sonny