Here are a few more pics of our garden harvest!
Big black eggplats
the two different kinds of peanuts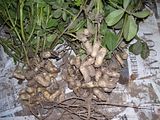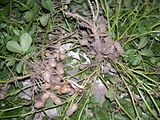 the white sweet taters
We still have a lot of good fresh veggies out in the gardens!--Have gotten a few people to take some of them, but there is a lot going to waste!!
The pics of the sweet taters and peanuts were from "test digs" to see if the plants had anything worthwhile digging underneath! thanks ; sonny