Thu Sep 25, 2008 10:31 pm
Here are a few more pics of our garden harvest!
Big black eggplats
the two different kinds of peanuts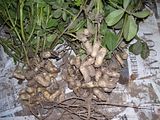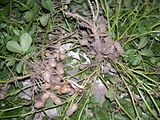 the white sweet taters
We still have a lot of good fresh veggies out in the gardens!--Have gotten a few people to take some of them, but there is a lot going to waste!!
The pics of the sweet taters and peanuts were from "test digs" to see if the plants had anything worthwhile digging underneath! thanks ; sonny
Thu Oct 02, 2008 9:32 pm
Here are some pics of the harvest !
the peanuts range from 1 to 4 nuts per shell with most being 3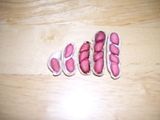 this is the white sweet potatoes, average size and shape for them!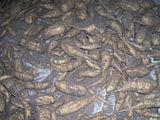 these are the big red apples from the "happy apple tree" (3 make a nice big fat pie)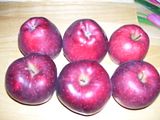 We have about half of the sweet potatoes dug, and they look about what we thought they would, so we will have more than enough of them for the winter!
After you dig and dry sweet tatoes, put them in boxes and don't stir among them!---the sugars will stay stable and they will keep longer!----we started doing this a few years ago, and it does seem to help extend their shelf life!
Peanuts are not grown around these parts so don't know what they are supposed to yield!---these look nice and we did roast the sample dig last night!---very good eating for Illinois grown peanuts!
Still have more lima beans to pick!
May make a few more quarts of tomato juice, not sure yet! thanks; sonny
Fri Oct 03, 2008 5:28 am
Sonny, these look absolutely yummy! Send some of those apples down my way.
BTW, be sure to boil up some of dem pnuts!
Just add lots of water, boil till tender. Then add salt and put the lid on, turn the fire off. Let set for 10-15 minutes to drive the salt in.
Enjoy!
Sat Oct 04, 2008 8:59 pm
I am open to suggestions for "fixin'" p-nuts because the crop is new to me here in Illinois! LOL!!! Next year we must plant more of them and see what happens!
Was going to save some seed from this crop for planting next year and hope that they will eventually adapt to our soil/climate here!
Not sure what kind of apples these are, but 3 make a very fat pie and a very fat sonny by the time I eat the whole thing!-----well Virginia eats a small piece sometimes but it's mostly me doing the eating! very good flavor for fresh eating too!--- The tree had about 3 dozen on it, and it's only about 7 feet tall and 4 foot across the center of the branches!---the trunk is about 3 inches diameter.thanks; sonny
Sat Oct 11, 2008 10:51 pm
We dug the rest of the sweet potatoes and have way more than we can use!!!
Still have about 30 feet or so of 1 row of nuts to dig!----looks like plants are loaded really good with pods!
Have about a quart shelled out ready to roast!--I spread them out on the table to cure a few more days before the roasting process!
Did a big picking of lima beans and still getting loads of fresh/tender spinach to eat!---maters going to waste, since we are out of room in the freezer and out of jars!!!
No frost as of Sat. night! thanks; sonny
Thu Oct 16, 2008 10:32 pm
Now have the rest of the peanuts dug and about a third of the pods stripped off the plants! ---had over 5-gallon bucket full so far!----roasted a 5 cup batch a couple nights ago and they are some very good eating!-----now if I can figure how to make our own peanut butter we will have it made!!--lol!
Nights getting really cold here now, so frost gotta be getting close!! thanks; sonny
Fri Oct 17, 2008 10:51 am
Sonny...

How did the Chicken Corn do this year? Did it end up coming on or was it a bust?

Mike in La Crosse, WI
Fri Oct 17, 2008 6:12 pm
SONNY wrote:Now have the rest of the peanuts dug and about a third of the pods stripped off the plants! ---had over 5-gallon bucket full so far!----roasted a 5 cup batch a couple nights ago and they are some very good eating!-----now if I can figure how to make our own peanut butter we will have it made!!--lol!
Nights getting really cold here now, so frost gotta be getting close!! thanks; sonny
Grind some peanuts in a blender. Might need a dash of oil,salt,and sugar. Ed
Fri Oct 17, 2008 9:09 pm
Chicken Corn is doing great so far stalks 10 feet tall ears 5-6 feet off the ground two ears per stalk on most of them----still kind of green but it is getting there. Nice ears, good quality deep kernels. Still waiting for it to dry down more--to wet to store at present time. Looks to be a lotta ears out there. thanks;sonny
Wed Oct 22, 2008 10:49 pm
Virginia just made a batch of p-nut butter in the food processor and it turned out perfect!---I think next year it's time to expand the nut garden!----hope to plant a couple additional varieties too!----Didn't think p-nuts would do that well here in Illinois, so will do another year as a test and move up from there!
Visitors to the gardens were amazed to find nuts growing here and doing so well!---so the ole 2 year test will be needed to see if they really can be grown with success here! thanks; sonny
Thu Oct 30, 2008 8:10 pm
Today I picked 4 short rows of the chicken corn,----still too wet, but I needed to drive around that corner of the garden to get into the x-tater patch with the 404 and 3-pt. plow to get it fall plowed!!---ground really plowed over good and I got a good deep job done to it too!
On the way out, I plowed up the x- peanut/eggplant garden and made it about 2 times bigger or more so that can winter out and by spring it will be nice and mellow ready for planting!! That garden may become the sweet corn patch for next year!
So far I have 3 of the gardens plowed up and sure hope that I can get the rest of the main ones plowed before the ground freezes! thanks; sonny
Sat Nov 01, 2008 10:39 pm
Got a chance to plow up more of the garden's today! ( so far a total of 8 with 2 more to go!!)
Harvested some onions that I missed when I pulled them in July!---They made some real nice tender green onion eating!!!
Need to mow one garden then plow it.---have to let the chicken corn dry more before it will be safe to pick and store it!---then if I can chop the stalks up a bit I can plow this area!!---getting close!!!lol!!----404 getting VERY weak too!(lots of blue smoke and plug fouling at the present time!)!!! thanks; sonny
Mon Nov 10, 2008 8:39 pm
FINALLY!!!---Got the chicken corn picked, (by hand), and by weight there were right at 150 bushels of ear corn from the half acre.---lotta corn. A friend of ours came to help us the last 2 days we picked.--Virginia and I picked for 3 days by ourselves, and were not getting anywhere.
After the picking I chopped the stalks down with the cub enough to get them to plow under, so now we have everything that I can get a plow bottom hooked under turned over!!!---have some strange lookin plots but that works for us!! (plowed around some stumps)!!

The garlic has come up and is about 3 or 4 inches tall now!---last night the temp. went down to 24 degrees here, (first time this year), so winter is getting close!

It has been quite a garden year for us here at New Acres Gardens and hope you enjoyed following the progress of all our activity!! We are looking forward to next year and have planed some of the crops/amounts/varieties/etc. that we would like to plant!

Would also like everyone to participate again next year in another season long garden thread! Thanks; sonny
Tue Nov 11, 2008 9:41 am
So you are going to do a 2009 Season-long garden thread?

It was fun watching your progress, Sonny!

Mike in La Crosse, WI
Tue Nov 11, 2008 10:07 am
I plan on doing a 2009 season long garden thread again for next year, and would like everyone to join in with their gardens too,---makes it more interesting with more participation!----This is about sharing ideas/methods/etc. on gardening and will benefit everyone!--Even if you dont garden, but like reading about it, this will be for you! thanks; sonny