More kinds!!
Mystery squash,---no-one knows what kind these are!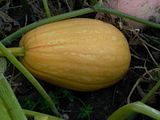 Queensland Blue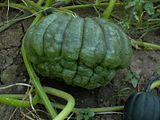 nother Blue,--This one has more of the mature color to it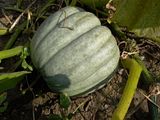 Red Warty Thing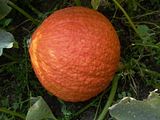 Small Sugar Pie pumpkins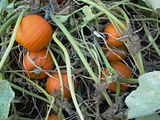 An Ugly Alien Creature!
Green Stripe Cuahaw that forgot to grow a seed bowl!( we named him "the neck dude")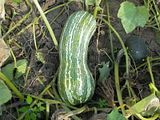 The squash garden is 1/2 acre and the vines are going in all directions,--including, but not limited to the neighbors corn field!
The Kings have vines going 35 feet in all directions from the base, making for 70 foot runs tip to tip.
Frank over on Antique Farming. net sent me some seed and this is some of the strange kinds that came from them!---I had banana and jarhadale seed saved from last year!
Fred from over there sent us some of his seed for the red beans that we grew this year too!---These beans were from saved seed since 1840's and started oun in the midwest! ---they have been planted ever since by his family and now this year returned back to the midwest to be grown by us!---He has only 4 families left that grow them in WA. right now so maybe we can help carry on his family tradition a few more years!---The bean variety is not known, so we call them FRED BEANS!
Sorry for the long posts, dudes, but just thought you might find something of interest in them! lol!---enjoy! thanks; sonny