Wed Jul 22, 2009 5:53 am
Fast is right. Picked the last of the corn and disc it under yesterday.
Wed Jul 22, 2009 10:31 pm
Our corn is just now tasseling and silking!---gotta start hittin it with bug killer!
Today I planted a couple more rows of spuds just to see what they will do!
Have this big ole great smellin Phlox right by the house!
This is some of the seed spuds from storage,---got new spuds growing inside!---might not even grow in the open ground!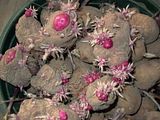 Had the spuds left and had the room to plant them, so might as well test out if they will make anything or not!----not that I need any more spuds, so its just a test! thanks; sonny
Sun Jul 26, 2009 12:24 pm
Been a great year compared to last year!!!!! Selling at the farmers market and putting stuff in the freezer.green beans bumper crop!! Peas outstanding!!! Squashzuccini and cucumbers are going great.Eggplant,peppers and of course tomatoes on the way!!!Big differnce from last year!!! Weeds still a bit of a problem but half of what they were last year!!!2nd year garden.Next year is the fine tuning year!!!Nice day out here today upper 70s breezey.Recouping from proccesing beans and peas!!Woooo Hoooo I knew this year would be better.Now if I can only find a job!!!Kevin
Mon Jul 27, 2009 9:11 pm
Dan, when you disc the corn under did you chop/mow it first? and did you do it green, or after it had dried?
Todd
Mon Jul 27, 2009 9:27 pm
Today was a good day on the farm!
Got up early and plowed under the lettuce, spinach, and radish rows. Disked and harrowed and planted the fall turnips. Then mowed the front pasture, By this time it was getting too hot to stay out in the fields so came inside and canned 12 quarts of tomatoes I picked last night.
Tired but happy
Tue Jul 28, 2009 5:46 am
I knocked the corn down and disc it green. The ground was so hard and dry that the disc did not do a very good job. Got a little rain yesterday and more on the way so I'll go out again and do a better job.
Sat Aug 01, 2009 4:27 pm
Picked the first of the cantaloupe today. After a short chill in the fridge, gonna cut probably 2 of them tonight. Also, still getting lots of cucumbers and maters. Corn didn't do anything. Half didn't come up due to all the rain and the other half was a pretty good crop of weeds.
Sun Aug 02, 2009 11:20 pm
SWEET CORN !!!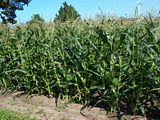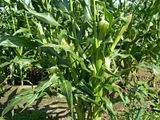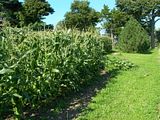 The sweet corn today!---some of the stalks have as high as 6 ears set on them and most are starting to fill!
If nothing happens to it there will be over a ton in this garden, and dont ask me what I will do with a ton of corn, because I dont have an answer!!---(give it out as door prizes?????) thanks; sonny
Sun Aug 02, 2009 11:42 pm
NOT a good thing!!!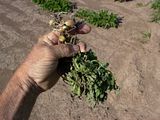 These spud seedlings have become a major weed here in our gardens this year!
You may want to collect the seed balls from your spud plants and put them in the garbage so you dont have the same problem in your gardens!
Also when digging the spuds dont leave even the little pea sized spuds lay, as they too will grow next year making for weeds!----This is something most folks dont realize until its too late!---I learned it long ago, but just thought of it today when taking pics. and diggin spuds and pullin onions! thanks; sonny
Mon Aug 03, 2009 4:12 am
How did you get six ears on a stalk?
Mon Aug 03, 2009 11:00 am
These 2 varieties are the multi-ear type and did well last year with 4 ears per stalk. Thats why we plant them.--dont what kind of gmo they do to make it but the seed man said they can do everything with corn,---including making it a lethal weapon if they wanted.

This sweet corn also has the best flavor you ever tasted too, so gmo or not we plant it and this is second year that we tested it in our gardens with super results! thanks; sonny
Tue Aug 04, 2009 9:57 am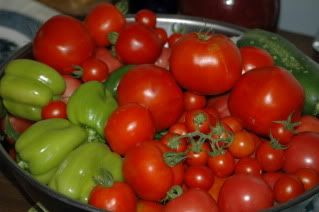 I have the same problem as sonny
SONNY wrote:because I dont have an answer!!---(give it out as door prizes?????) thanks; sonny
I've got so many tomatoes and cucumbers and zucinni the neighbors are all locking their car doors.
Tue Aug 04, 2009 10:29 pm
EXCELLENT lookin maters!!!-----Wish I lived closer to you,---I would take your excess maters!!! lol!
We got hit by the tail end of a sever storm/tornado this morning, and our corn in the pics above no longer exists!--most of the other garden is either major damaged, or gone altogether!

I have more pics. of what it DID look like a couple days ago, and will post them as soon as the ISP starts working better!--internet off all day,--back on now but NOT working very well! thanks; sonny
Wed Aug 05, 2009 7:19 am
Sonny,

Hope everyone is o.k. and no damage to the house. The garden can be replanted. Take care.

Billy
Sat Aug 08, 2009 12:05 am
We had a lot of damage,but we are concentrating on trying to save as much of the veggies that are anyway near mature. got the rest of the onions in the dryer,--1 row of spuds dug, (by hand,--cant mud spuds with the tractor digger)---did get 400 pounds from the 100 foot row of Golds, so that will help, still have 3 other rows to get.
sweet corn today has lifted just barely off the ground, EXCEPT what is broke completely off.
cabbage is fair,--has hail holes in a lot of the heads.
eggplant salvage yielded a 5 gallon bucket of decent eggs, peppers were almost too small to get much from them. Maters still green, and rotting on the muddy ground so I chalked them up as total loss.
More rain today that we DIDNT need!
Good thing we still have a little stuff left in the freezers from last year to carry us thru this winter!

Will probably plow the gardens IF the ground ever gets dry enough anytime soon, and I can make a 10 mile trip on the 706 to get the 5-bottom plow to plow the gardens with. thanks; sonny