Sat Aug 08, 2009 11:33 am
sonny i'm really sorry to hear about your spell of bad weather, i really enjoy your garden post .even though i don't comment much i follow what your doing pretty regularly.
i also have a question,from one of your other post, how many kw does a single wind turbine produce? i was sharing that post with the guys on the job and we couldn't find anything on what they are generating.
thanks
Fri Aug 14, 2009 8:03 am
The turbines generate about 94 per cent of the time here and are the 1.65 megawatt size.---the output varies depending on wind speed.--they start at 8 mph at the 500 foot level,--might feel like dead calm at ground level but they are starting up.
We were watching one of the 2 at our farm, and it was making 345 kw and just barely turning that day when we looked at the control center computer.

Latest garden problem,-- COONS!!!!!!!!!!!!---some of the sweet corn did try to raise a little,(what wasnt broken clear off), but as the ears fill and get heavy its going back down and coons found it!
I put up electric fence,--they barged right thru it like it wasnt even there,---set trap,--no good,---put out blue goo, still no good,---put out a radio,--still no good,---then came the 300 watt quartz light aimed over the corn and down the fencline!--THAT has worked for 2 nights in a row, so hope it will hold them off for about a week until the other variety gets ready for harvest----it is hung on a 7 foot post along the fence, not as high as I intended, but seems super bright at that level.
Have salvaged about all the damaged veggies that we can, so I got another row of spuds mudded out of the ground,--2 rows to go,--getting about 400 pounds per 100 foot row.--nice size and good quality, so far.
Maters this year look dismal so we dont hold much hope for them!----good thing we have plenty put up from previous years to fall back on!
have some pics from before the storm went thru.thanks; sonny
Sun Aug 16, 2009 7:08 pm
Tomorrow we can our 21 quarts of sweet corn,-- IF I can keep coons out 1 more night!---Rain all day here and still at it!---This might be the a rough night!---sure hope the ole light does its job tonight!--havent lost an ear since I put it up, but that was a week ago and I am sure that they are going to get used to it being there and go in and destroy the rest! thanks; sonny
Thu Aug 20, 2009 1:44 pm
More storms here, BUT we did manage to get our 21 quarts of sweet corn put up and turned out perfect!
Also have about 3/4 row of spuds to dig,---Kenebecks rotted in the ground really bad this year from all the wet weather, (they must have hot dry enviroment to do well), the others did ok, so we got spuds!
After yesterdays storm, I was looking into the squash garden and found this guy!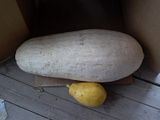 They say to harvest banana squash at 30" for best quality,--so this guy comes up to 30" x 11" dia., and 50 pounds!---so I got it hauled to the porch for now!
Dont have a clue as to what the little guy is----It grew from the seed that was saved from a last year banana, and so did the big guy!---The genes got confused somewhere and grew some different stuff!---Im not sure what it was but we will see if it cooks into good pie filling or not after it ages in storage or not!
still trying to get rid of 20 nice heads of cabbage and a lot of really good corn, so if you are in driving distance of here, come load up veggies!---they are free for the taking! thanks; sonny
Sun Aug 23, 2009 9:39 am
CORN IS DUN!!!! LOL!!!---spuds are dug!--- corn was a bear to harvest, but we salvaged some really good stuff and got takers for the rest!--not much went to the varmints!--(got lucky).---From the number of big buckets we got total of around 2,600 pounds ---something over 225 dozen ears----it was the first time I ever crawled down the rows to pick sweet corn but I did it this year.
Finally got the rest of the spuds mudded out and on the back porch to dry before SOME of them go into storage crates! The 4 row tater total was between 1,600 to 1,700 pounds from the 4 rows 100 feet long so we have more than we can use and give away.
Now we need to find homes for 20 heads of nice cabbage!
Still getting storms here and WAY too much rain.--need to mow and plow but cant do either right now.
Squash and pumpkins are a little beat from the latest round of storms, but should be ok,--frost date is less than 3 weeks away here and some of the pumpkins better hurry or they are not going to ripen.
late planted garden turned out being bug food!--not one thing made it!
How you guys doing with your harvest?--ok, I hope! thanks; sonny
Sun Aug 23, 2009 10:26 am
I had a good harvest this year except for the maters. I used several different heirlooms which I was not familiar with. Last of the corn came in this morning. The only thing left is a few cantaloupe, best crop ever, a few more maters, and some celery. I got most of the vegetable garden disc this morning. The corn field will weight until I get the energy to put on the 2 bottom plow. All in all the best crops in 4 years. Hope everyone did as well.
Sun Aug 30, 2009 8:42 pm
We had another 2 inches of rain here a couple of days ago.----I did get some red beans picked just before the storm hit. the next day I shelled them and we put them in quart jars, then into the pressure cooker. had 14 quarts plus 7 big bags that went into the freezer. The next picking, if it matures will be for dry beans.
Tried the soys today and Virginia made some soymilk from a cup of them to test what the possible uses might be for them. ( we have the black ones and a row of the green ones,--no yellow ones) They look to have a lot of pods set and filled at this point. I will probably dry most of them for later testing and for seed for next year.
The squash are looking good, except they need to hurry and mature!---they may only get 2 more weeks to do so. (down to 46 degrees here now, Sept 14. is our projected ave. frost date) thanks; sonny
Tue Sep 01, 2009 9:33 pm
Sonny, I put my electric fence around the garden twice (same line, just around two times), once about 5 inches high and the second wire about 10 inches high. No coon or deer in the garden this year.
Todd
Tue Sep 01, 2009 9:36 pm
how do you know when it is time to harvest the water melon?
Todd
Wed Sep 02, 2009 6:07 am
When it falls off the vine.
Thu Sep 03, 2009 6:56 am
I've been picking Okra every other day and getting about 10 lbs. each picking. I'd run out of jars and was talking with one of my high school classmates mom the other day and she said if I'd bring her some okra she'd give me a bunch of jars. She's in her 80's and has slowed down on the canning. While delivering the okra she mentioned she had a recipe for pickled okra that was very good. She gave me the recipe and it is a winner. I've canned 28 quarts of okra pickles and we will really enjoy that through the coming winter.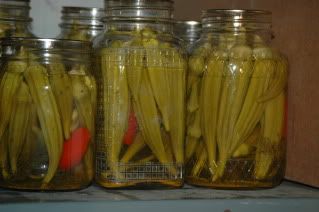 http://www.farmallcub.com/phpBB2/viewtopic.php?f=36&t=45168
Last edited by flyawa on Tue Sep 08, 2009 8:51 pm, edited 1 time in total.
Fri Sep 04, 2009 9:17 am
watermelon is usually ripe when bottom turns bright yellow, and thumps dull sound. also the first leaf curl will turn brown on most varieties.
cantaloupe will fall off the vine when they are good and ripe unless the bugs get them first!
Okra looks good, ---- IF your into okra!!!---LOL!!! Lots of folks like the stuff! thanks; sonny
Fri Sep 04, 2009 9:50 am
Flyawa,

Would you mind sharing the recipe for pickled okra? We have tried and have not got it down right to my liking.

Billy
Sun Sep 06, 2009 2:17 am
I just had fried okra last night at the neighbors house...
Robert (and it was good) Miller
Mon Sep 07, 2009 10:04 pm
Billy Fussell wrote:Flyawa,

Would you mind sharing the recipe for pickled okra? We have tried and have not got it down right to my liking.

Billy
really would like that recipe, okra's just coming in good,planted it late.
thanks