You are welcome to come down and look at the equipment any time you want to!----EVERYONE is welcome to come and look at my equipment!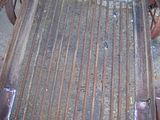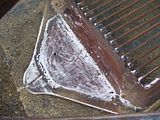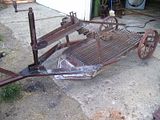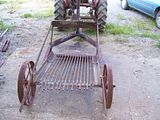 2 years ago when I made it we had 1,800 feet of rows to dig and had it not been for this digger we never would have gotten the 8,000+ pounds of spuds dug + the 150 feet of sweet taters!
I now have plans to install a powered drag chain in it to pull the dug spuds/dirt/rocks/snakes/toads/whatever else that comes up , back over the rod section and POSSIBLY dump into the little wagon that I made to use in the garden.
I think then the 72 will pull it ok (used the 56 last time). If I hook it to the 3-point hitch, that will give me the inch-close depth adjustment that can be used on the go! (will control the cut a lot better!---not sure how much this thing weighs, but hitting 10 inch dia. rocks dont faze it or bend/break anything on it (does stop tractor dead in its tracks! LOL!)
It can also be used in the garden to dig/pick rocks up and sort them from the dry dirt, so it would be used fore more than just tater diggin' thanks; sonny