Tue Apr 05, 2011 9:15 am
Its time!---LONG winter--LOL!---still cold, but onions are here and ground is workable!---spuds go in around 10th to the 22nd--here!
Went to get the 706 out yesterday, and got a lap full of hyd. oil,--SO now I have to try to get a seal and put it in the steering unit before I can use that tractor,--got the horse tiller out to till up the window garden and the bronze gear in the tine drive went out!--now gotta wait on parts for that one and use one of the other tillers til' parts can be ordered for the horse.

Also in the process of getting rid of that funky fast-hitch off the 560 and putting my good 3-point hitch on it so I can use it on the big tiller until I get the steering seal in the 706, (might be a while)

Have some of the acres plowed with the 404 and the 1-bottom hi-clear plow (slow job with it)!

Almost have the expansion area on the far side of the big garden cleaned off and ready to plow!---had to bring in MOOSE to do that job and quit messin' around with the back-hoe in there (too slow)----Can't upload vids. anymore due to Hughesnets poor ISP service,--- SO I will get a couple still pics. and post them so you can see what a job we tackled and the amount of additional square footage it will add to the big garden!
Weather here has been good and getting very dry, but the cold wind is the problem right now with no sun!---feels good out when the sun shines! lol!---then I work like heck to get stuff done!-----Have also been hauling more of my homemade dirt from the other place in between times, so I have a bunch of jobs all going at the same time!

The ground seems to be mellow, right now, but I still would rather have gotten it fall plowed!---will work with what we have and see what we grow this year!---Still could get spring floods and not get anything else planted! ----GOTTA RUN!---PICS. OF PROGRESS TO FOLLOW!--LOL! as always : sonny
Fri Apr 08, 2011 10:20 am
why wait on the garden to dry out ,borrow a flower pot and get a early start . This is the 2nd batch this year--love them green onions
Sun Apr 10, 2011 7:46 pm
Sonny- sounds like your having a run of bad luck. What ever happened to the old saying that equipment doesn't break in the tool shed?? Well, I too, have had perfectly fine tractor break while in winter hibernation. Good luck with gettem fixed up..
Got a new toy for the garden this year..A Jang planter..actually two of them..on a tool bar so I can plant 15" rows of spinach, radishes, ect.. Used them to plant some spinach already. Time will tell how well it works
Also planted 50 lbs of potato's , spread fertilizer and worked it in with the plans being to do more planting...then it rained 1.5 inches. rats..oh well, will give me time to get the transplanter ready. Only have about 500 plants to get in the ground.. Gonna see if we can plant onion sets with it too. I know it will do potato's.
Harvested my first dozen asparagus. Boy they grow fast. Must be hardy rascals to do so well in my "swamp land". This is my third year on the patch so I should be able to harvest for about 4 weeks.
A little later I will try to post pics of a homemade rotary hoe and homemade tater plow the goes on the cub. Works very well. Wish I could take credit but a previous owner built them..more than likely back in the 50's.(48 cub)
I hope everyone has a safe and enjoyable year gardening..Be sure to post what is happening in your neck of the woods..Greg
Sun Apr 10, 2011 8:42 pm
Sonny don't let it get you down. Plenty of time!!
I haven't posted here for a while, thought I would stop by. Here's what I've been up to in Central Illinois.
Planted 300 strawberry plants. Now I have to figure out how to keep the patch weeded. Might just run the small tiller down the rows until the plants start spreading out.
I worked our garden with the tiller on April 2 for the first time, after fall plowing with the H. Talk about mellow ground. My fertilizer should be in first part of this week then I'll spread that and work it once more. Our 140 lbs of seed potatoes will be here this week as well. I'll have to post some pics of our planter this year. It's a horse drawn OK Potato Planter I found in northern Illinois last year.
Here's my first row of onions, 200 feet. I think I'll end up planting another 100 feet.
I did notice today that our asparagus is starting to poke out of the ground. Found a stalk that's about 3 inches out. It'll be 8 inches in the morning, hehe.
Here's my 10 year old boy on our 47 cub. I've been doing some work to it over the winter months. New rear main seal and retainer, new radiator, new front bolster. I had to make shift a fuel tank cause I wanted to run it with the hood off for a while. Lots more to do on it, so I might be asking questions. Might need some help with the wiring before the hood goes back on, then I'll move onto the final drives. Anyways, here's a pic.
Happy gardening to everyone this year!
adam
BTW, Keep us posted on how the Jang planters work. I am very interested in knowing your opinion about them. I have looked at them and was tempted to order, but never have yet.
Sun Apr 10, 2011 9:34 pm
Jang planter.. I'll tell you what I know so far..1-don't get the double disc openers, the pinch point is at the 9 o'clock(3 o'clock looking from other side..lol) so it has a 1/2" gap at the bottom..in other words if you are planting less than 3/4" deep, it would form a "w" instead of a "v" furrow..I sent mine back and traded for more seed wheels. 2- I got it thru mechanical transplanter..good people, very friendly and helpful. Prompt service. 3- I puchased the triple row unit with tool bar. I only got two seed units tho. I couldn't think of enough crops that I need to be that close(7" rows). They sent me the two rows. But it still has 3 drive wheels in front. I planted in a stale seed bed(rained on and dried out) a little crusty, little ridges from tillage tended to pull entire unit out of the ground. I will probably take middle drive wheel off and just put a pipe in for spacer. Should help that problem some. 4- Owners manual says planting speed is 20" per second. That is 110 ft per minute. So don't crank the speed up on your tractor. 5- With the shoe opener, it could tend to drag trash if it hasn't been buried deep. That concern was why I tried the double disc openers. But hasn't been too bad yet.
For the money spent, comparing it to earthway or the real high dollar units, it does have very nice features of seed placement(distance between seed), saves seed. I'm happy so far..more later when crop emerges and I can see the results...Greg
Mon Apr 11, 2011 12:19 pm
Looks good guys!--- The planter sounds interesting too!---glad to see gardens are starting!

Well,---got seals for the 706, and finally got them in, (not an easy job but I did get them in) haven't started the tractor yet, but new seals are way different and only 3 pieces instead of 6,---they look to fit better than than the old style.---this is a Parker steering unit and Parker changed the seal style on it.

In the meantime I plowed up part of the gardens,--(chicken corn garden,onion and spud garden),----just tilled some of the other gardens, and may not plow them this year,(might have to give them an extra dose of weed killer)---ground turned and tilled up super good, for a spring job.

So far have 2 rows of onion plants in the ground,(195 feet long each row), and started on the 3rd row.( 1 more bunch of plants will start that row) then we go to 6 pounds of the sets, and go as far as it takes to get them in! The plants are the big sweet onions like I had 2 years ago.---we have 12 varieties this year of plants.--(havent a clue as to what variety the sets are,--just red, white, and yellow).
have had a lot of rain the last few days, so garden work has been in between storms, last night we had another .7 of rain and its going to take a while to dry this time.

Did get a little more root picking and ground clearing done in between, too!----gotta get the pics today!----thats about how it stands here for now!-----Shiggy is trying to beat me in getting planted first!!!LOL!! (we live about 20 miles or so from each other!)
thanks sonny
Mon Apr 11, 2011 1:31 pm
Sorry if I venture off topic........

Sonny - I have my eye on a 1969 international 656 hydro. Should know more later this week. Bad news is that I'll have to find some equipment for it. I don't think the wife will like hearing that, but she's always next to me in the morning.

Adam
Mon Apr 11, 2011 7:46 pm
The 656 would be nice size tractor,---close to 560 size,only newer model---one sold where we got the 560!---equipment for these smaller tractors is getting hard to find!---usually reasonable price, so you have that going for you!
got a few pics today!
in the far right side you can see some of the few remaining stumps waiting on transport to burn pile
This will be the BIG BURN when I get the rest of the stumps/roots on it!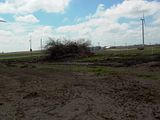 this is MOOSE waiting for the ground to dry,(not that the mud would slow it down)
thanks; sonny
Mon Apr 11, 2011 8:13 pm
You have to look close,---but there are 2 rows and part of the third row before it got dark.---then it rained .7 last night, so planting is on hold!
this is the 195 foot long rows for the onion/potato garden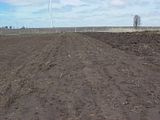 this is a pic of where I just tilled and never plowed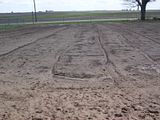 I did plow and till the onion/potato garden because I wanted the ground broke up deep! thanks; sonny
Tue Apr 12, 2011 6:44 am
I envy you guys over there. This has been a very wet and chilly spring here. I did get the onions and potatoes in two weeks ago but I was working in ankle deep mud. Too much work for an old man. The ground is still too wet to get a tractor in yet. Only thing that is going well is the seedlings in the high tunnel. Everything except the flowers are growing fast. The matters will have to be staked before they are moved. I get real impatient this time of year. Good luck to all.
Tue Apr 12, 2011 7:02 am
Great photos guys.
Sure wish that spring would come here, snowed some yesterday
but none stuck. Still freezing at night though so won't be getting
the garden ready and in for a while.
Keep up the good work guys.
Wed Apr 13, 2011 8:13 pm
Just finished spreading 400 lbs of triple 13 after work tonight. Hopefully I can get it worked in with the tiller tomorrow evening, prolly not though, but wishfull thinking. I also have 150 lbs of urea, but I'll spread that and work it in the same day as I plant my sweet corn. My soil is still damp from the last rain we had, .7 and the cool days doesn't dry very quickly. But this time of year PATIENCE is the key.

adam
Thu Apr 14, 2011 9:34 pm
Got the rest of the onions planted today, (right at 1,400 plants, + 5 pounds of sets.)---3 rows of spuds ( 195 foot long rows) planted before it got dark/frigid cold/high winds again,---also tilled some of the higher areas again to stir up the sprouting weed seeds that cover the surface!-----some of the gardens are still way too wet.--chicken corn ground is plenty dry, so if I can get it worked and sprayed with pre-emerge I will plant it. --(neighbor planted a couple hundred acres of corn today, maybe more!)----too cold yet for sweet corn.
Started some seed flats yesterday, so will see how they do in the greenhouse plus they have glass over them! hope to hold enough heat in to get the seed sprouted!
Still need to get more stumps carried down to the burn pile! thanks; sonny
Fri Apr 15, 2011 9:01 pm
Heavy rain was predicted for today. So yesterday I gathered the troops and set out about 700 plants. Had to go to our "bottom patch" to find ground dry enough. I had already spread fertilizer on it and worked it in just before the last rain. Stale seed bed but the ole Holland transplanter did a very nice job. Took all of 2 hours to do it. Spinach is still not up yet. The potato's we planted got hit hard by rain and had to recover some of them.
Going to get an old rotary hoe tomorrow. It's 12 ft. wide, made in 4 sections. The hoe wheels still have a good curve on them. I'm planning on making a 4 ft. section for the cub to pull. If you use it about 5 to 10 days after planting you can kill many little weeds without digging up new seed. Other than that, still waiting on some good drying days. Greg
Sat Apr 16, 2011 12:29 pm
We are rained out again!---nother .5 inch of rain last night + raining today! High winds (35+ mph, second day and night in a row)----onion plants act like they enjoy the cold wet weather! thanks; sonny