Sat Apr 30, 2011 10:03 pm
Stay tuned to this thread for more pics of gardens and the tools and tractors to tend them!---The guys are pretty good about posting pics. of what they have to work with!
I did get 3 gardens tilled late today,--THEN Virginia tells me that they say rain after midnight, so I parked the tiller tractor and got the 185 out and mowed some of this green stuff thats taking over the place!( cant bag the cut stuff with the 185, but I had to get it mowed anyway I could)!
The seed flats have cabbage up but no maters/eggplants/peppers/etc! ---one pot that I started in the house has a fair amount of Rutgers Select mater plants in it so maybe we will have a few!
Saw some volunteer corn and pumpkins about 3" tall!---think I tilled them under too.

Worked a little on the Agco-Allis 516-H that I just got with a blowed up motor,---think that might be a lengthy job fixing that thing, but I know whats wrong with it now!--LOL! (big ole hole in the block with part of the rod hanging out!

Is anyone dry enough to get back to the gardens yet? thanks ; sonny
Sun May 01, 2011 6:20 am
Interesting that conditions down here are about identical to Sonny's. I had to take a load of plants to the Farmers Market yesterday because they are growing and I can't get them in the ground.
Sun May 01, 2011 7:32 pm
No rain last night, BUT-- just after I tilled some more of the gardens,--(they were a little damp,----ok,---too danged wet but I had to attempt to get this next crop of small weed seedlings turned up and also break the crust)!----I then got a small tiller out and started to cultivate the onions, (which are 6 to 8 inches tall now) and taters, (some are a couple inches tall).---I only got thru 3 rows when the downpour hit and I got soaked before I got the tiller back to the shed!!
Rain on Easter Sunday usually means rain on the next 7 Sundays, according to old timers!---all I know is this rain is messing things up!---I have a feeling when it finally does quit raining, we will be in for a long hot dry summer!

I did get some more irons cut and holes drilled for the 3-point hitch on the cub!----Want to get the hitch back together and make the adapter to mount the brinly plow to and have it ready to go ! Are you guys still floating away??? thanks; sonny
Sun May 01, 2011 8:01 pm
My garden was still a little damp this morning, almost went ahead and tilled/planted. I need to get my potatoes in the ground.
But I thought about the consequences of doing so and stayed out of it. Had a small shower this evening, .1 is all I got here. So instead of working the garden today, I pulled the 656 otta the shed and slapped the wide front on it. We picked up the tractor last Friday. I am hoping this summer to find a 4 bottom for it. It should be a bit quicker plowing the garden compared to my H and 2 bottom. Still need to drop all fluids in it, etc. If it keeps raining like it has been, I'll have the time.
I know it's the garden forum, but here's a few pics. It will be used in the garden this fall.
adam
BTW, Sonny - you get that 3 pt on the cub, grab a few pics of it. I plan on making one this summer for our cub so I can run my planter on it. I have a good idea of what I'll do, but it's always neat to see what others have done. thanks
Sun May 01, 2011 8:47 pm
wow; two days sun. I believe we just had the wettest month on record. Only 13.6 inches of rain, give or take a smidge, but went to the bottom garden on Saturday, planted 2 more rows of onion sets and cultivated the cabbage,broccoli, and cauliflower. They are still alive after all that rain. I used a Kubota B6000 to do that job. I need to make some anti-sway bars, got too much drift yet. It was really too wet, but the weeds survived the rain to and had to be dealt with an iron rod(or shovel!). I have 2 cubs set up for cultivating, but the plants are pretty small now. I hope to use the kubota on my 15 inch rows. Now it's raining again.
I will try to get pics of some of the tools I use in gardening. My motto is "a key and a seat".
Guess that might mean I'm lazy, but I just enjoy the challenge of making tillage tools. Greg
Mon May 02, 2011 10:47 pm
I think I have the 3-point on the cub, didnt get to try it yet or get pics.---got dark !!---have the brinly plow problem to work on yet, but if all other ideas fail,-- I will just weld that sucker to a 3-pt. frame and hope its the right angle that I would still have some adjustment!
Excellent lookin 656 ya found there Adam!!!---that will make a great heavy work tractor for the garden!---I was using a 706 in mine for the last 2 years, and this year am down to the 404 right now !---need to get the cub & plow going, so I can plow some in the smaller gardens with it, IF it will pull the brinly bottom!--I might be doing a lot of work for nothing again!(cub wouldnt pull the David-Bradley 6" bottom, and this brinly is a 12" so dont know!)
We had .3 of rain here last night and really made mud again, didnt dry any today , and wont without the sun!
The first pot of mater plants have just started the 3rd leaf, so they will need to either go in the ground or in single pots until ground/weather gets more favorable!
Fixed several hand tools to use for weeding and have them ready!---made a few "special" ones for my personal use! thanks; sonny
Tue May 03, 2011 6:10 pm
I just tilled where I will be planting the potatoes this year. I tilled shallow enough not to get into the wetness. I think tomorrow around noon I will till once more, a little deeper and get them in the ground. I'll try and get a video of our OK champion planter. The weather forecast isn't lookin that good into next week, so I'm goin to try tomorrow.

Adam
Tue May 03, 2011 7:51 pm
Here are a couple pics of a very crude but workable 3-pt. on my 72!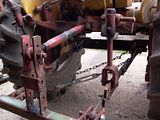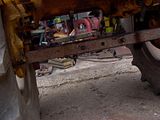 One pick is under the front looking back towards the hitch, and the other is looking in from the rear.---some of the plow mounting frame is on the rear!---as of dark time the plow is mounted except for 1 short brace to hold bottom steady when cub jerks it out of the ground!---THEN we are ready for test pull and a LOT of adjusting to get things set to this tractor! thanks; sonny
Tue May 03, 2011 8:20 pm
This is how the onions and taters look today!
some of the taters are a couple inches tall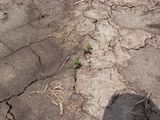 the onions are 6 to 8 inches and growing good!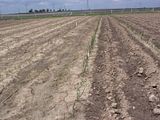 Grabbed a couple pics. of the taters and onions today,---hope I can get the other rows cultivated in a day or two, but weather not looking real good tonight! thanks; sonny
Thu May 05, 2011 6:44 pm
We planted all of our potatoes yesterday. I worked the area in the morning with the tiller, then we spent most of the day cutting the seed taters. We ended up with fifteen 200 foot rows, now I can't wait till I get our potato harvester out. I am also thinking of having a Potato Day at our farm when we harvest, fry up some taters and okra, drinking might be involved.
Here's a list of what we planted....
Rio Grande
Purple Majesty
Red Pontiac
Mountain Rose
Carola
Colorado Rose
Ranger
Here's a pic of our potato rows. Those are onions on the far right of the pic. It's best to keep your taters next to the onions, it makes their eyes water.
I also grabbed a short video of our OK Champion planter in action.
Hopefully the above video works for all. I usually post video's on my own website, but for some reason I can't get it to embed here at farmallcub.com
adam
Fri May 06, 2011 5:11 am
Looks good but I've heard that you can grow more corn (potatoes) in a crooked row than a straight one. Is that true?
Fri May 06, 2011 8:16 pm
31 tomato plants in the ground as of today. Installed a fence post and zip tied a cage at each one. We have a 60% chance of rain in the overnight, I am hoping to get my sweet corn and green beans in the ground Saturday or Sunday. I'll have to see what happens with the weather.
adam
Tue May 10, 2011 8:20 pm
Finally got something done in the garden. Woke up at 5 am and hooked up the 6' field cultivator to the Massy 135. Everything looking good. Then the tractor died. I've been having fuel flow problems. Elmer (father-in-law) just bought it a few weeks ago. He's 76 and battling cancer and wanted the tractor to tinker with. Took me several weeks to get it running. Still have a few bugs I guess...lol... Anyway took plug out of carb. and only a few drops. Took fuel line off by carb and some air and then fuel flowed freely. Started right up, drove 2 miles to garden, worked the ground, drove home and made it to work on time. Now I was praying for no rain. It missed!! Then I had to hope I didn't have to work late..I spray crops for a local co-op. Most of the ground still too wet. Got off on time. Called the troops and we planted 300 lbs of potatoes in two hours(including cutting them) I was pleased. Used the cub cadet with furrow opener and my home made double disc furrow closer.
Sorta a long story to just say we planted potato's... Also been cultivating my spinach and cabbage..Most of my gardens are way too wet. Later..Greg
Tue May 10, 2011 9:55 pm
We got a couple more late rows of taters in, and 29 mater plants, so far!---NOW we gotta plant 20 pounds of late onion sets, (for green onion use) and I just got done planting a 5-gallon bucket of very late artichokes!!--(on contract for a market vendor)---think he has a bunch more too, so I told him to get them out here if he wants them planted and we will see if they make it or not!
Looks like this year the gardens could actually pay us a little income from contract growing for him!--he can sell everything we can grow, so hope this works! thanks sonny