Mon May 30, 2011 11:54 pm
Maryland Silver queen planted April 30.I used 172 runner planter, and side dressed with 10-10-10.
You do not have the required permissions to view the files attached to this post.
Tue May 31, 2011 9:36 am
Finally had a good day Monday to finish harrowing. Soil is perfect at this point! Had a helper or two...[url]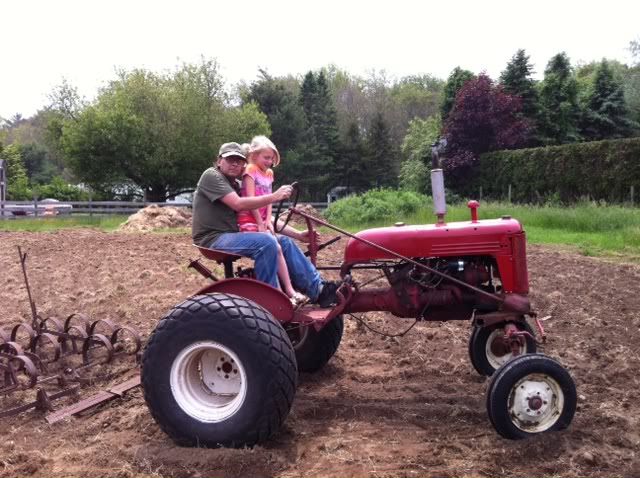 [/url]
Tue May 31, 2011 11:09 pm
I think most of the maters are in,---over 300 plants at this time and the first plants now have little green maters on them about the size of your little pinkie, so they should be the first ones to get ripe, followed by the other varieties which are longer season kinds!---wanted to spread out the season on them and have ripe maters come on every week or so if possible instead of all at one time.
Taters (1 row) are starting to bloom, and they would be the shortest season kind that we have.---the other rows were planted later, so they have a while to go.
The strawberries are about ready to start picking the first round in a day or two!
Still have to plant the cabbage plants, and the seed stuff yet!---got a lot done today, (a little wet, but used the little horse tiller to break the crust,--really wet down a couple inches, but top was dry!)
Would like to plow 2 more areas yet if it is dry down under where I ran the sub-soiler! thanks; sonny
Wed Jun 01, 2011 8:26 am
Sounds like you have a good plan.
Thu Jun 02, 2011 1:06 pm
Today its more rain, but I got the chicken corn re-planted just before it started!!-- yesterday we got 180 cabbage plants in the ground and I ran the big tractor/tiller over most of the other ground, (kinda wet)---second flush of weeds/grass starting up!
Found this in the strawberry patch this morning!---
I dont kill snakes,(birds are another story!) if I can avoid it, BUT this dude got into the bird net and is history! thanks; sonny
Thu Jun 02, 2011 1:28 pm
Yikes!
Sun Jun 19, 2011 9:21 pm
What a rough year for gardening here. My last post(around mid may) stated I planted spinach,beets,and carrots...total wipe out...nothing but weeds growing..tore it up about 1 weed ago and planted more beets. So far only weeds growing. Not having much luck with that new high dollar Jang planter. Can't see anything really wrong with it tho.
Planted the last of my potato's , around 300 sweet potato slips, watermellon,cantalope, and 1st planting of pumpkins. Using an old Cole planter for pumpkins, and sweet corn. Looks like it is doing a good job. Had to do a little modifying to it. It has a long shoe opener and where the seed comes out the opening is about 1 1/2 inches wide. The seed would be bouncing around and more times than not end up being only barely under the soil instead of 1" down. To remedy the situation I took a 16 oz water bottle, cut off the top to make a funnel. Cut a bit off each side so it would fit and made a funnel so now the seed falls where I want them to. To hold it on I used...ready?? Duck tape!! I planted over 1/2 acre and no sign of it coming loose. Works so well I'll probably try to glue it in.
I also used a earthway planter adapted to cat 0 on a CC106 to plant greenbeans. I plugged every other hole to get population where I want it. Have a nice stand of beans growing.. Might try to get a bean plate for the Cole, but they are $36 each and I had no time this year.
I have a Allis Chalmer one row, cat. 1 planter for sale. Has been adapted to use JD plates. Double disc openers. Belonged to my son-in-law Dad who past away. Looks to be in very good condition. I have a few plates that would fit it too. Enuf on that, don't want anybody to get mad at me...Later..Greg
Sun Jul 03, 2011 8:54 pm
Hard to believe it is July already...Happy 4th of July everyone..
The Cole planter did a really nice job on sweet corn. And for pumpkins the spacing is great, about 60" just like it was suppose to do. Only it dropped about 2 to 5 seeds per drop! Had some thinning to do. But sure beats planting by hand.
2nd attempt at beets was a flop again. Only found about 8 plants in a 30' by 30' area. Bummer...plenty of weeds tho..lol.. Gonna try again in a few days. I must be doing something wrong, just not sure what it is.
Other crops are looking good. Got all my sweet corn and Indian corn sidedress with cub. Also sidedressed pumpkins, sweet tators, peppers, and regular tators. Sure is easy with the cub.
Planted my second planting of pumpkins today along with 20 more rows of sweet corn that are around 100 ft long. Now to plow up some more ground getting ready for fall crop plantings...Later...Greg....Ps..Allis planter is sold.
Mon Jul 04, 2011 6:15 am
Did I read correctly that you planted sweet corn? Ain't it too late? Just wunderin'
Mon Jul 04, 2011 6:52 am
DanR wrote:Did I read correctly that you planted sweet corn? Ain't it too late? Just wunderin'
I'll be planting corn one more time, before leaving for the Tug. Every 2 weeks, from May to mid july. Gives me a steady supply, til frost. Ed
Tue Jul 05, 2011 9:44 pm
DanR , you did indeed read correctly. This is as late as I plant sweet corn. Last year it did real well, even with 90+ temps and very little rain the entire time..My late garden areas are very wet ground. In a normal year I can't plow until about June 10. In fact, my wettest area is still too wet!!!..Greg
Sat Jul 23, 2011 5:06 pm
Hi, guys!--- its been a bummer this season for gardening in this area !---Did come out with some nice big sweet onions that are very good! ---the tater beetles finally got the the tater plants,---I couldnt find anything to kill,--or even slow them down, so then the drought finished the plants off!--dug a few of the early row, and not much production so doubt that the fall planted crop will amount to anything either but planted them last week!---have cuces about the 6th leaf stage,--hoping they will make a fall crop!---turnips just emerging from the ground and look good so far, maters are very poor this year too,--might be a few decent cabbage heads getting close to harvest stage!--had 1 mini-head that we ate,--very good!--It weighed 2 pounds, and very mild and tender!--never grew them before, but they are a real short season kind!
Sweet corn is starting to set ears, and look fair!---have several different kinds and maturing dates so I might have enough for our own use this year if it is high quality corn like we normally grow.
the bean crop is not looking great, but fair,--about to start blooming at this time!
have a fair yield of round zuchs., and they too are very tender!--have the billiard mix,--light green, dark green, and yellow ones!--first year for testing them too!
Thats about it for my report for now!---How are you guys doing with your gardens?---( I have been too busey to post much this season but do have a few pics that Virginia took, just have to get them loaded to PB so I can post them) thanks; sonny
Sun Jul 24, 2011 12:06 pm
Well, the harvest of the first planting of sweet corn is just about to wrap up here. It was disappointing as we just got about 200 dozen. I was hoping to get about 500.

The second acre is coming in and should be ready in 3-4 weeks. I cultivated this acre more and fertilized twice instead of once. It should be a lot better than the first acre.

The pumpkins are doing ok and are starting to put on pumpkins. I know the bees are having a hayday on the blossoms.

We got 12 quarts of green beans from the home garden and have gotten about 20 cucumbers from 3 plants. I am thinking about trying my hand in pickles.

We have about 10 watermelons on the vine and they are growing like crazy. Tomatoes are just starting to get yellow.
Sun Jul 24, 2011 2:52 pm
Not going well for my plots, but learning alot. The squash bug has gotten the squash, pumpkins and cucumber. I'm learning about the good guys and bad guys. Need to plan for an good bug island in the plots. The heat is working on the tomaterz, cowpeas and carrots. Well is half paid for and got the permit....it goes in the 5th of August for the house and irrigation for the three plots.The pole spring beans didn't do anything. The pole limas are doing fine which I can not understand because all I have none to them is plant and strung the string. The Yellow K199 corn is coming on and is awesome eating. Orka is starting to come on strong too. We have canned 12 quarts of beets and 6 quarts of bread and butter pickles. Frozen about 5-6 quarts of cowpeas. Hopefully can can some tomatoes in the next couple of weeks.
The soil test has came back from the county extention and I'm ready to give a fall garden a try and planning on building 3 or 4 cold frames for some winter time greens.
Bottom line is I'm learning and enjoying myself...........Life is Good!
Bill
Mon Jul 25, 2011 9:12 pm
It pays to keep an eye on your veggies!! Was checking my last planting of sweet corn 2 weeks ago. Coming up real nice. Then I noticed one wilting, upon closer inspection, many were wilting.. Rats...cut worms..according to all the preventive measures I took, they weren't suppose to be there. That area was bare dirt for over 1 month. Nothing the the moths to lay eggs into. Even worked it lightly to keep weeds at bay. But they nailed about 1/2 my stand before a little "warrior" won the battle. I guess I should be happy with what I have.
My gardening associates and I have been selling lots of veggies to the CSA. Got the last of my pumpkins planted. Rigged up an old rotary hoe to a 3 pt hitch. (was a pull type) Figuring out the correct way to use a Jang planter..Most of the problem was the operator.
...Down to only 3/4 of an acre to plant for a fall garden..Hoping to put in cabbage, broccoli, cauliflower, sugar snap peas, turnips, radishes, and spinach. Could use some rain and cooler temps. later...Greg