I have not shared this receipe with anyone, that is until now. I have been making these for over 20 years, much to everyones delight. I used to make them for the owner of the restraunt i worked at. But she knew to give me at least 2 hours warning make em. If you try them out, be sure to post here and let us know what you think! My family and friends have enjoyed them for years. If they werent such a "pain" we would have em every week.
Ingedients
8-12 large baking potatos
1 medium onion diced finely
1 can mushroom halves/slices
1 bag of real bacon bits
1 jar of cheddar cheese sauce
1 box of uncle bens wild grain rice, orginal receipe
1 container of sour cream.
1 green pepper finely diced (optional - i dont like peppers so i never use, boss did, so she always got one)
1-2 smidges of WHITE cayenne peper. (If you dont have this, DO NOT SUBSTITUE, do without)
1. Scrub your potatos clean. Then bake your potatos in a 350 degree over, takes about an hour. Cool over night in the fridge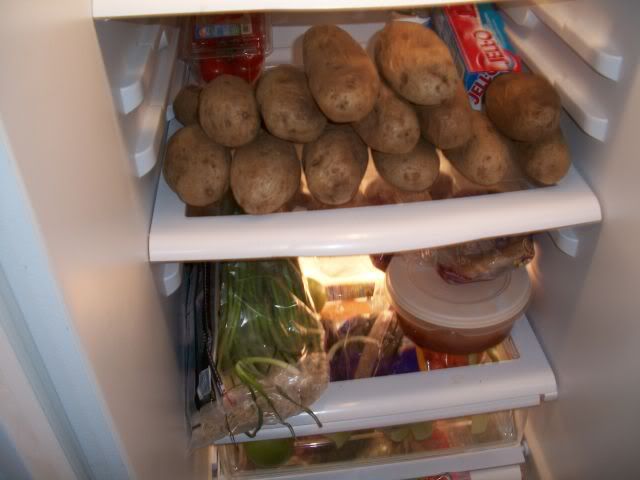 2. Next day, allow a couple hours prep time. Shell the potatos. Leaving skins intact. You may need to leave a little wall of potato as well. You will get better at "skinning" them as you go along. Place the pieces of potatos in a large mixing bowl, and the skins on a cooking tray.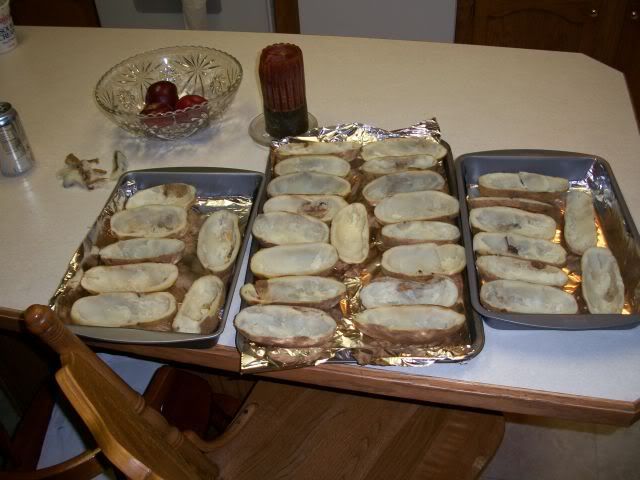 3. Next mix your ingrediants:
With a mixer, mix the sour cream and potatos first. Depending on the texture you want, determines how much mixing. I like mine to have a lumpy texture. Some people like a mashed potato texture. You can decide what is best for you and yours. Then slowly add in each ingrediant one by one. Mixing well in between each one.
4. Stuff the potatos. Even though your mixture is more than what you took out of the potato, you will be able to slightly over stuff each one, thus using most if not all of the mixture. You will want to place a 1/3 - 1/2 slice of chedder cheese across the top for decoration. You will also want to lightly decorate with paprika. its all in the presentation you know.
5. Bake in a preheated oven, 350 degrees for 30-40 minutes. Or until the top has the golden color you want. I like mine good and golden, which takes closer to the 40 minutes. But i do check at 30 and 35 minutes.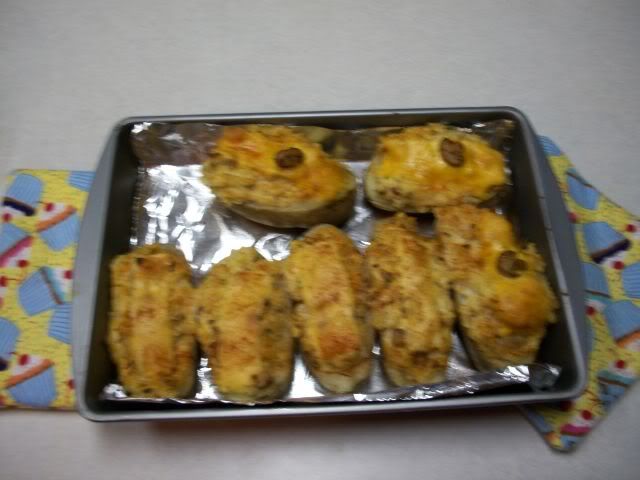 6. AHHHHHH They were excellent last night for supper. As you can see in the picture, some had a mushroom toothpicked to them. Well somepeople like mushrooms, some dont. So what i did, is mix normally without the mushrooms. Stuffed all i wanted to do, leaving a few out for the ones with mushrooms. Then when the non-mushrooms were filled i went back, added in the mushrooms and filled the remaining shells. I identified them with a mushroom on top with a tooth pick so it wouldnt fall off.
7. Depending on how many people you want to feed, you can cut the potato in half as i did here, or in 7/8 position. When i do the 7/8 position, i put the "top" back on, along with the the chedder and the paprika. I cut this in half as we are going to annual new years party at our aunts, and there will be a lot of people. If what was for just us, i would do it the other way.
Let us know how it works. Yum Yum. Getting hungry all over again. Glad there is some left over.
John