Wed Mar 14, 2012 6:48 pm
Was a wonderful weather day today (78 degrees and sunny) with the wind about as calm as I've seen all week. It was time to burn the brush pile that has been collecting for the last couple of years. We still have dying Dutch Elm trees and when they fall down (or blow down) they get added to the pile along with general cleanup of growth creeping out of the woods.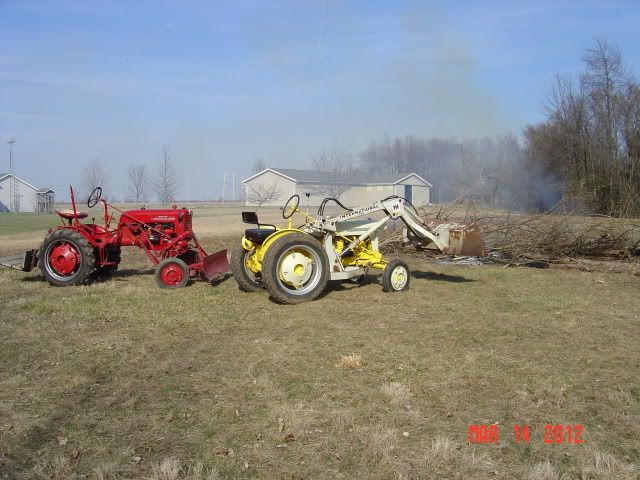 Wed Mar 14, 2012 7:10 pm
It also helps limber up those Cubs so they are ready for a summer of work.
Wed Mar 14, 2012 7:11 pm
Denny, We're so dry out here that last fall they changed the rules for burning. You have to have a permit, and there has to be snow on the ground.

Bob
Wed Mar 14, 2012 7:50 pm
Since we've had a few dry days tomorrow I'm tarping a large log pile I've had sitting for about 20 years , next weekend rain we have she's gone.
Can't burn here until after 5 PM so I'll need to call the neighbors, it'll be a all nighter...
Thu Mar 15, 2012 12:11 am
Bonfire time!!!! Yogie,,,an all nighter,,,maybe I should come out and supervise to make sure everybody stays up all night!!!!HaHa!!!! Think I'm going for one myself this St.Paddy's Day!!! Kevin