Moderator: Team Cub
Boss Hog

Cub Pro

Posts: 10241
Joined: Mon Oct 24, 2005 8:35 pm
Zip Code: 23962
eBay ID: dmb2613
Circle of Safety: Y
Location: VA. Randolph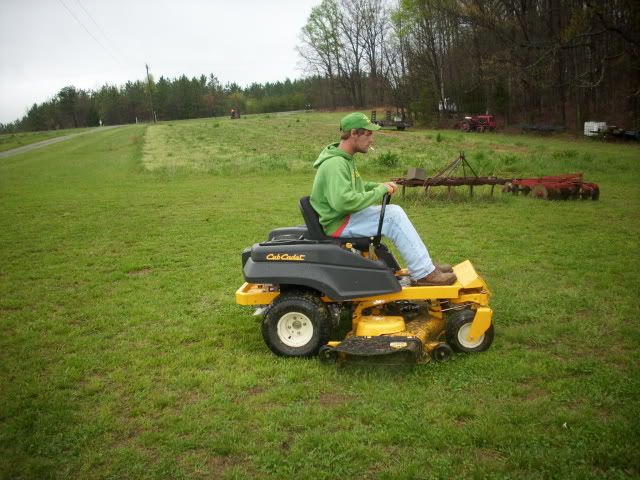 I had to get him off that John Deere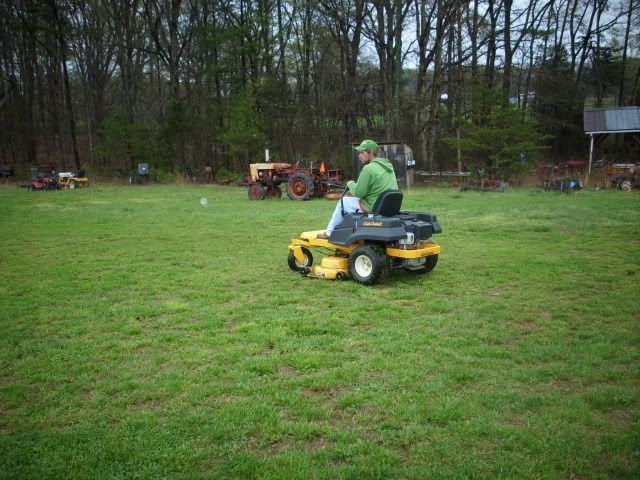 He really likes that Cub Cadet
Boss
IN GOD WE TRUST
All others pay cash
Boss Hog
Power corrupts; absolute power corrupts absolutely
byJohn Emerich Edward Dalberg
---
bear32055

10+ Years

Posts: 792
Joined: Mon Nov 26, 2007 5:55 pm
Zip Code: 62258
Tractors Owned: 3-1955 FCubs serial numbers 191155,191156 and 191158
1958 fcub
Circle of Safety: Y
Location: IL,Mascoutah
Love those 0 turns.I bet hes grinnin the entire time.
---
Former Member

10+ Years

---
Georgia Boy

5+ Years

Posts: 356
Joined: Thu Nov 04, 2010 1:04 pm
Zip Code: 30528
Tractors Owned: 1975 Cub
Circle of Safety: Y
Location: Ga, Cleveland
Zero turn is the only way to go. Looks like he is enjoying the ride.
---
Yogie

Cub Pro

Posts: 5145
Joined: Sat Sep 08, 2007 3:49 pm
Zip Code: 25271
eBay ID: yogiefisher
Tractors Owned: 37 John Deere A
63 Farmall Cub
53 Farmall Cub
Circle of Safety: Y
Location: WV. Ripley
Very nice David, I'll check it out pretty soon.

Democracy is two wolves and a lamb voting on what to have for lunch. Liberty is a well-armed lamb contesting the vote.
Ben Franklin
---
Clint Carter

5+ Years

Posts: 505
Joined: Thu Jan 06, 2011 5:46 pm
Zip Code: 27265
Tractors Owned: Ford 2000
78 Cub Fast Hitch Red
78 Cub Red
76 Cub Red
75 Cub (Not Long Stripe) Yellow
70 Cub Yellow Fast Hitch
53 Cub 151 Disk Plow
69 Cub
Circle of Safety: Y
Location: NC
he is going to want some head lights installed soon. Looks like he is having a good time.
Have A Nice Day!
---
Harold R

Team Cub Guide

Posts: 3273
Joined: Thu Feb 20, 2003 4:54 pm
Zip Code: 71203
Tractors Owned: 1948,55, and 56 Farmall Cubs.
Circle of Safety: Y
Location: Louisiana
Looks like all I'll need will be my putter.
---
Jimdawg

10+ Years

Posts: 631
Joined: Tue May 01, 2007 4:05 pm
Zip Code: 02748
Location: MA, Dartmouth
It would be easier if there weren't so many nice implements and tractors in the way, we'll be more than happy to take a few off of your hands!
I would love to get a zero turn like that someday, but it isn't in the cards yet...
~ Jim
---
Buzzard Wing

Cub Pro

Posts: 10513
Joined: Mon Aug 09, 2004 10:14 pm
Zip Code: 02840
Location: RI, Newport
Ha Ha, looks like Timmy found a Cub that goes fast enough
1971 Cub (Rufus) 1950 Cub (Cathy) 1965 Lo Boy Fast Hitch (Nameless III) 1970 Cub 1000 Loader & Fast Hitch (Lee)
---
John *.?-!.* cub owner

Team Cub Guide

Posts: 22764
Joined: Sun Feb 02, 2003 2:09 pm
Zip Code: 63664
Tractors Owned: 47, 48, 49 cub plus Wagner loader & other attachments. 41 Farmall H.
Location: Mo, Potosi
I guess I am different than most, but am not all that impressed with the ZTR mowers I have tried, nor the one I own. They do a good job for the most part, and can leave a lawn smooth like a golf course, but if your grass gets a couple inches high they do not cut smooth, plus if you mow like they show you in the ads, by the end of the season you will have a bare circle around the trees and bushes where the inside rear tire runs. With a little planning and care you can mow nearly as fast with the same size hydrostatic mower as a ZTR. You have to trim, no matter what kind you have. With that being said, some ZTRs such as Simplicity and Ferris do offer one option on their commercial models you cannot get on a traditional riding mower setup, and that is the independent suspension. I bought that because of my prosthetic hip and some pretty bad back problems. It does make the mowing easier on me.
If you are not part of the solution,
you are part of the problem!!!
---
---
Who is online
Users browsing this forum: No registered users and 1 guest