Forum rules
1. Keep it clean.
2. Keep the discussion civil.
3. Name calling is not allowed.

Politics and religion are two topics that tend to degenerate into a violation of one of the three simple rules above.

The mods and the site admin reserve the right to "lock" or "delete" any discussion that in our opinion, is "heading in the wrong direction."

MOST of all, be respectful of your fellow Cubber's opinions. Don't expect to change someones belief system from a simple forum on the internet.

Fri Dec 28, 2012 1:08 pm

we dug a pond last summer. I want to make a skateing rink on it. it was iceing up about an inch thick then it snowed. i went out to shovel it and it seems to be all slush under the snow now. what gives? warm water melting it from under side maybe? maybe i should just spray it with water to finsish melting the snow. it's in the 20's here and i would think it would freeze if the snow wasn't insulating it.

Fri Dec 28, 2012 2:10 pm

I have a rather large pond --
I have considered making a skating rink on it, but before I ever would venture out on the ice, I would make sure it is a lot thicker than an inch. Back home in Northern Ontario, we used to flood the snow to liquefy it and then it let it freeze. You need a good 6 inches to be somewhat safe for walking and skating. I would be hoping for much more. A minimum of 12 inches before I would put Ellie on it to clear snow. That is the goal eventually to have a skating hut/sugary on the south end of the pond. Ramp is already built to get on the ice. May try it this year .. we will see.
Here is a chart from the Old Farmer's Almanac
Fri Dec 28, 2012 9:47 pm
Tried making a small one for roommates daughter to play on in backyard when I lived in MA. Leveled off an area and surrounded it with scrap 2x6 and put plastic down and flooded it. It had to get really cold for quite a while before it would freeze solid. Once the ground started to warm even a little it would thaw very quickly. If I was going to do it again I would try some type of insulation under the plastic to keep the warm ground away from the ice. Probably the same thing happening with your pond, warmth from underneath keeping it from freezing to deep. No idea how to fix that.
Fri Dec 28, 2012 10:04 pm
Just a guess,but the snow will insulate and make the top of the ice warmer plus warm water rises so it may be warming the bottom of the ice.
Sun Dec 30, 2012 1:44 pm
We would set up 2x4's in a big retangle with clear plastic as a base to hold the water on my lawn. The kids had a blast playing hockey.
Sun Dec 30, 2012 3:01 pm
i am trying to flood it with a pump today to see if it freezes when it is all water. that is how the King of obsolete does it when he is building ice roads.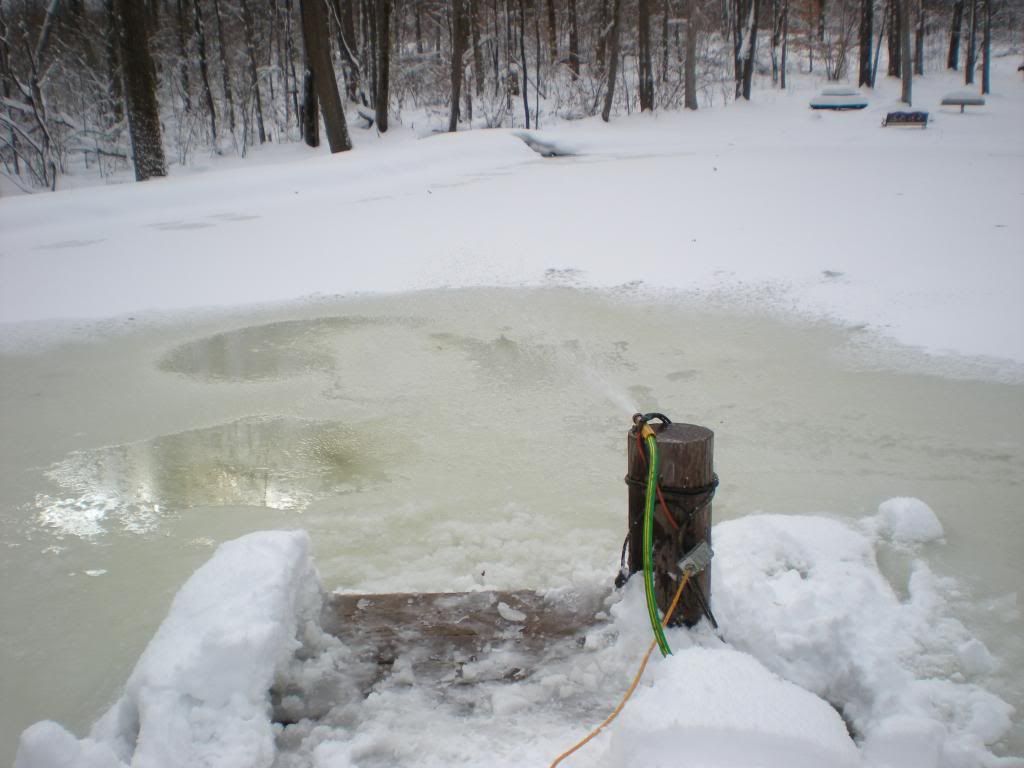 Sun Dec 30, 2012 4:26 pm
Just remember, when KoO is building ice roads, it is usually 10 or 20 below zero. At 20 degrees f the ground is not frozen very deep yet. it will need to get colder and longer for it to make safe ice on a pond.
Mon Dec 31, 2012 3:29 am
I remember back when we had a member here that done this every Winter. He flooded a pretty large area each time just for skating, I can even remember pictures posted but can't find a thing in the search about it.....
I belong to no other forums so it had to be here.
Mon Dec 31, 2012 9:44 am
Yogie:
That would be Ed up in Hornepayne I believe. Here are a few threads -
Skating Rink
Wed Jan 02, 2013 9:59 pm
Rudi wrote:Yogie:

That would be Ed up in Hornepayne I believe. Here are a few threads -

Skating Rink
Thanks Rudi, that's the very one.
The link you gave shoud help a bunch.