Sun May 19, 2013 6:28 pm
Perfect weather and an impressive group of soldiers and equipment. Do believe the CSA outnumbered the Yankees by at least double. Very interesting how realistic it all is. Of course the tents are clean, but hey can't have soiled tents in
my
fort!
Fred Zilian, a local Lincoln historian and impersonator made a superb presentation. There is a big show on July 26th to benefit Fort Adams with an orchestra and Mr. Zilian as Lincoln.
Also had a nice visit with my friend the hawk, he/she is very personable and posed for the camera. This hawk has no fear of people, just goes about his hunting from a comfortable granite perch. This time I had my good camera.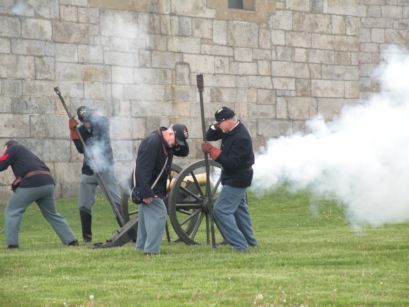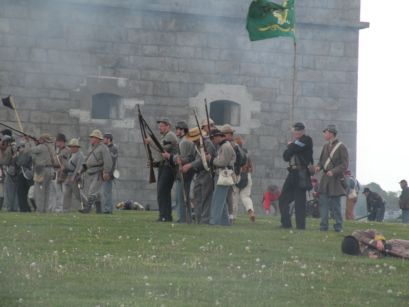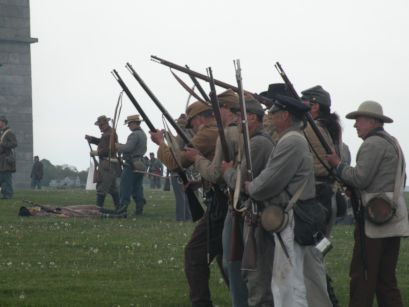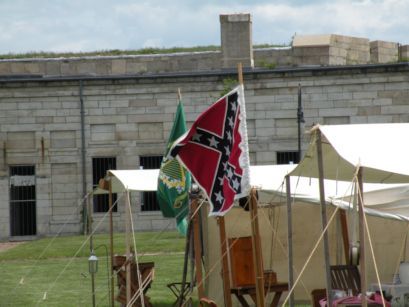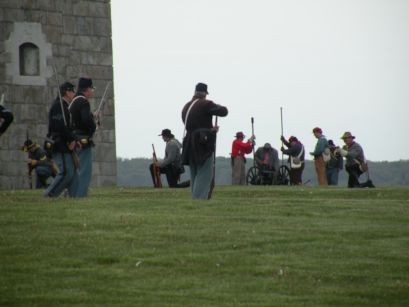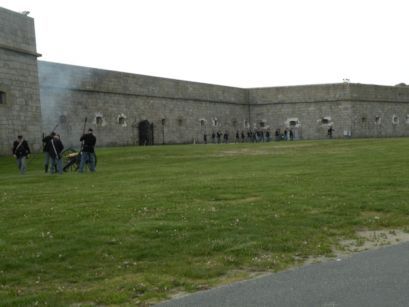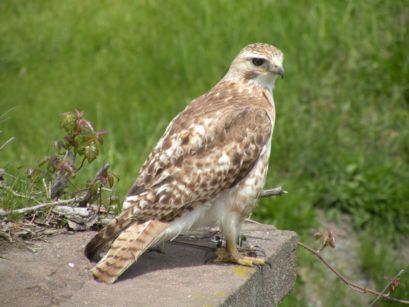 Edited to add Ft Adams Trust link.
http://www.fortadams.org/
Sun May 19, 2013 6:41 pm
Cool pix!
Sun May 19, 2013 8:12 pm
Awesome pics!
Mon May 20, 2013 8:05 am
very nice buzz , my wife and i really have wanted to go to y'alls neck of the woods and see the historical sites we hear so much about , the founding of our country is so interesting. you do a great service to that site , thanks from down south, coppersmythe........................................
Mon May 20, 2013 8:42 am
I make a semi-respectable guide Val! We sure have history up this way! FYI, one of the brilliant Army engineers that worked on the fort was PGT Beauregard. He went on to do a lot of harbor and river work down in LA and some other stuff during the Rebellion (his artillery instructor was inside Ft Sumter and was CO of Ft Adams after the surrender, Major Anderson).
Mon May 20, 2013 10:49 am
Last 2 pics, are your relatives? Yes, Larry manes a respectable guide, of the fort. Ed
Mon May 20, 2013 7:31 pm
I am looking forward to visiting the fort. There is so much history right here in our own yards. Google the deerfield massacre or the Angel of Hadley a couple of interesting things from here. Val I hope you folks get a chance to visit up this way. Boston is a great spot to start with a walk on the Freedom Trail. Great for anybody who likes our country's history to experience. I have done it more than once.
Mon May 20, 2013 8:11 pm
Great pics, wonder why so many Yankees want to be Johny Rebs
Mon May 20, 2013 9:26 pm
Probably not really obvious from my pictures, but the ones in blue never seem to die! Not only did the rebels die, but they did it very convincingly!

Interesting Joe, hints of the events leading up to the British shipping the Acadians down to Louisiana.
Tue May 21, 2013 7:46 am
Great pictures.
Last year was the 150th anniversary of the Battle of Lone Jack; one of the bloodiest battles in Missouri during the war. Had a big Civil War reenactment. It was great to watch; horrible to consider and contemplate. The MO militia won that one...again!