Thu Feb 27, 2014 12:41 pm
Rosie has been looking for an old hand pump for quite a while. Everytime she saw one at a flea market/yard sale it would turn out to be a reproduction. When we bought the house across the road we saw one on a stand over the cistern in a back room. Yesterday we were over there cleaning up trash and finding things, including a cop or our small town local weekly newspaper from 1952 I still need to read, and she reminded me she wanted the pump before we tear down the house. I went ahead and grabbed it before the scrappers broke in and took it.
I did a lot of Googling but I can only find a few pix on the internet and little info other than it is old. This house was not lived in for thirty years and was used only for storage so I figure it is at least 30 years old. Does anybody have any knowledge of these things?
Thu Feb 27, 2014 1:12 pm
Cistern pump, search the internet.

As a kid, neighbor had one mounted on the side of the kitchen sink. Supplied all of the household water from a cistern located under the house. No other indoor plumbing.
Thu Feb 27, 2014 1:30 pm
Yeah, I know it's a cistern pump, we used one on the farm when I was a kid. I was wonder more if anybody could determine the age of this one. All it says on the top is "2 Red Jacket Mfg, Davenport, Iowa".

I have already done a lot of internet searching and can't find much about this model.
Thu Feb 27, 2014 1:46 pm
The pump was probably purchased and installed when the house was built.

Check with the county assessor and ask for their sheet/card on the property. Normally the sheet/card will indicate the year the current house was built.

Tell Rosie you are thinking about converting the pump to the kitchen sink cold water tap.
Thu Feb 27, 2014 3:13 pm
House was built in 1890. Pump looks awful good if it's that old. The one wall of the room this pump was in is sided like the outside of the house, telling me that room was added at one time, but nobody knows when. County records I have seen on it shows a 300 square foot porch added in 1945 which is not there now but may have been closed in to make this back room. That makes some sense since that would have put this pump right at their back door at the time it was a porch.
Thu Feb 27, 2014 3:52 pm
I saw those pumps in old western films, as Eugene says they were situated over / beside the kitchen sink. That one looks real good. Remember in those days things were made to last a number of lifetimes. Great Find
Bernard,
Donegal Cub.
Thu Feb 27, 2014 5:05 pm
I pulled this out of my grandparents (moms side) house just before our family sold it. I made a lamp out of it for my mom. This was years ago and it has been setting in my basement for years. It looks a lot like yours but I guess most of them did. It doesn't have the cast in name on the top like yours but who knows??
Thu Feb 27, 2014 5:07 pm
If the house had commercial water, you might be able to narrow down the age to, as prior to the commercial water installation. City just installed a new water main, passing the house. The city maintenance folks knew to the year the old, being replaced, water main was. 1937.

I couldn't find any thing to narrow down the age, some where within 100 years. Since the company was sold in 1988, manufactured then or prior. Another thought, some old time hardware stores still have new old stock on hand.

Did dig out an old Cumberland General Store catalog and found out that pitcher/cistern pumps are still being sold.

Probably wasn't until the mid 1960s that the old farm home was electrified. In college, some of the fellow college students parent's homes was still not electrified. Again mid to late 1960s.
Thu Feb 27, 2014 5:17 pm
From eBay ad. Ad says catalog is dated 1928.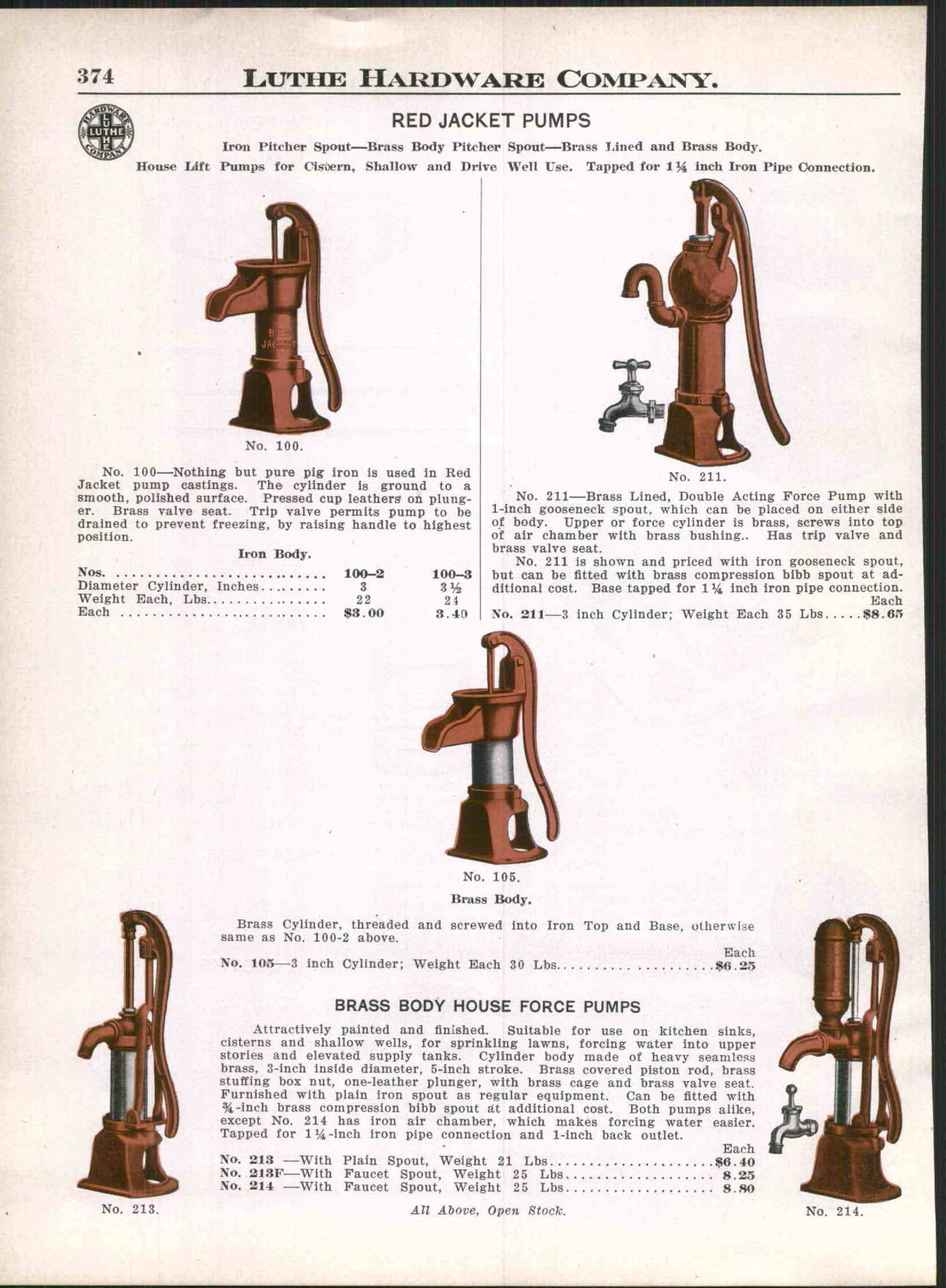 Thu Feb 27, 2014 7:27 pm
I have a couple of those. History use the handle up & down the water will come out the spout. Great Find Bill. Don't clean it leave it like it is.
Thu Feb 27, 2014 8:41 pm
Jeff Silvey wrote:use the handle up & down the water will come out the spout.
Thanks Jeff, I will give that a try. I couldn't find the switch.
Thanks Don. that helps a lot in trying to date it. I have a feeling the old folks put ths in and then hardly used it.
Thu Feb 27, 2014 9:07 pm
The address on the label does not contain a zip code. Most companies included it when they had to order new labels after the zip code came into use in 1963. Notice I said
MOST
. Don't know if this helps or not.
Vern