Moderator: Team Cub
TexasTechTwentySomething

10+ Years

Posts: 88
Joined: Sun Jan 28, 2007 12:46 pm
Location: Lubbock, TX
So I've been unable to access the site for the entire month of October. It just today opened up for the first time in over a month. Both of my computers wouldn't open the site, and I couldn't get on to it from any of the comps at school. Was it my end of things that was messed up?
2007 F-250 PSD
1949 Farmall Cub w/ C-2 Mower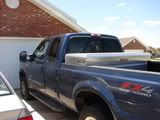 ---
George Willer

Cub Pro

Posts: 7013
Joined: Sun Feb 02, 2003 9:36 pm
Zip Code: 43420
Circle of Safety: Y
Location: OHIO, Fremont
It's been working just fine here all month. We've missed you.
George Willer
http://gwill.net
The most affectionate creature in the world is a wet dog.
Ambrose Bierce
---
Trent M

Cub Pro

Posts: 3337
Joined: Wed Aug 09, 2006 6:21 pm
Zip Code: 62859
Circle of Safety: Y
Location: Illinois Southern
---
Bob McCarty

Team Cub

Posts: 8639
Joined: Tue May 25, 2004 8:02 pm
Zip Code: 80501
Tractors Owned: Cubs, MH Pony, Shaw, Allis G, 1934 Silver King, JD LA and LI, Gibson D, David Bradley Tri-Trac
Circle of Safety: Y
Location: CO, Longmont
---
Bugler

10+ Years

Posts: 615
Joined: Sat Sep 29, 2007 5:36 pm
Location: GA, Dacula 50 miles NE of Atlanta
---
Don McCombs

Team Cub Mentor

Posts: 13198
Joined: Mon Feb 03, 2003 6:45 am
Zip Code: 21550
Tractors Owned: "1950 Something" Farmall Cub
1957 Farmall Cub w/FH
1977 International Cub w/FH
1978 International Cub
1948 Farmall Super A
Circle of Safety: Y
Location: MD, Deep Creek Lake
---
Rudi

Cub Pro

Posts: 28706
Joined: Sun Feb 02, 2003 8:37 pm
Zip Code: E1A7J3
Skype Name: R.H. "Rudi" Saueracker, SSM
Tractors Owned: 1947 Cub "Granny"
1948 Cub "Ellie-Mae"
1968 Cub Lo-Boy
Dad's Putt-Putt
IH 129 CC
McCormick 100 Manure Spreader
McCormick 100-H Manure Spreader
Post Hole Digger
M-H #1 Potato Digger
Circle of Safety: Y
Twitter ID: Rudi Saueracker, SSM
Location: NB Dieppe, Canada
You probably have corrupted cookies or history files on YOUR computers. Check Tools/Internet Options and delete cookies, history and files. Then you shouldn't have a problem. Unless you are behind a router based firewall. Sometimes those things can cause problems.. and you may have to at times allow the specific DNS or IP Address to the allowed list or white list to visit the site. This is a low incidence item, probably not applicable, but has been known to cause problems.

For you school computers.. you will have to ask your IT Support people if you are allowed access to FC.com. IF not.. explain to them that it is an educational site and would they please vet it and add it to the accepted/trusted sites in their Domain Listings.

Hope that helps..
Confusion breeds Discussion which breeds Knowledge which breeds Confidence which breeds Friendship


---
Bugler

10+ Years

Posts: 615
Joined: Sat Sep 29, 2007 5:36 pm
Location: GA, Dacula 50 miles NE of Atlanta
---
---
Similar Topics

Replies
Views

Last post
Return to "Message Board & Computer Questions"
Who is online
Users browsing this forum: No registered users and 2 guests