Sat Dec 14, 2013 5:33 am
I still have two PC's running XP that may not be upgradable to Windows 7 that have IDE hard drives. I was thinking of maybe "piggy backing"(not portioning) the IDE hard drives in Window 7 PC's with an IDE to SATA jumper. Has anyone done this? If so what jumper did you use?

Thanks in advance
Sat Dec 14, 2013 11:18 am
Have you checked if the main board has connections for the Sata drives so all you could do is add the cable? I am rusty on computers, but I do not think a simple IDE to SATA cable will work, they are two different formats. You might want to consider an external USB drive, you can set your BIOS to boot from USB.
Sat Dec 14, 2013 4:55 pm
John *.?-!.* cub owner stated:

Have you checked if the main board has connections for the Sata drives so all you could do is add the cable?
Yes the Windows 7 PC's have two bays open with SATA leds.
The BIOS will be set to boot off the Windows 7 Sata hard drive. If the IDE drive will work in the Sata PC It should work like a USB drive after boot up. I think for the price of the adapter, I'll give it a try. I have two 500 gigabytes hard drives of programs and spreadsheets that are use every day that will have to be transferred to another hard drive if I can't upgrade to 7 in the XP PC's.
Sat Dec 14, 2013 6:22 pm
Jack, check your mother board on your Win7 PC. A lot (most) of the mother boards have the old legacy IDE connectors on them, as well as a floppy drive connector (no IDE->SATA conversion required.
You do not have the required permissions to view the files attached to this post.
Sat Dec 14, 2013 8:01 pm
Dennis,
Thank you sir:
I opened up the Widows 7 PC and it's just like you said.
In fact it has a label on the mother board stating what it's for. I also found a wire harness/connector (label IDE) which appears to be a power supply for the IDE drive. (I'll make sure before I plug the HD in.)
Thank you all for the help.
- Jack
Wed Dec 18, 2013 11:33 am
Jack:
If it is a Molex connector like this one :
That is the one you need.
Thu Dec 19, 2013 5:21 am
Thanks Rudi, It's good to see you back!!!!
Sun Dec 22, 2013 10:46 am
Thanks everyone for the help,
One of the two PC's was 7 upgradable. I put the IDE hard drive in like Dennis said and it works perfect. The only problem I can see, not a big thing is I can't open outlook up on the old IDE drive. I'm trying to find the .pst files in the MS office program, but can't. All the very important e-mails went to a back up sever, but if I have to reference something I didn't back up, I guess I'll have to hook the IDE drive up to the primary connector until I find the .pst files.
Sun Dec 22, 2013 5:37 pm
Jack,

Try this:

Open a DOS window and type: dir \*.pst /s

This will search for all files with the .pst extension. Note where they are located and use Windows Explorer to copy them to your Win7 PC. Normally, Win7 stores them in \users\username\appdata\local\microsoft\outlook\

Note, if you try to open them from the old drive, most likely windows security will not allow you to write to the files without changing permissions.
Mon Dec 23, 2013 9:40 am
Dennis I found the .pst files on the old IDE drive by doing what you said, but I can't open them. Can I change permission when I'm using the old IDE as a secondary drive?
What I was hoping, that I could reference my Outlook in the old IDE if I needed to by going into the secondary drive at anytime.
Hope I'm making sense….
Update....
Dennis,
I finally got access to the secondary drive .pst files. When I tried to open the Outlook PST or the archive PST file with what programs I have I my PC it states the files are too large for the program to open. (File size is kilobytes)
Sorry to keep bugging you with this…. I'm probably trying to do something that's not possible.
Mon Dec 23, 2013 5:35 pm
Jack, you will want to open the old pst file with outlook. Open outlook, go to file, open, outlook data file.

I would suggest that you move or make a copy of the old pst file on your new drive as a backup. An old IDE drive will surely fail some day when you least expect it.

Dennis
Mon Dec 23, 2013 8:15 pm
Dennis,
I'm following your advice and getting my old e-mail off the IDE drive. I tried to import the files from the old Outlook and (like you said) I wasn't the administrator on the old PC and they couldn't be move. So I put the IDE drive back into the old PC set up the import and export wizard in Outlook and exported the .pst files to a flash drive. Then I opened Outlook in the Windows 7 PC and imported,from the flash drive through the import and Export wizard to Outlook….. All the e-mails are now on the SATA drive and I put them in my Inbox; not as a backup. Hopefully this makes sense and I did it correct. (See picture)
Next I'll do the address book and so on.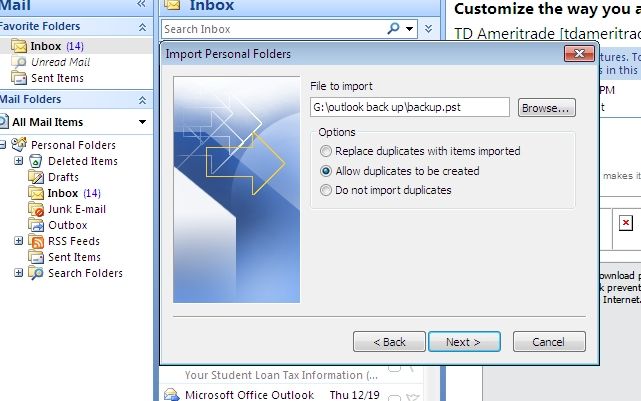 Mon Dec 23, 2013 8:47 pm
You did good, Jack. Congratulations!
Tue Dec 24, 2013 7:05 am
Thanks Dennis, that's an honor hearing that from you!