Sat Jan 31, 2009 5:31 pm
my last installment of pics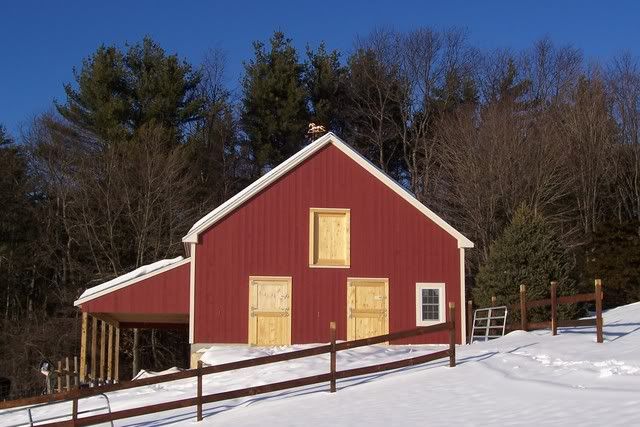 Sat Jan 31, 2009 5:33 pm
next to the last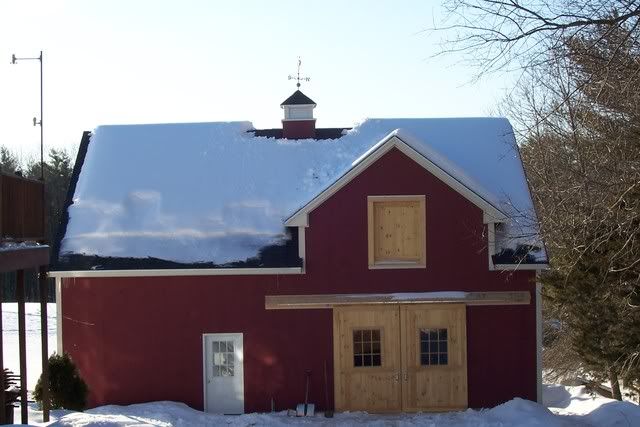 Sat Jan 31, 2009 7:17 pm
really nice panelbeater, that first pick shows your really on point. the over hang out to the left is something i overlooked.i hope one day i can add that little section on the front of my barn.i can feed out of the weather and it would give the critters a place to avoid the weather with out going in side.heck nice place to tuck a tractor also .
Mon Feb 02, 2009 10:00 am
That is one sharp looking barn!
Mon Feb 02, 2009 10:11 am
Rob,

That is one fantastic bit of construction. Congratulations on a job well done.
Mon Feb 02, 2009 11:50 am
The only thing I see that would mould make that barn better would be to have it at my place. I really like old barns for a new one that is a beauty.
Mon Feb 02, 2009 12:52 pm
thanks for all the compliments guys. now i have to decide on colors for the doors, red or white or a combination of both. what would you guys do, any ideas would be appreciated.
Mon Feb 02, 2009 1:04 pm
I think I'd go with white. Traditional color.
Mon Feb 02, 2009 6:36 pm
my wife is leaning toward white too.
Mon Feb 02, 2009 7:40 pm
i'd stick with the trim color, but you know what you can do with the red and white if you want to get a little fancy
Sat Feb 07, 2009 7:49 pm
Thats a nice barn you've built there! Good luck with it.
Sat Feb 07, 2009 8:25 pm
Rob:
Abosolutely top notch, what a gorgeous barn. And the Cupola..
where did you get the dimensions for it? That is something I would love to add to my shop/barn combo.
Great job
Sat Feb 07, 2009 10:12 pm
the cupola is 3ft square, i dont want to take the credit for it, the builder is the one who made it.
Sat Feb 07, 2009 10:28 pm
I agree with Joe! That's just about what I'd build if I could afford it. Nice job. But I'm wondering where you put the downdraft?
Sun Feb 08, 2009 12:29 am
Thats a real nice barn panelbeater! It has a lot of old style charm, not a square metal building (not bashing those, would settle for one myself!). I would have to vote for white doors and trim, I like red and white barns, but then it isn't my barn, as hard as I wish it was
Congratulations, you should be proud!