Thu Mar 21, 2013 9:13 pm
This was my divorce project really kept me busy when I needed it. I traded for it, it came from central Kansas. It's a 1933 8 ft Aermotor Model 702 with a 30 ft tower. I rebuilt it winter before last and got it put up on the farm over an existing well next to the old farmhouse last summer. Took me 6 months in my free time. Rebuilt the tower with all new bolts and platform and rebuilt the mill itself with all new bearings. Really has been a hit since there are no windmills here in southern Ky. I have it hooked up to a red jacket well pump now and it pumps water.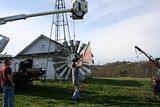 Thu Mar 21, 2013 10:10 pm
I have always wanted one. Won't happen here though! Cool for you.
Thu Mar 21, 2013 10:39 pm
Way cool, I have an Aermotor by my pond, bought it at auction about 8 years ago.

I really enjoy seeing it everyday. I always let it fly.

Of course I couldn't find a picture to post.

I'll look around for some I've taken about a hundred or so.

Yours looks great.

Thackery
Fri Mar 22, 2013 6:28 am
Cool windmill. We had one that pumped water for the house when I was a kid in Schuykill County.
I'd like to get one up here someday.
Great job !
Fri Mar 22, 2013 7:22 am
Jealous!

I love a windmill, that is a nice one! You did a great job bringing it back to life. I bought a Dempster model 12A several years ago with the intent to put it by the house at my place in NE. The tower is fine but the wheel is in need of much work, I commend you for good job you did on yours!

Thanks for sharing,
Fri Mar 22, 2013 7:25 am
Great job, Brandon.
Fri Mar 22, 2013 8:57 am
Looks great, I have been looking for one to get an old well i have working again
Tim
Fri Mar 22, 2013 1:15 pm
Looks like a great project, and like the rest I like the old pump windmills. i bet the original installer would have loved to have a boom truck like that rather than carrying ti up a piece at a time and assembling it in place.

Several years ago I briefly rented and old farm house that had both a windmill pump[ for water, and one to charge batteries for electric, but they were getting pretty old, and the pump had trees growing up around it where the limbs were hitting the blades, and the electric generator had bolts rusting off at the base. I had access to a boom truck and offered to take them down for the lady that owned the farm so they would not get torn up or fall on the house, but she had her son in law come look at them and he told her there was no need to, they were not a problem. About 6 months after we moved out a mild windstorm destroyed both of them. I sure hated that.
Wed Jun 12, 2013 9:34 am
Free energy and art all in one, gotta love it. I own small farm about 4 hours south of Lima, Peru. several years ago some voluntier group decided to install windmills with holding tank for many of the farmers. They overlooked one thing, it needs wind. oh well still nice to see windmills