Moderator: Team Cub
Rob in NH

10+ Years

Posts: 2529
Joined: Sun Oct 03, 2004 7:11 am
Zip Code: 03848
eBay ID: panelbeata
Tractors Owned: 1947 circle cub
1950 cub demonstrator
1957 cub
1967 cub
Circle of Safety: Y
Location: NH, Kingston
This is a trailer that one of our forum member Greg49 built. Very solidly built, will be painting it next.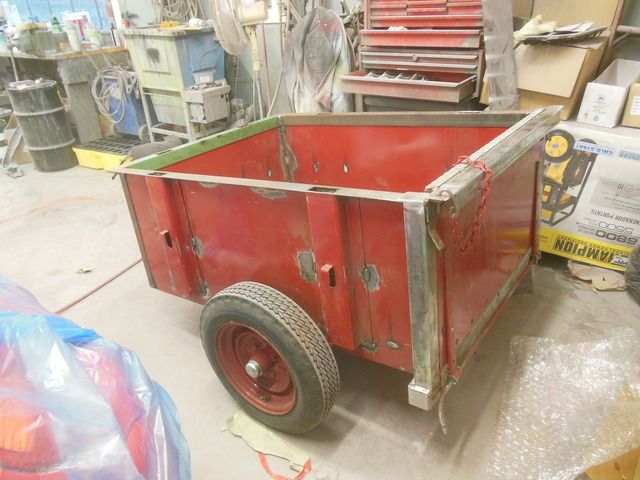 ---
Super A

10+ Years

Posts: 4606
Joined: Mon Jan 26, 2004 10:53 am
Zip Code: 28521
Tractors Owned: 1949 Cub "The Paperweight"
Cub powered IH 52R combine
Grandfather's 1948 Super A
White demo Super A-"Ol Whitey"
1950 Super A "Old Ugly"
1954 Super A-1
856
Buncha other junk
Circle of Safety: Y
Location: NC, Jacksonville area
Neat! Looks like a well built rig!

Al
White Demo Super A Restoration Updates
Let us pray for farmers and all who prepare the soil for planting, that the seeds they sow may lead to a bountiful harvest.
"It ain't a !@*% A. It's a
SUPER
A!"
---
WaMoo

5+ Years

Posts: 237
Joined: Mon Jun 06, 2011 6:46 pm
Zip Code: 99101
Tractors Owned: 1954 Farmall Cub
2013 NH Workmaster 40
Circle of Safety: Y
Location: Bluecreek, WA
Very nice! Is it designed to tilt and/or dump? Looks like some sort of tilt latch on the tongue.
WaMoo
Bluecreek, WA
"I had rather be on my farm than be emperor of the world."
~George Washington
---
Rudi

Cub Pro

Posts: 28706
Joined: Sun Feb 02, 2003 8:37 pm
Zip Code: E1A7J3
Skype Name: R.H. "Rudi" Saueracker, SSM
Tractors Owned: 1947 Cub "Granny"
1948 Cub "Ellie-Mae"
1968 Cub Lo-Boy
Dad's Putt-Putt
IH 129 CC
McCormick 100 Manure Spreader
McCormick 100-H Manure Spreader
Post Hole Digger
M-H #1 Potato Digger
Circle of Safety: Y
Twitter ID: Rudi Saueracker, SSM
Location: NB Dieppe, Canada
Very nice Rob. Well built!
Confusion breeds Discussion which breeds Knowledge which breeds Confidence which breeds Friendship


---
Rob in NH

10+ Years

Posts: 2529
Joined: Sun Oct 03, 2004 7:11 am
Zip Code: 03848
eBay ID: panelbeata
Tractors Owned: 1947 circle cub
1950 cub demonstrator
1957 cub
1967 cub
Circle of Safety: Y
Location: NH, Kingston
---
Trent M

Cub Pro

Posts: 3337
Joined: Wed Aug 09, 2006 6:21 pm
Zip Code: 62859
Circle of Safety: Y
Location: Illinois Southern
I like it. Nice and deep, very handy. Looking good with the new paint too!!
Trent McPeak
---
Winfield Dave

5+ Years

Posts: 3087
Joined: Thu Apr 22, 2010 2:31 pm
Zip Code: 17953
Tractors Owned: ......Almost enough
Circle of Safety: Y
Location: PA, Middleport (Schuylkill County)
Dave
"More gold has been mined from the thoughts of men than has been taken from the earth." -- Napoleon Hill
---
ScottyD'sdad

Cub Pro

Posts: 6707
Joined: Thu Aug 31, 2006 7:00 pm
Zip Code: 02769
Tractors Owned: 6"F" cubs
5 lo-boys
1 154
1 184
1 IH444
1 Oliver OC3 crawler
1 AC D10
1 IH 100 manure spreader
1 IH model B corn grinder
3 power units
cub demonstrator
Circle of Safety: Y
Location: Ma. Rehoboth
I brought it back from Rob's, after the Maine cubfest. Greg is very happy with it!
Ed
---
Stanton

Team Cub

Posts: 5099
Joined: Mon Jun 22, 2009 6:56 am
Zip Code: 64070
Tractors Owned: 1942 Farmall AV, serial #87025
1947 Farmall Circle Cub, serial #2116
1948 Farmall Cub, serial #46066
Circle of Safety: Y
Location: Lone Jack, MO
Any finished pictures? Looked nice after painting. Very stout.
---
Bbhzx12

Posts: 45
Joined: Fri Apr 22, 2016 2:06 pm
Zip Code: 03865
Tractors Owned: '59 Cub
Paint looks great!
I need a bigger garage. Lol
If it don't go, chrome it.
---
---
Similar Topics

Replies
Views

Last post
Who is online
Users browsing this forum: No registered users and 1 guest