I have 3 Lawn Tractors.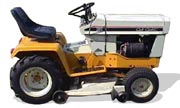 pic fm tractordata.com
My CC129 needs to be refreshed - mechanically. Engine only has 5 hours but the rest needs major work as well as a deck. I am really looking forward to getting my 129 up and running.
My original Lawn Tractor was a Craftsman 12.5 deluxe which lasted me through a lot of hard work.
pic from ridingmowersshop.com
Here in Canada when I bought it back in 1990, with the mower deck and the trailer it was listed at almost $3,200.00 with taxes in. So I went to Calais Me. where Dad and I each bought the very same mower (he got the grass catcher) and all told with taxes/duty we ended up paying $1,200.00 and change Cdn. That was probably the best mower I have had. As a lawn mower it also served as my primary tractor cause it was all I could afford. I hauled over 9 tons of rip rap rocks for my pond, dragged my driveway with a 5 foot I-beam, hauled wood and of course mowed my grass. It probably lasted 15 years before I blew the engine. (it is being rebuilt)
When that happened Em bought me a JD L111 42" mower from our local JD Dealer back in 2005. It is now in it's 6th season and it is still providing excellent service. Mind you it is used only for mowing duties primarily and maybe hauling some yard trash (bio-degradeables) up the road, so it should last at least as long as the Craftsman did. The only complaint I have with this hydro is that it is very heavy, difficult to lift when on the side of the lawn and loses traction due to the angle. It is no where near as good as the old Craftsman 6 speed that preceded it on inclines.
pic from deere.com
Compared to the Big Box store models the dealer model is different and cheaper... much better deal. It has a 20hp (pdn/l) hydrostat and is pretty cool. Only thing is it cost me around $3,200.00Cdn. Our customs and excise/tax system is different so the very same mower would probably be cheaper in the US. Apparently this model was between $1,700.00 and $2,000.00 US when new back in 05.
If you can find a used one in good condition, this would be a good unit to get. I did a quick google on
Used JD L111 Lawn Mowers
and got some interesting hits. This one is pretty good
Fastline.com
Oh, the JD Sabre line apparently are off-shore products and I am not sure if this is true, but I was told that the dealer units are a different quality than the big box stores. I am not sure why, but i heard that both at Home Depot where we started looking and at our JD Dealer where we bought it. Apparently, and this makes me happier, my JD is made in the US with parts from Canada, so it keeps our people working too