Got this thing the other day and spent yesterday in between rains grinding the rust off to see if bottom was usable or not.--it did clean up shiny and smooth,--no pits at all.
Backside and bottom
Frontside of moldboard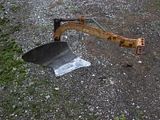 It didnt have a cutter and the moldboard has a big flaw in the outer end of it! (manufacturing defect), but I plan on welding the plow to one of my 3-pt. a frames to fit the cub (doubt the cub will pull the 10" bottom when it wont pull a 6" bottom very good)---IH neighbor here thinks the bigger bottom just MIGHT pull easier, so I figure it is worth a try---It would fit in a couple of our smaller gardens better than the 706 and 5 bottom unit!
Does anyone know if the moldboard defect is on all of this brands bottoms?---or do I have some orphan brand?--(hope not!)---I have never heard of this brand so I am kinda in the dark here on this thing!
This plow is in excellent shape, for little wear sows on it! Thanks for any info/input/opinions on it!