Ray:
I much prefer the TD7/8. The diesel is nice and that would be good but I am not a diesel mechanic. I am learning to be a somewhat gas engine fixer --- notice I didn't say mechanic
so for me maybe a gas buggie would be best. But we will see. The one that I would like is an original
IH TD-7E
but that will mean I have to learn diesels.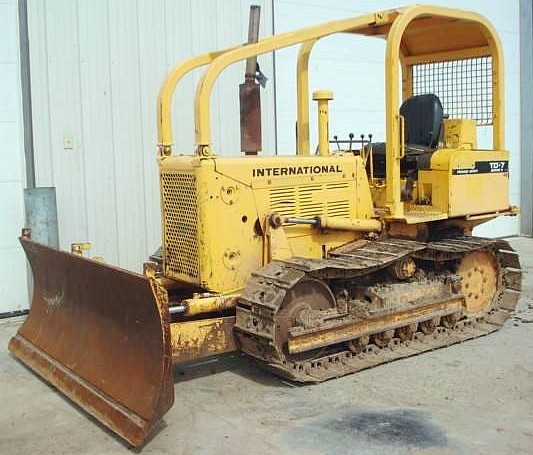 The
TD7G
is a 70 hp unit so it would be comparable to your
Deere 450C
.
The bucket loader is useful but for me I really need something that can grade roads as well as plow the road in winter. My cutter likes to work in the bush over the winter -- it ain't so hot like it is in summer
I guess you could say that the TD7/8 is about equivalent to a
Cat D-3C
... is about a 75Hp dozer. I really didn't much like the Cat at all. Backwards.... takes getting used to. Didn't take a long time but it is much different than the IH or even JD IIRC.
The JD 450-C, Cat D-3C and the TD 7 are pretty much equivalent to each other. The difference would be personal preference I would think. IH also offered the Loader Bucket version as well .. I think they used the DROTT Loader Buckets.
I love family histories as well and will gladly read em, those are some of the posts that I enjoy the most. My Dad was actually a Journeyman Cabinetmaker from Bavaria when he emigrated to Canada. At that time the only way to come here was to sign a contract with a mining company. So he had to work for 5 or 6 years I guess ... he came in '50 and worked in the mines I think until '56 or '57. He opened his own cabinet shop around that time and did contract construction work as well. Kind of explains me I think.
Mark:
I hope we didn't hijack this thread too much. If it continues I will split it....