Thu Feb 13, 2014 10:47 pm
I was able to get the kids over to get this tractor finished up this past week. It has been a long 18 months and a great time by all. We have learned more than the average kid would ever see about restoring a tractor. These kids have given up their spare time and a few called in sick to work just so they could all hang out together and work on this tractor. It was painted in mid January and this week we finished it up with the addition of new tires that were donated to us. Now I may have a little free time before my next project comes in, 1950 Farmall M. It will be dropped off on Monday, so not much time to work. What was thinking taking on another project I don't really have time for. Ha, well I guess I won't have time to get in trouble we'll say.
18 months ago
Today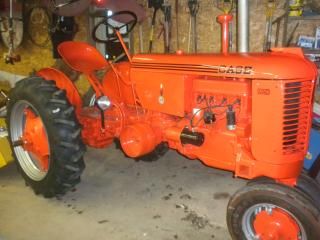 Fri Feb 14, 2014 12:32 am
Sweet.
Fri Feb 14, 2014 5:03 am
Nice job!!
Fri Feb 14, 2014 6:00 am
Wow! Now that's a thing of beauty. Hat's off to you and all those who helped on the wonderful project.
Fri Feb 14, 2014 7:14 am
Very nice restoration , what will yu do with the tractor , will it be raffled or is it privately owned ?

Berlin
Fri Feb 14, 2014 7:23 am
Fantastic job! If it runs as good as it looks, you really have something to be proud of.
Fri Feb 14, 2014 7:25 am
It turned out real nice, I enjoyed following the journey via your posts.

Good luck with the next one!
Fri Feb 14, 2014 8:04 am
Thanks everybody, I will let all know but we will be raffling this one off for $10 a ticket. Tickets will be available starting March 1 hopefully and drawing will be most likely next Feb during FFA Week. Unless we pick a earlier date in Oct or Nov.

Thanks again.

There are several other pics on my photobucket site linked at the bottom of the page.
Fri Feb 14, 2014 1:06 pm
HEY NOW the back tires have the tread pointing the right direction! LOL!! great job guys!---something to be proud of by all involved in the job! thanks; sonny