Moderator: Team Cub
Forum rules
Notice: For sale and wanted posts are not allowed in this forum. Please use our free
classifieds
or one of our site sponsors for your tractor and parts needs.
Trent M

Cub Pro

Posts: 3337
Joined: Wed Aug 09, 2006 6:21 pm
Zip Code: 62859
Circle of Safety: Y
Location: Illinois Southern
Neat looking little tractors, those Gs.
Trent McPeak
---
Stanton

Team Cub

Posts: 4897
Joined: Mon Jun 22, 2009 6:56 am
Zip Code: 64070
Tractors Owned: 1942 Farmall AV, serial #87025
1947 Farmall Circle Cub, serial #2116
1948 Farmall Cub, serial #46066
Circle of Safety: Y
Location: Lone Jack, MO
Good job on the G! Couldn't exactly tell from the soundtrack, but appears to be a quiet running tractor.
---
tmays

5+ Years

Posts: 2567
Joined: Wed May 11, 2011 8:59 pm
Zip Code: 39180
Tractors Owned: 1948 Allis Chalmers G
1947 Cub
1952 Cub

154 Cub LoBoy
Location: Vicksburg, MS
Thanks, guys. Stanton, muffler doesn't do a whole lot on those engines apparently. It's louder than what I had hoped. But the transmission is without a doubt, hands down the quietest I've ever (not) heard.
. Absolutely zero noise
Thomas
---
staninlowerAL

5+ Years

Posts: 3508
Joined: Fri Oct 29, 2010 11:34 pm
Zip Code: 36558
Tractors Owned: Cubs: (3)'49's, (1)'52, (1)'57 IH Cub LoBoy w/FH, (1)'72 154 Number Series Loboy, '76 Longstripe w/FH, Mowers: C-22, Bush Hog 412, Pennington 59, Woods RM42CF, Woods 42, assorted FCub plows, planters, discs, etc. OTHERS: '49 AC B & Ind. Sickle mower, '61 AC D12 Ser 2, '52 8N, '56 Ferguson 35 Deluxe, '53 MM BG (offset), (2) '49 Avery V's, '51 JD M (regular), '56 JD 420C, with Blade and fire plow, '85 JD 850 (Yanmar) w/72" belly mower, '76 Yanmar 1500, Sears Surburban's, MTD's, Jeeps & other misc. "treasures"
Circle of Safety: Y
Location: AL (Southwest)
havoc1482 wrote:did some farmalls have them too? Aren't they for keeping carbon buildup even on the valvehead?
I've read some information that the numbered series LoBoy and the later FCubs after about 1975 with the R8 casting block probably had them. Raymond's database probably has the change information.
---
tmays

5+ Years

Posts: 2567
Joined: Wed May 11, 2011 8:59 pm
Zip Code: 39180
Tractors Owned: 1948 Allis Chalmers G
1947 Cub
1952 Cub

154 Cub LoBoy
Location: Vicksburg, MS
Taking the G for its first show tomorrow, still a work in progress. Haven't had any luck on finding a used 6x30 tire, so looks like I'll be springing for a new set of 7.2s in the future. Here she is loaded up ready to go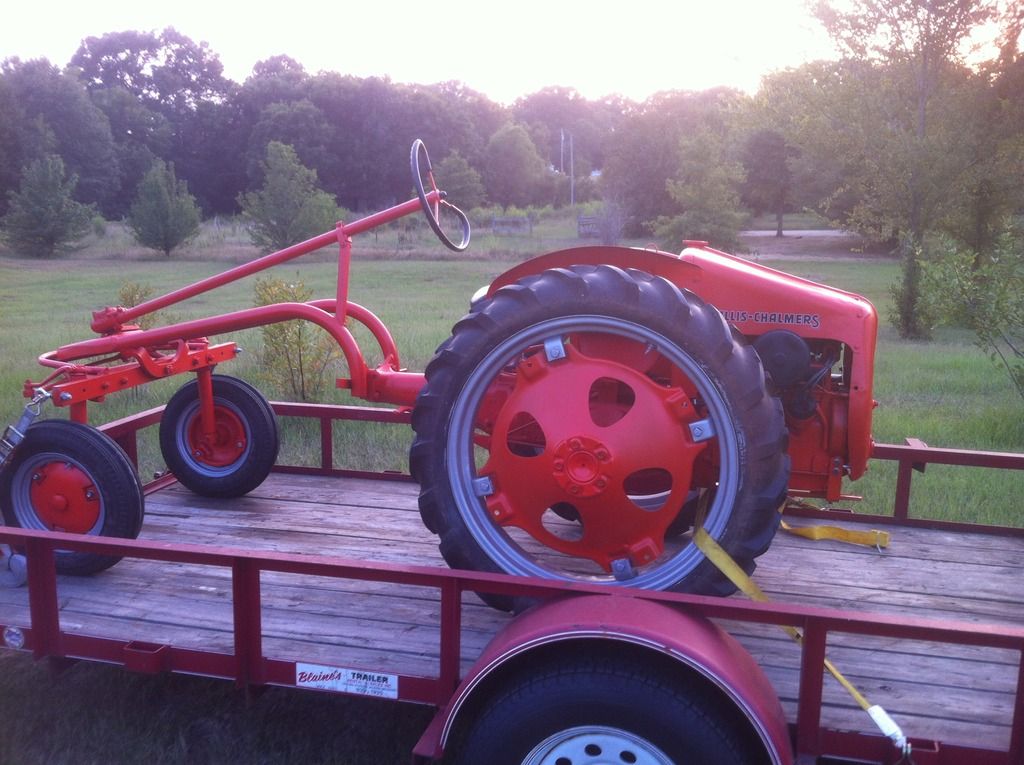 Thomas
---
Don McCombs

Team Cub Mentor

Posts: 13364
Joined: Mon Feb 03, 2003 6:45 am
Zip Code: 21550
Tractors Owned: "1950 Something" Farmall Cub
1957 Farmall Cub w/FH
1977 International Cub w/FH
1978 International Cub
1948 Farmall Super A
Circle of Safety: Y
Location: MD, Deep Creek Lake
---
---
Similar Topics

Replies
Views

Last post
Return to "Other Tractors and Machinery"
Who is online
Users browsing this forum: No registered users and 2 guests