Well its taken me a bit to get my camera back from the wife but I finally got some pics of my new H this weekend.
The story:
My aunte plays country music for a living. Recently she retired from it and gave me all here equipment to do whatever I wish with it.Beings that I don't play anymore, I just stored it until I could find a buyer. We have a good friend that comes in the alternator shop almost daily,Shannon would be his name. He heard me talking about about the sound equipment one day and became interested in it for his son that plays. After talking with him, he said he had a tractor he would trade for it. So after a bit of back and forth, I got it on an even swap for the sound equip. I got a 5 ft bush hog, disc, plow, and box grader. It has a 3 point hitch and control with it..
After talking with him at his house he told me the history behind it. His grandfather purchased the tractor before he was shipped over seas in WWII. He came back an injured vet. and was unable to use it. So Shannons father used it until he died and then Shannon aquired it. He grew tired of it but never advertised it for sale. He felt that he should pretty much give it to someone that would take care of it and I guess he put that confidence in me.....So here he/she is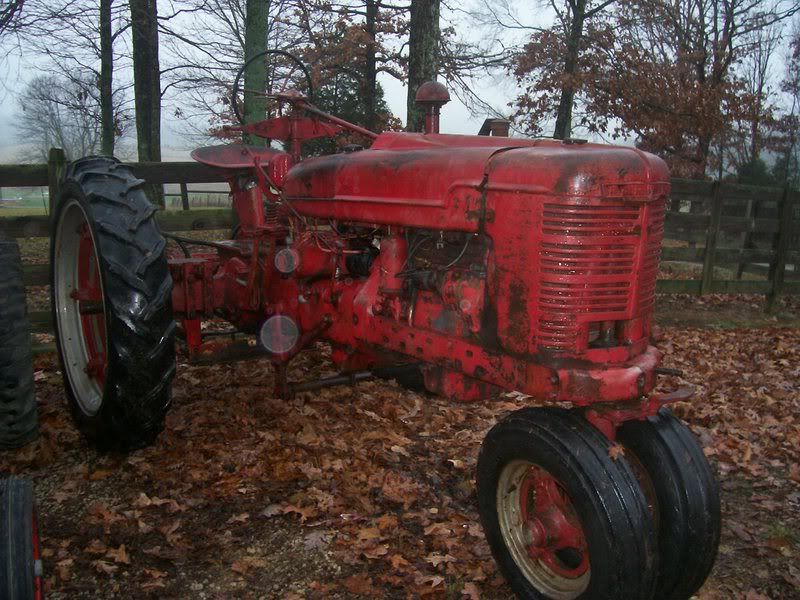 One question...Should the hood have this much gap in it
I see no way of getting it out.