Thu Aug 12, 2004 8:58 am
I can pick up a CC 1282 cheap. Anybody know anything about the machine. It is red not yellow. 42 inch cut, I think.
Thu Aug 12, 2004 6:26 pm
The 1282 is a 12HP - Hydrostatic Drive cub. It is a newer version of the 129 and 1250. They were built between 1981 - 1985.
Fri Aug 13, 2004 6:55 am
Ken,
Pick it up!
R.B. is right on with the onfo.
I haven't seen many of these, they were a price offering when tractors were going to higher horsepower. This one had manual lift and the 12hp Kohler single cylinder, everything above it, the 582, 682, 782 and 982 had twin cylinder engines.
If you don't buy it, tell me where it's at!
Sun Jan 22, 2006 10:37 pm
Where can I gewt some 982 3pt hitch equipment?Red
Sun Jan 22, 2006 10:56 pm
My neighbor has one of those. It runs like a charm. Joe got it new and has cut 3 acres with it ever since. He keeps them looking like putting greens. From time to time he goes over 6 acres of horse pasture.

Bill
Mon Jan 23, 2006 10:17 am
Ken
As others said, it is a 12 hp Kohler single cylinder, hydro, with manual lift. It was built from 1982 to 85 by Cub Cadet Corp, the red one was sold by IH dealers, there was a yellow and white version, model 680, that was sold by Cub Cadet or lawn power products dealers. CCC felt there was market for a 12 hp hydro in the lineup that already included a model 482 11hp B&S single cyl gear drive (Peerless transaxle), 16 hp B&S twin cyl model 582 gear drive, 16 hp B&S twin cyl model 582S with Peerless transaxle, 17 hp Kohler twin cyl hydros model's 682 and 782, and a 19.9 hp Onan Twin model 982.
If it is a good buy, pick it up. Don't let that cigar smokin' guy from WV get it, he's been known to use trees for brakes when coming down off some of those WV hills on a Cub Cadet
Mon Jan 23, 2006 11:42 am
I did buy this 1282 last summer for $200. The piston was broken but no other engine damage. That cost $100 to fix. I also had to replace all three spindles on the mower deck, OUCH. That cost $300 to fix. Painted her all up and she runs great. I have around $600 in it but it's worth it. Now the kids love to cut the grass
Here is a picture of her put up for the winter just waiting for the grass to grow.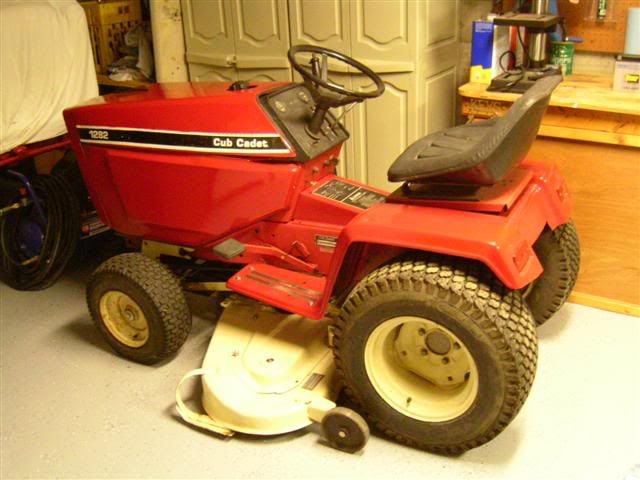 Mon Jan 23, 2006 3:46 pm
Ken:

That is a great looking 1282.
Wed Jan 25, 2006 1:39 pm
That's a beautiful 1282 Ken...I intend to bring one home this weekend too!
Wed Jan 25, 2006 11:18 pm
Thanks Guys,
It turned out very good and cuts the lawn great!
Mon Dec 31, 2012 2:00 pm
Hello All,
New to forum have a 680 hydro cub with blown 12hp engine . Question is... can I replace with another motor of higher or lower hp and if so which ones are compatible. And any one have a spare engine?
thanks All
Dave
Tue Jan 01, 2013 6:17 pm
Davewave,
Welcome to the best forum around! The short answer to your initial question is yes, you can replace with just about any size engine you want. The long answer is.... it's a bit more difficult than you would think.

First off, you need to be looking at Kohler engines that were built specifically for Cub Cadet tractors. This is because the Cub Cadet Kohlers have specific crank shafts and flywheels that will take the Cub Cadet PTO, and allow you to bolt the drive system to the flywheel. No other Kohler engines have these adaptations.

Honestly, I'd be rebuilding the engine you have rather than repowering with another, as long as it can be rebuilt. The 12-hp K-series engine is easy to rebuild, and there are tons of blocks around if your block is damaged. However, you'll need all of your parts as mentioned above.

Most of the Cub Cadet tractors of that era ran the twin cylinder, 17-hp, KT-17 Series I engine, which was a piece of junk because it utilized splash lubrication, and they are well known for starving oil to one cylinder and blowing one side of the engine, often referred to as the KT-8.5. The worst part about this is that the engine would still run, and you could still drive the tractor around relatively well. The single blown cylinder is really not detectable until you load down the tractor, or try to engage the mower deck, which just kills the engine. The only reason this is bad is that LOTS of folks will sell you a "running" KT-17 engine that's really only running on one cylinder. Then, you'll find out that it's about $750 to rebuild that engine, and takes someone with a lot of Kohler experience because it's not like the old K-series engine where you can drop the oil pan and pull the head and do the rebuild. The KT series engines don't have an oil pan, and you have to literally split the whole crank case to do the rebuild. Easy enough, however the reassembly is VERY tricky and it's real easy to screw it up!

Another option that a lot of folks do, if you really want to build a beautiful machine, is go to Small Engine Warehouse and look up their Honda replacements for Cub Cadets. This will set you back about $1500, but their kit has all the adaptor plates already made up so you can bolt right in a 20 or 24-hp Honda engine. I know several folks who've done this and it REALLY makes a nice tractor.