Sun Nov 16, 2008 10:21 am
its finally coming, new home for the animals and tractors.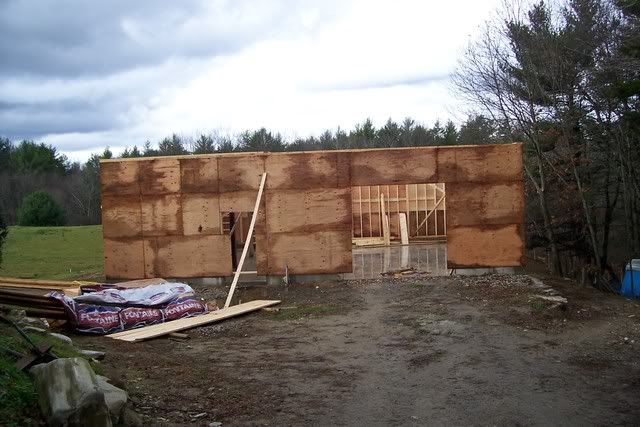 Last edited by Rob in NH on Thu Jan 01, 2009 10:14 pm, edited 1 time in total.
Sun Nov 16, 2008 12:08 pm
....and their owner too I bet. Personaly I can't think of any better places to be when I'm home relaxing than in the animal barn or the Cub garage. And you'll have them both together.
Nice start Panelbeater....Enjoy!
Sun Nov 16, 2008 3:27 pm
How big is it? Counting plywood panels I would say 40 foot across but hoe deep?
I built a 28 by 28 only problem is it is too small.
Sun Nov 16, 2008 4:13 pm
its 32x40, the garage area is 32x24 andthe animal side is 16x32. her's a pic of the inside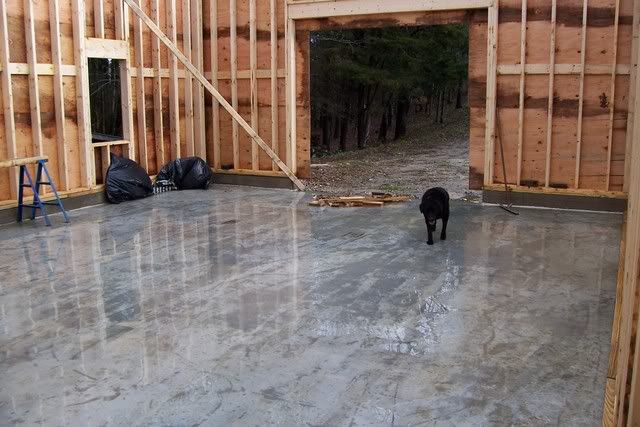 Sun Nov 16, 2008 4:16 pm
heres a pic of the stall area, not the greatest pics but you get the idea.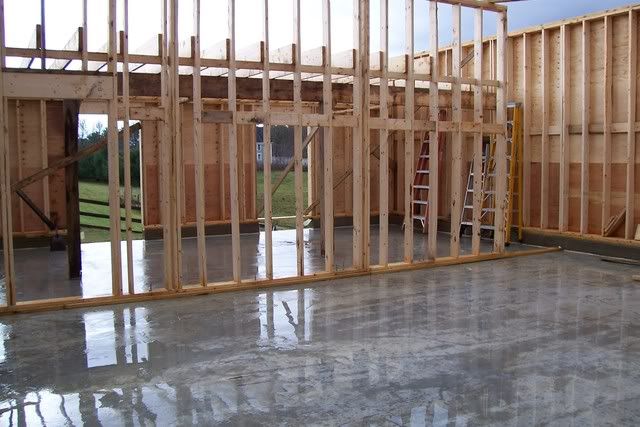 Sun Nov 16, 2008 6:19 pm
You going to rough up the floor in the animal area or use rubber mats? Looks real nice. I guess you will separate the animal area from the rest to keep moisture down in the equipment area.
Sun Nov 16, 2008 7:01 pm
we did rough up the cement and sealed it, we also have rubber mats. the mats are 4x6 and at least 3/4 of an inch thick. if thing go according to schedule the builder should be done in 2 weeks.
Sun Nov 16, 2008 7:26 pm
Great
Sun Nov 16, 2008 8:48 pm
awesome!!!
Here is when they built my garage/wood shop in 05. 24 x 40. done in 8 hours.
http://s16.photobucket.com/albums/b46/v ... ge%202005/
John
Sun Nov 16, 2008 8:56 pm
8 hrs, amazing. very nice too
Sun Nov 16, 2008 9:03 pm
Looks great. I started mine a couple weeks ago. Still have a ways to go before being able to use a a workshop.
Just glad I'm able to get everything out of the weather!
Sun Nov 16, 2008 9:15 pm
thats one heck of a barn roof, that will be awesome when enclosed
Sun Nov 16, 2008 9:25 pm
Only closing in the back part where the tractors are, the area with the truck will be open. Should be plenty enough room for work shop, wood shop and sandblast room in the back, with covered storage up front. Maybe future home for Florida Cubfests!!
Mon Nov 17, 2008 10:48 am
congrads to all the new barn owners,i don't think i could afford the concrete floors in the animal area,i ran it down the middle of the stalls and put removable partitions in the middle of the 10x 12 stalls so that they can be removed when i need a larger space. partitions are just 2x10 oak boards rough sawn from the saw mill. actually all of the barn wood is from the sawmill. i used railroad ties for all of my lentils . the building is 30x 40 with half work shop and half animal area,4 stalls. first floor all 10 inch block. second floor gambrel , lathe and metal roof 16' floor to peak and kept the side walls as verticle as possible ,i built a loft in the second floor which almost doubled my storage space, the entire area over the back half and on the right a 10x20 strip along that wall.built a ramp to the second floor out of ties and oak boards that i just reworked with steel beams at the tire track and 2x8 tongue and groove pressure treated. lots of idea's . i wish that i had covered the area in the front of the front stalls,would keep down the mud and give me an area i could have fed in bad weather, oh well maybe someday. the amish around here are awesome builders. i used them on everything but laying the block,and the loft. you know i'm not prideful, but i'm a very happy camper when it comes to the barn,and believe me you will be too.
michael
Mon Nov 17, 2008 8:24 pm
Keep the pictures coming. You know how much we like pictures.