Sun Dec 14, 2008 2:30 pm
I picked a 2 bottom plow this weekend. It is supposed to be for a super c. Can anyone give a little info on this. I think the model no. might be a c-295, but not for sure. Any info or pics would be helpful.
thanks, Ron
Sun Dec 14, 2008 2:38 pm
Fasthitch or drawbar mount?
Sun Dec 14, 2008 6:54 pm
It's not a fast hitch, more like mounted under the belly of the tractor, with a piece that would mount towards the center. Two other brackets that look like they could possibly attach to the axle housings.
Sun Dec 14, 2008 7:43 pm
Rondo500:
I googled quickly
IH C-295 Plow
and got a few interesting hits.
Here is a manual for this plow that is available (I might suggest you consider buying it if you already own the plow, and no I have not financial interest here...)

International C-295 Moldboard Plow Operators/Part Manual
Yesterday's Tractor had this information:
Which IH plow is this (pic) ?
Is this the plow that you have
Sun Dec 14, 2008 8:16 pm
Here is another photo from ymtag:
Here is a two way plow for sale at Wengers for a C as well:
Mon Dec 15, 2008 1:17 pm
is it a 2 way or a single way 2 bottom? I had 2 sets of the 2 way plows, and have some pictures if you need, and I think somewhere I have a manual for it 1 or maybe even both of them... that I could probably scan for you if you want...

Johnny
Tue Dec 16, 2008 8:58 am
It is a single way plow.......also on the mounting parts it appears to have somewhat of a rock shaft assembly. I will try to posts some pics soon. Thanks, Ron
Tue Dec 16, 2008 11:31 am
I do have the 1 way 2 bottom manual, C-294, here's a picture of the basic mounting, I found it easier, still semi hard to mount it with 2 people to the tractor, the rockshaft, I cant' find my pictures of mine mounted, but I think i have some...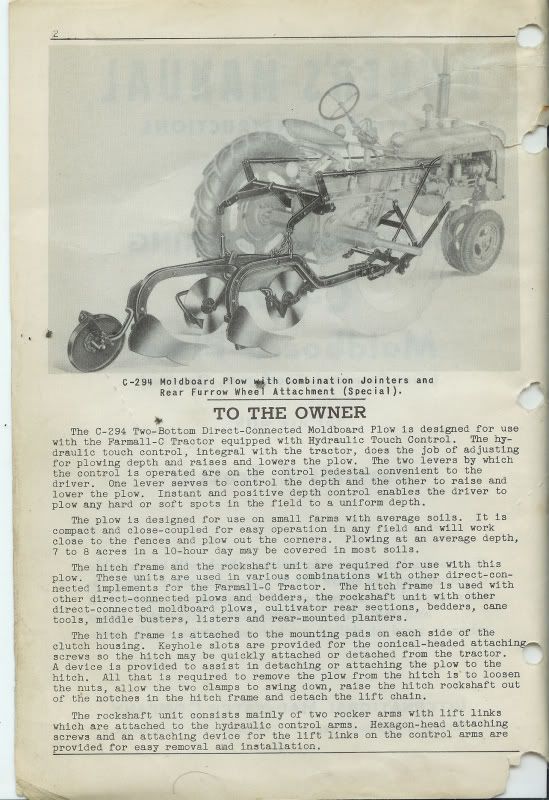 Johnny
Tue Dec 16, 2008 4:39 pm
WOW!!! All that just to plow a couple passes across the garden????-----I can see a permanent mounting on the tractor and not plan on using it for the other duties!!---Looks like another tractor on the shopping list!!! lol!!--nuttin wrong with that either!! thanks; sonny
Tue Dec 16, 2008 6:48 pm
yup, all that just to plow a little... when I had mine, the hardest thing to put on was the rear rockshaft, the other stuff could easily be taken right off, the brackets that mount to the torque tube were pretty easy, but hard to do on uneven ground
that's why I did buy another tractor
but then i decided i really didn't need them/want them, so now the plows are gone and the tractor will be within a week or less
Johnny
Sat Jan 24, 2009 10:27 pm
I have three of these plows for my 5 Super Cs. You can mount them in less than an hour once you have all the hardware gathered. Not too bad. It makes a real nice plow because you can carry it. Meaning you can do the end rows or other small areas and back up to get repositioned. Much handier than a trailer plow for small areas.
Fri Jan 30, 2009 8:16 pm
I have a plow like this for my C but it is only one bottom. It works really nice and have done several plow days. I would desperately like to find the parts to make it a two bottom. I think all it would take would be a beam, coulter with bracket, bottom and tail wheel. If anyone knows where I might find this I would be appreciative.
Steve
Sat Jan 31, 2009 12:11 pm
I'll stick with my little genius 2 bottom.Detaches real quick!!!Kevin