Jumbo Pink Banana Squash Pie
Fresh from the oven.
One Pie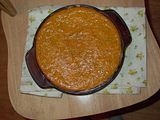 Two Pies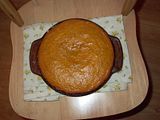 Two pies from one small Jumbo Pink Banana Squash.
Peeled and seeded (saved seeds for next year) squash, cubed, boiled until tender, drained, mashed and cooked dry--being very careful so it didn't burn.
Took 2 cups of pumpkin added pinch a of salt, a cup of sugar, a dash of cinnamon, 4 eggs and stirred it all together in a bowl. Poured it into a prepared pie crust (mine was homemade) and baked it at 400 degrees F for about an hour.
Repeated the procedure for the second pie.
Hurry over and enjoy some with us. You better really hurry because Sonny has already demolished one and they aren't even cold yet!!!!!
Hope you like. Thanks; Virginia