Mon Dec 28, 2009 8:11 pm
This may be off topic and if it is I will move it. This weekend I bought an IH Corn Sheller at a swap meet in Arizona. I am wondering where I can go to get some information about it.

Thanks Bob
Mon Dec 28, 2009 9:46 pm
Bob:
What model
Mon Dec 28, 2009 11:10 pm
There are several different models that IH made, bench mount one at at time, floor standing one cob at a time and floor standing 2 at a time. I've seen some old ones that were made of wood, would take two cobs at a time and meant to be driven off a belt pulley. I have one that looks like this: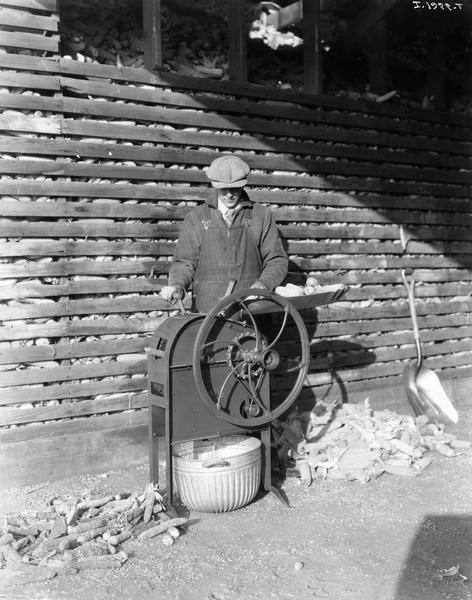 (photo from Wisconson Hist Society #11639)
I have been unable to get any information about PN's or years made.
Mon Dec 28, 2009 11:22 pm
Hi Raymond

The one I purchased looks to be the exact model I purchased. I rellay like the picture you posted. If I can figure out how to post a picture I will post it

Thanks for the info

Bob
Tue Dec 29, 2009 7:25 am
Here is a photo of Bob's new toy!! Bob, you would'nt happen to be in Prescott Valley would you?? I've been there before and they had an awesome swap meet/flea market that was full of antiques and collectables.
Tue Dec 29, 2009 7:34 am
Bob,
I see yours is missing the fanbelt. I have been told that the "O" ring gasket from a 5 gallon bucket is a good replacement. Remember, put it on in a figure "8" so the fan runs the right way.
Tue Dec 29, 2009 9:42 am
Hi Raymond

Thanks for posting the picture. I am on vacation in a small town called Hope. It is about 100 miles from Prescott Valley. Now I will have to find the swap meet you are talking about. I bought the sheller in Lake Havasu. I hope this post generates some information about the the sheller.

There is a belt on the fan but it is hard to see. Thanks for the idea for a replacemet. The belt on it now is from a vacuum sweeper.

Thanks to you guys for the input

Bob
Tue Dec 29, 2009 9:31 pm
I have one exactly like that too, cept' mine is missing the hand crank assembly and I have to turn it by hand with the flywheel!----I have been looking for model #'s and so far came up dry!---there were millions of these around and in their day were great! I use mine daily to shell chicken corn! thanks; sonny
Tue Dec 29, 2009 10:10 pm
Hi Sonny
Thanks for the information
Bob
Tue Dec 29, 2009 10:48 pm
It's called a PONY!--- just found it here!
http://www.old-engine.com/keystone.htm
VERY interesting reading!--lol!!! thanks; sonny
Tue Dec 29, 2009 10:52 pm
Great find Sonny!! I appreciate the leg work!!
Wed Dec 30, 2009 12:11 am
Thanks Sonny. A cool find. I appreciate your effort

Thanks

Bob
Sun Jan 17, 2010 7:12 pm
Yep! Have one just like it! Works well to hull walnuts except the hull w/jam up in the bottom (don't ask me how I know! lol) Can also tighten the feed down and shell popcorn w/it. All you need is a motor or a youngster on the handle! DustyB
Sun Jan 17, 2010 7:20 pm
Hi Dusty

Thanks for the response. I need to find a pully for the sheller. I have an engine

Bob