Mon May 03, 2010 7:10 pm
I grew up with my parents raising asaragus, I would not eat it then but I love it now. Decided rather than pay $3.00-4.00 a bunch and having the room I would try putting in a couple of rows. So I ordered 100 roots, dug my furrows using the troybilt with a furrower attachment. Got a bit over 8 inches deep. ( Bob in Ct. see any rocks? ) I then laid the root out about a foot apart, now hopefully in two years we will be feasting. 100 roots gave me 2 fifty foot rows, if this works out well I hope to perhaps put in a half acre or so in a year or two. I got the roots from Nourse Farms I recommend them get my strawberrie plants blueberry and raspberrie bushes through them, they have a great site and ship all over the U.S. Here are a few pictures of the roots and furrows, when I finised this I put in 150 strawberrie plants also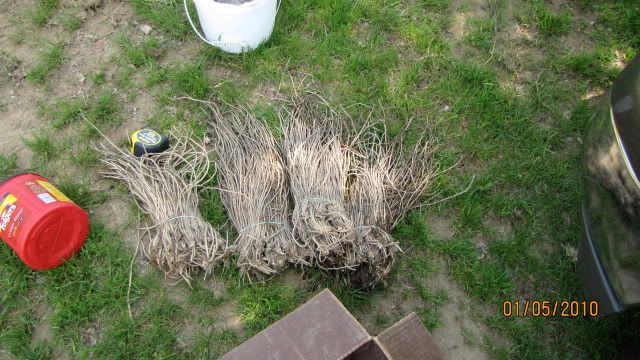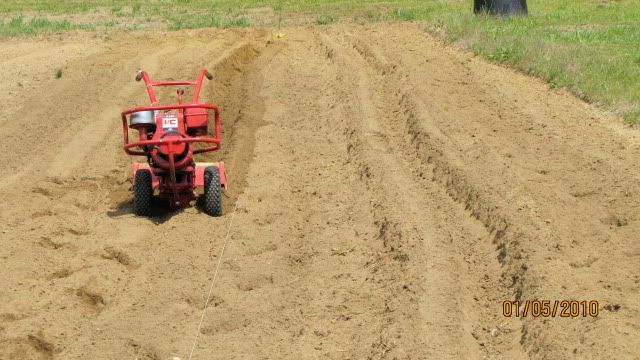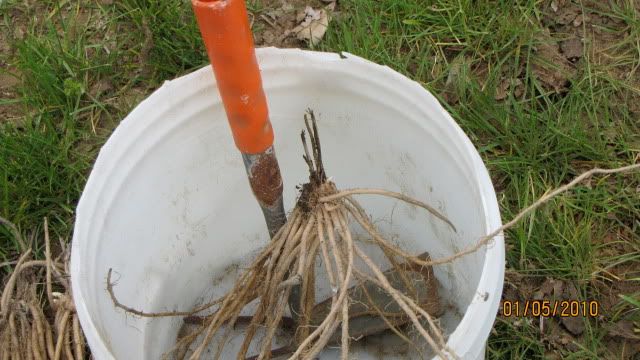 Mon May 03, 2010 7:48 pm
Joe we have had asparagus for 30 years. It is a wonderful crop. with a 25 foot row about 3 foot wide Bev and I have all we can eat. We planted it in very rich soil and as the plants grew added more compost the first year. Since then late winter or early spring add a covering of compost. You really had me thinking to remember when we planted it. It was a few years before I retired and that was 1985.
Mon May 03, 2010 8:21 pm
Bill, our old fields were 20 plus years old when a blight came through the valley and wiped out the majority of the beds in the area about 30 plus years ago. About a quarter of what was here has been re established with new disease resistant roots. Through my school years you were allowed to be a couple of hours late if you were harvesting. The downside was being out in the fields before 5 a.m.
Mon May 03, 2010 8:46 pm
Your looking really good Joe, that is one of the things on the to do list. before i start i want to get my compost bins producing hope it's not an excuse to not get it done.
Mon May 03, 2010 8:49 pm
Never realized asparagus had so many diseases. Did a Google after your reply. Guess we are just lucky.
Tue May 04, 2010 10:09 am
My bed is three years old and the plants are really established now. I love having vegetables to eat in the earlier spring and I love watching asparagus grow.

Joe, your garden looks great.
Tue May 04, 2010 2:36 pm
I hate to agree with Joe, but Nourse farm is a great supplier of healthy plants. bought from Tim Nourse, back in my strawberry growing days. Ed
Tue May 04, 2010 3:11 pm
ED AGREED with me, after I picked myself up off the floor, mardked the date on the calender and had a small parade, I figured I would post the web site for folks.
http://www.noursefarms.com/
Wed May 05, 2010 6:56 pm
Joe Malinowski wrote:ED AGREED with me, after I picked myself up off the floor, mardked the date on the calender and had a small parade, I figured I would post the web site for folks.

http://www.noursefarms.com/
Joe, I wasn't invited to the parade??? Whats up with that? Ed
Fri May 07, 2010 9:40 am
Hey Joe

I have had my plot of asparagus for 3 1/2 years now. It is doing very well but I did learn one thing from the old store owner where I bought them at. The plants love pot ash so if you have a wood burning stove or have friends with them, get them to save the ashes and dump them on the bed all winter and early spring. The plants seem to go wild for it,or at least for the ones i had enough for this year. I hope to get the rest of the bed covered this winter so next year I might get stalks as big around as a penny every where!! Sure is cheap to grow and take care of! Family loves it to....

Doug
Fri May 07, 2010 9:17 pm
I know mine have been in at least 20 years. I planted some purple ones the other year to fill in some of the 'holes' in the patch, but seems that women are attracted to those and I don't think any are still around. The originals are Jersey Knight.

I do virtually nothing to them except harvest and once a year cut the old tops off in the early spring.

The other day I took the Cub to the gas station (the long way) and my neighbors at the other end of the block were just ready for dinner (cinco de mayo) so I had a nice dinner with them. I took the Cub for a ride yesterday to repay the favor, delivered the nicest bunch of dime sized stalks I have seen. I am parsimonious with the harvest. But, they are great neighbors, he works for the Red Cross and she is from the Willer's hometown....
Sat May 08, 2010 9:05 pm
[quote="Buzzard Wing"] I am parsimonious with the harvest.
There ya go with the big words again.
Ya couldda said you were stingy and saved me a visit with Webster.
Keep smilin Grump
Sat May 08, 2010 10:30 pm
Glad I could expand your knowledge Grump! Rufus (the person, not my Cub) was an expert at not only supplying the army (how many wagon loads to feed 26,000 animals and 100,000 people a day??) but at putting a positive tone in all his writing. I stumbled into the word when he described buying horses in PA after Gettysburg. It was a nice way of saying the locals thought their animals were gold plated when the government showed up to buy them.

I used it to say I almost never give any away. After all, you can only grow so much on a lot in the big city.
Sun May 09, 2010 10:38 am
Actually I enjoy learning new words. I usually don't remember them but it's enertaining. I was just trying to give you a hard time. (Which I enjoy, just ask Kevin) Grump
Sun May 09, 2010 1:53 pm
No problem Grump.... after all, Rufus was talking about PENNSYLVANIA folks, so I sorta got ya back
I didn't get to help Joe plant his asparagus yesterday, but he gave me a great tour of the area. I have gone past many times on the interstate, but you really do miss a lot going by at 65MPH. What a nice area, it is good to see there are places where farmers are still doing well. The fields remind me of MI and OH, nice soil and an unusual lack of rocks.