Hello everyone!
I've been lurking the forums for a week or more reading up on plenty of good information so I thought it was about time to join in and start asking my own questions. I've inherited a 1951 CUB that runs great I've just recently gotten around to getting it picked up and brought to my home where I plan on putting it to work on my 5 acres. The previous owner was quite fond of his CUB and wanted me to have it because he knew I'd appreciate it more than anyone else he knew to pass it on to. So now that is it here, I've found myself here on these forums.
Although it was a loved tractor it's quite dirty, rusty, somewhat neglected, and definitely had bits added to make it work. I've done some maintenance since I've got it: oil, filter, plugs, lube, etc. Even fixed a water leak.
I'm extremely surprised at how well it starts and runs for a tractor that is twice my age.
I'd like to have some advice on getting it cleaned up, best / easiest, what to watch out for, etc. It really has a good bit of grime all over.
Here's a link to a bunch of high-res photos of the cub:
http://www.oppressivethumb.com/misc/CUB/
And here's a small photo of it: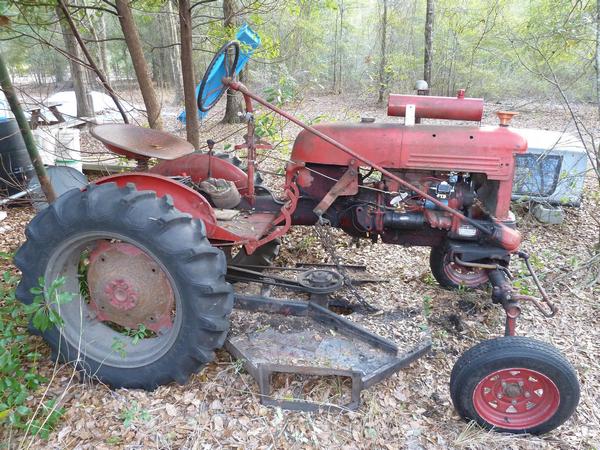 oh that weird canister thing was put on there so he could easily add water to the leaking radiator while running I've already removed that and got a real radiator cap on the way.