Thu Jun 23, 2011 10:25 am
Do any of you out there got any good pictures of old 'Doodle Bugs' ?
Of course if you do, you should start a new topic under the 'Tractor Pride Photo Forum' section.
Just looking for memories, NJDale
Thu Jun 23, 2011 8:18 pm
Here are some pictures from my grandma's photo album that have a doodle bug in them.
Mom and my oldest brother
Oldest brother. Notice the hunk of concrete behind the seat.
Grandpa and Aunt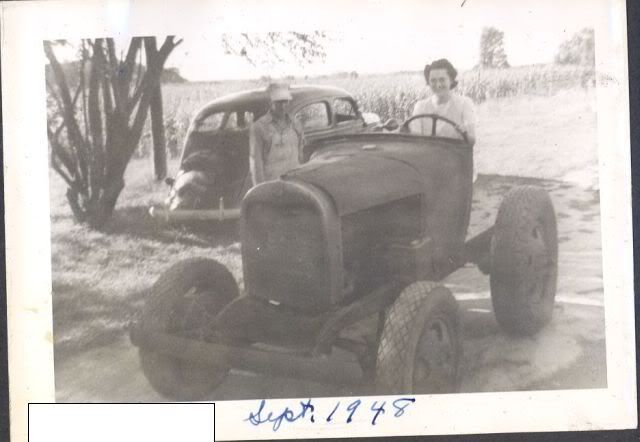 Grandma
Grandpa
Ike
Fri Jun 24, 2011 8:25 am
Thanks Ike, Ah, Fun days!!! (these days I wonder how OSHA would view all those happy smiles). - NJDale
Fri Jun 24, 2011 8:45 am
Enjoyed the pictures. Thanks for posting them.
Sat Jun 25, 2011 5:47 am
Wed Jun 29, 2011 8:28 am
Next time I'm able to go to my parents there are pictures from the 80's of us using my Grandpa's model A "doodle bug". I'll see if I can find them and scan them and add them to this thread.
Wed Jun 29, 2011 10:34 am
Loved the pics
Mon Jul 04, 2011 6:58 am
That's a great colection, Ike. Thanks for sharing. Jeff
Mon Jul 04, 2011 8:18 am
Dale:
My father-in-law's Putt-Putt is one type of Doodle-Bug. It was built from parts of different cars and trucks. The rear end is off a 1 ton Ford ?, the tranny from a Studebaker, wheels from different types of cars .. Chrysler and Ford if I remember correctly.
Here are a couple pics
Blowing snow with a homemade blower
Just after it was made, my mother-in-law did the modeling
The last one shows Pepere (my wife's grandfather - Mom's Dad) on the Putt-Putt and Dad manning the scoop digging the basement for their new house.
Sun Aug 21, 2011 10:39 am
Dad made one back in the 70's. I don't have any photos of it. he used the transmission and rear end from a 49 Ford. he narrowed the rearend down to 4ft. The engine was a 2 cylinder Wisconsin from an old IH baler. He add two master cylinders from I think chevy trucks to make turning brakes. he made the frame from channel irons. I can't remember what he used for front wheels. I know they were like 4.00x12.

The transmission was belt driven off the engine. it had three belts with an idler pulley for the clutch.
Mon Aug 22, 2011 12:34 am
I still have the one I made in the late 60's---the one I made in high school in 1964 was stolen last year---think I have a pic of it. thanks; sonny
Thu Sep 15, 2011 6:13 am
here is one i saw at a show
Fri Sep 30, 2011 10:09 am
This one just hit the local CL...more pics in the ad.
http://allentown.craigslist.org/grd/2610532205.html
Fri Sep 30, 2011 12:54 pm
Here's how we do Doodlebugs in Connecticut. New England Doodlebug Association on Facebook
Heavyweight Class at the 2011 Four Town Fair in Somers, CT
On a good night the winner will pull 80,000 - 90,000 pounds. Diesel engine - chain drive.
Lightweight Class;
Peter