Sat Dec 03, 2011 10:21 pm
Hi everybody , I am new to the forum and looking to buy one, are they good tractors ? does the one below look like a good find ? and does it look to be original ? any info would be appreciated .
Sun Dec 04, 2011 12:11 am
Welcome to the forum!!
The 184's are good tractors in the numbered series lowboys. Often considered a rich mans lawn mower, they were predominantly sold to larger estate owners for grounds maintenance; cutting grass, pushing snow, hauling mulch, etc... They are very good for these tasks, but not so well suited for gardening, even though a turn plow was offered as an attachment.
The one you show looks nice, but until you are able to operate it, you can't really determine how well it has been maintained and currently functions. This one is missing the shields on the side of the tractor, but easy to replace. Paint is new and not original, and pretty sure that seat is not original either.
Sun Dec 04, 2011 6:18 am
Check the serial # tag, the hood & grill don't look like a 184 to me, I'm thinking a 185 being passed off as the more desirable 184. I agree with Raymond, definately not original.
Sun Dec 04, 2011 7:11 am
Gary Dotson wrote:Check the serial # tag, the hood & grill don't look like a 184 to me,

I'm thinking a 185 being passed off as the more desirable 184

. I agree with Raymond, definately not original.
Gary / Raymond,
I know very little about these tractors. Why was the 184 a more desirable tractor than the 185?
Sun Dec 04, 2011 7:40 am
More horsepower and they moved the clutch back to the engine flywheel where it works much better.
Sun Dec 04, 2011 7:50 am
Here's what a real one looks like.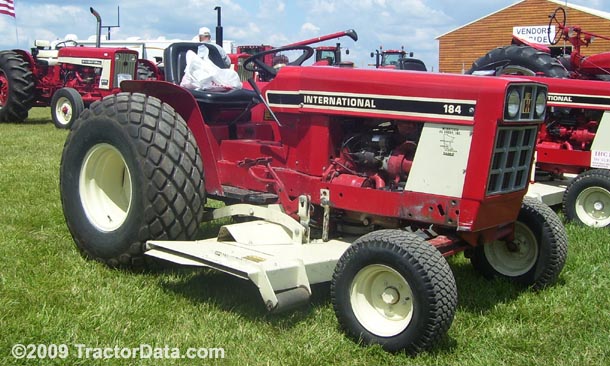 Sun Dec 04, 2011 8:41 am
Definitely not a 184 in the picture. I think Gary nailed it. If a seller would do that it's hard to tell what else has been covered up.
As mentioned - the number series are great mowing tractors. Not real good for anything else but you can run a snow blade or snow blower with one if you have need for that.
Sun Dec 04, 2011 8:50 am
PM sent.

Jim
Sun Dec 04, 2011 10:12 am
yea I agree with it not looking like a 184 but I couldn't find a 185 that was exactly like it on internet searches ,,of course its just pictures,,but still some little differences,,how else to tell apart a 184 to a 185 ?
I am waiting on the serial number , said he was emailing it to me later today,,is it possible to swap the hood an grill between a 184 an 185 ? oh by the way I am trading a non running bigger tractor to it that I have no money in so either way I am not out anything but I hate dishonesty and want to know what it really is.
tks for all the replys
Sun Dec 04, 2011 11:35 am
I knew while looking at the picture last night that something wasn't quite right. Gary is right on, this is a 154/185 painted up like a 184.
184's have the clutch on the engine flywheel (vs the transmission), the PTO clutch is electric, are red like the ones above but have a flat face and grille, also have a traditional ring gear starter with a separate alternator rather than a starter/generator combination. I believe it is possible to change the hood and grille.
Sun Dec 04, 2011 12:12 pm
you say the PTO is electric for the 184 ? if it was a 185/154 were would the manual PTO handle be located ?
Sun Dec 04, 2011 1:14 pm
On the 154, sitting on the tractor, left side between the seat and rear fender. Knob pulls upward.
Mon Dec 05, 2011 7:34 am
You're right, Raymond, I forgot to mention the starter/alternator. That's probably the easiest way to identify a 184.
Mon Dec 05, 2011 11:09 am
I think I see a hydraulic diverter valve. Does this have a 3-point hitch?
I don't see a knob for a creeper option. Other views could help confirm what it is.
There isn't a large price difference between a 185 and a 184, but you would want to know what you are getting in the trade. The other side would show if an alternator is present, but the dual PTO belts don't look like they are attached to an electric PTO clutch.
The mower deck is an older design as it only is lifting the front of the deck.
Mon Dec 05, 2011 11:15 am
You won't be able to find the serial number tag on that tractor. They have covered it (or taken it off and covered the area) with the new white side panels with louvers????? It is a 154 lo boy, first run of the numbered series. 15-hp tractor with manual pto clutch. Below is a photo of the last one I had, which is of the same vintage, around 1973/1974. You can just make out the serial number tag on mine, on the top of the frame straight down from the exhaust outlet and below the throttle/governor arm (the arm is pointing right at the serial number plate). Also note the correct grill which is the same as your photo above.