Sun Dec 11, 2011 10:46 am
You may have seen a few of my threads about the 12x16 timber frame I built in Sept.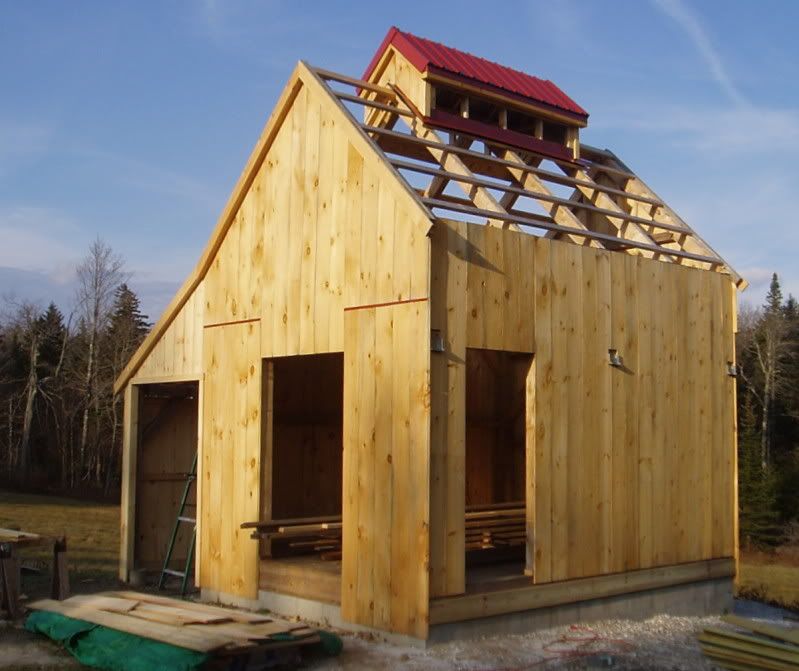 On the right side of the building you can see 3 steel hangers that will receive a 6x6 pine beam. That beam will connect to a 6x6 pine post that will itself be anchored to the ground on a 6x6 post base, which you can just barely see at the bottom of he pic.
I need some ideas on how to seal the bottom of this 6x6 pine beam. This side of the shed will have a covered deck sitting over the post bases (and thus the bottom of the beams), so rain won't be a big issue. The spring snowmelt and general damp conditions are what I need to guard against.
I thought about wrapping the bottom in Ice and Water Shield...but figured that would peel off eventually.
Creosote? Foundation sealer? Rhino Bed Liner sealer?
Does anybody have some advice, or a tip on a product that would work?
Thanks in advance.
Blair
Oh, and one other thing. I was on Google Earth this AM, and Google Earth already shows the timber frame in the back yard. Can't decide if this is really neat, or creepy...built it in Sept. and they've aleady got it.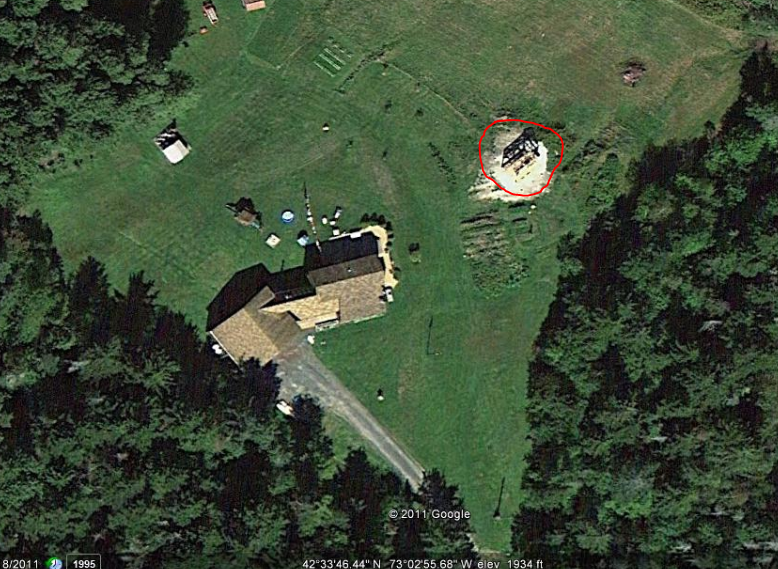 Sun Dec 11, 2011 11:36 am
EPA wont like it but my grandpa uses used motor oil. Helps with termites too
Sun Dec 11, 2011 11:50 am
I would stop by the local well stocked hardware store and talk to one of the owners. Find out what product(s) they would recommend.

The turned cedar posts on my front porch are held above the decking about 1 1/2" by a spacer. The spacer consists of two metal disks about 3 inches in diameter with a metal post between the disks. Disks are screwed to the post and decking. The spacer keeps moisture from wicking up into the cedar posts.
Sun Dec 11, 2011 4:28 pm
I'd soak the ends in whatever is available, as a wood preserver, these days. Stand them in a pan of preserver, and let it soak in, for a few days. Ed
Sun Dec 11, 2011 5:25 pm
Asphalt driveway sealer??
Sun Dec 11, 2011 10:26 pm
Blair:
I like Ed's suggestion,
ScottyD'sdad wrote:I'd soak the ends in whatever is available, as a wood preserver, these days. Stand them in a pan of preserver, and let it soak in, for a few days. Ed
however, I would add linseed oil as the preservative instead of chemical concoctions. Woodworkers have known for centuries that linseed oil either natural or boiled will provide a good waterproofing barrier and when beeswax is added it makes it almost impermeable.
Add that to Eugene's suggestion (I have seen them and have a set for my deck posts .. you can get them as levelers as well..
Eugene wrote:The spacer consists of two metal disks about 3 inches in diameter with a metal post between the disks.
Between the physical space barrier that keeps the water off the pine, the linseed will prevent any moisture from wicking into the pine.
Sure is one nice project
Wed Dec 14, 2011 4:58 pm
there is a new product called deck wrap that i have seen on some new construction. not that expensive and can be purchased in various widths and lengths might be worth checking out. hasn't been out long enough for me to know how it holds up... but it is designed for what you are doing. here is a link
http://www.deckwrap.com/index.htm
can be purchased from abc supply if there is one by you. and by the way very nice construction I like your work.
here is another link for abc. supply to purchase
http://abccatalog.com/view_groups.asp?i ... dgroup=657
Thu Dec 15, 2011 7:22 am
Thanks for the tips everybody. Much appreciated. Going to try to get this up in the next few weeks.

Blair
Thu Dec 15, 2011 9:27 am
I think Rudi has it. I 'painted' a beaver stump with linseed oil years ago and it seems to have worked well. When I got my new chainsaw bear I use deck/bare wood sealer on it (Sherwin Williams was recommended by the artist, but I use Flood). I just slapped some of the sealer on the stump (more than 10 years later) and it was still pretty well 'waterproof', the sealer didn't soak in very much. The bears did drink the sealer up pretty well...

Possibly mix linseed oil with turpentine to make it easier to work??
Sun Dec 18, 2011 7:56 am
Something to think about is, like others have said, anything that is light weight and oil based will actually penetrate and absorb into the wood, making the wood iteslf protected from the elements from the inside out. Coatings such as paint, tar, LineX, rubberized under coating, etc., only provide a protective barrier on the outside. These will protect the outside of the wood from physical abuse and exterior damage, but WILL NOT prevent the wood from rotting inside. Matter of fact, some of these things may actually hold moisture in the wood and PROMOTE wood deterioration.

Your best bet is what Scotty D's Dad said, stand them in a pot of some oil based sealer (linseed oil, Thompsons Water Seal, even a good oil based deck stain or sealer) let it soak into the wood for a few days then brush on a coating on the outside. The capillary action in the wood will pull the sealer right into it and treat it from the inside out.

Oh, That is an amazing work of art that you're putting together. I really want to build a barn at my place, and want to build it in the timber/frame style, but, I don't think I can do a 24 x 40 barn like the way that you have. Materials alone will kill the project, vs doing a standard pole barn.

Also, the Google Earth thing is definitely CREEPY!!!! However, good news for you. They typically only do fly over updates about once every 3 or 4 years. The only exception to this is major metropolitan areas, or areas with significant growth or something important like a military base or government facility that they may do annually.
Sun Dec 18, 2011 11:51 am
They don't have your sugar shack yet, but the 'birds eye' view from Bing maps is spooky too. You can rotate it 90 degrees at a time (upper right). Give you a better feel for the land defenses at Ft Adams than a straight down shot.
http://binged.it/uaf45i
Sun Dec 18, 2011 1:22 pm
gitractorman.....thanks for the kind words about my timber frame. And thanks for your advice. I think you nailed it. While something like a plastic coating or a barrier would be absolutely water prof, I wonder if it would propmote rotting from the inside out? I think a good soak in an oil based preservative is a good start.

Also....you'd be surprised how inexpensive rough sawn 7x7 pine beams can be from a quality, small-scale saw mill. If you cut the joints yourself I think a timber frame would be no more expensive than a stick built pole barn. It will take longer, yes. It took me 2 months to cut the joints for my 12x16 in my spare time. The lumber for my frame cost $600.

Buzzard Wing....that Bing view is neat. Looks to be about 2 or 3 years old based on the things I DON'T see in the yard. Thanks for the advice on sealing my beams

Blair
Wed Dec 21, 2011 8:15 am
Well....when I cut my 6x6's to length in preparation for the final install, I noticed that they are still a little green. Because of this, I do not want to seal them up with any kind of a permanent coating, tar, plastic, etc.

I bought some BLO and paint thinner last night and now have them sitting in this for a few days.

Thanks for the tips gents. I'll post some pics of the final product when I'm done.

Blair
Wed Dec 21, 2011 11:43 am
Creosote, if you can find it and let it soak in.
Thu Dec 22, 2011 12:19 pm
What about wrapping with tar paper and seal with roofing cement.