Tue Dec 13, 2011 11:32 pm
What are the differences between the farmall and industrial versions of the 140? I know there is an industrial version of the front axle, but I'm not sure what other options one would have had (other than paint color).
Wed Dec 14, 2011 9:03 am
Foot throttle.
Thu Dec 15, 2011 7:22 pm
I just purchase a 140 with a 1000 loader with 3 buckets and it has the industrial front axle and an S shaped bar/brace from the front bolster to the torque tube. It also has a tachometer. It was supposedly purchased new by the state of Pennsylvania Highway department. It appears to have been painted red originally and I suspect that the axle was ordered from the factory. I believe if it was a true industrial it would have been yellow. Correct?
Fri Dec 16, 2011 6:32 am
What year is your 140. Mine came from the University of Missouri. Mine has a lot of yellow showing under the forest green and brushed on red. Was told they primed them in yellow before they were painted. Mine is a 1968 with the heavy diamond front, foot throttle and tachometer.
Fri Dec 16, 2011 8:15 am
I think they would paint them what ever color you wanted
Fri Dec 16, 2011 8:47 am
It is a 1966 model. It does have a lot of yellow showing under the red. To me it looks more like primer. I haven't hauled it home yet, hopefully I will have an early Christmas present. Can you post some pics of your new 140?
Fri Dec 16, 2011 7:10 pm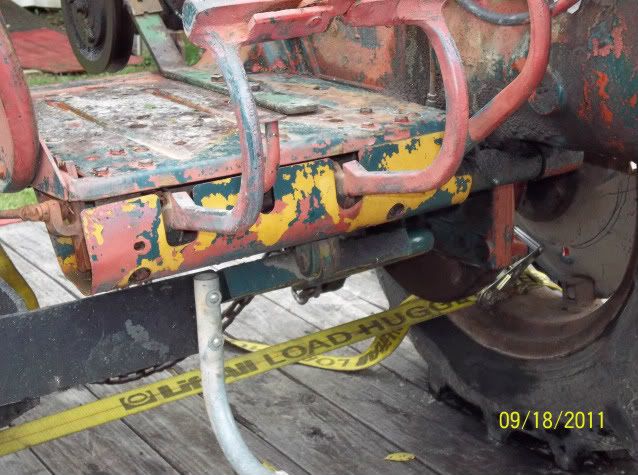 This shows some of the yellow and the foot throttle.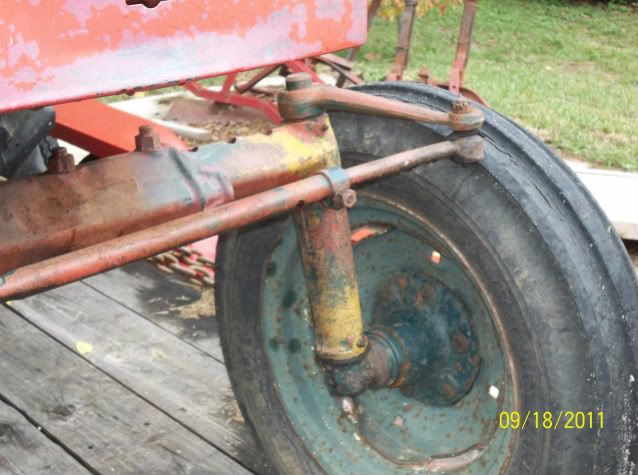 More of the yellow.
The right side. The front has been pushed back.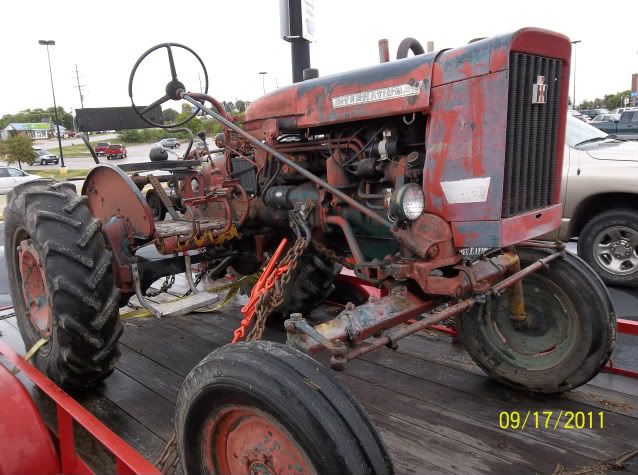 Front and right.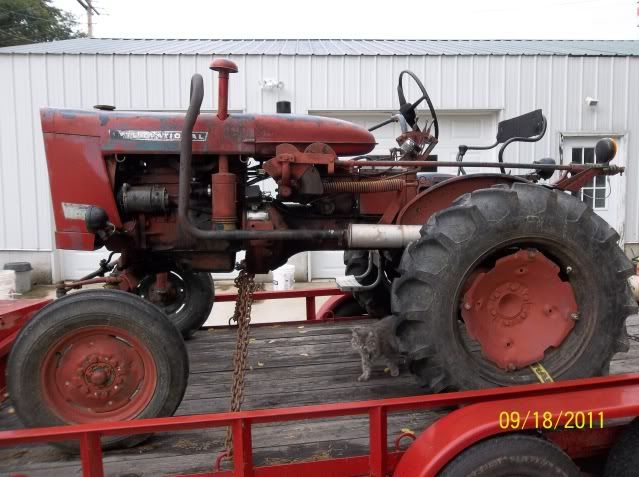 Left side. You can see the tack.
Ron in Mid Missouri
Fri Dec 16, 2011 10:01 pm
Thanks for the pictures. My new 140 has quite a bit of yellow showing through all over. I thought our other 140 did too so I went out and looked at it and the only yellow on it is on the steering shaft support, seat brackets and the inside of the battery box. Looks as though mine might have been yellow at one time. I suspect that it must have been easier to sell a used tractor that was red as opposed to yellow.
Sat Dec 17, 2011 4:10 am
I think they were all yellow , well all I have ever seen were yellow and repainted red. Farmers did not want to buy an old state tractor, Red sells
Boss
Sun Dec 18, 2011 10:28 pm
According to the 1000 loader manual, the International 140 had 6.00-16 front tires and the Farmall 140 had 5.00-15 front tires.