Fri Dec 16, 2011 10:26 pm
This year I had the opportunity to compare 3 different types of garden seed planters. The Cole, The Jang Clean Hand, and Earthway precision planter. Since my gardening partners and I plant about 5 acres (church project) being able to plant alot quick and efficient is critical. We all have jobs so only a few hours after work and weekends are available. All the planters have been adapted to be pulled by a tractor. "Key and a seat" is our motto!? lol..Anyway, if anyone is curious how they worked, I'll be happy to tell you about them.. Who knows.. maybe Santa will bring you one for Christmas..Greg
Fri Dec 16, 2011 10:34 pm
Greg,

I'm sure there are many people that would be interested in your evaluation. Pics of the hitch to the Cub would be appreciated, also.

Bill
Fri Dec 16, 2011 11:34 pm
Bill: I know pics are needed, I haven't done that in quite a while. But will work on it. The Cole planter has been used with the cub for years. I used it with a Kubota B6000. It is an older model, still works very well with larger seeds. I planted sweet corn, green beans, watermelons, cantaloupe, pumpkins, ect. You can change gears on the drive mechanizem to vary seed population. It has a large seed box, but really cleans out well. Not much wasted seed. The shoe opener will have dirt stick to the sides of it making your "slot" get very wide. I use a hammer to tap it a few times at the end of the row. (300' long) Very durable, and parts are available.
Jang Clean Hand-- This planter seems to be getting very good reviews. This is my findings. It does an exceptional job planting small seeds. Beets, carrots, spinach, turnips, radishes..ect. It does not do well with sweet corn, and large oblong seeds. It has gears to change seed population. A very nice feature. You also need to buy different size seed wheels. I found that you need the seed to fit completely in the dimple or they can get knocked out. You need to go slow when planting, but the job of spacing is great on those tiny seeds. Do Not get the 3 row solid frame planter. You have to have the ground perfectly level or some rows the seeds are on the top and not covered.
Earthway..I built a frame and use a cub cadet 106 3 point hitch to pull them. For the money they are pretty nice. You don't have any population control except for plugging every other slot in the seed plate. It does have a problem with over seeding. Seems cheap with plastic and aluminum, but is really pretty durable. I have planted all seeds..SC,green beans,turnips,beets ect...It does help to put some grease on the back side of the plate. It does leave some seed in the bottom of the hopper. The "seed slot closing" needs a little tweeking, a few fishing weights on the drag chain and good pressure on the back wheel helps alot. More later, Greg
Sat Dec 17, 2011 9:14 am
Good review. Looking forward to the photos.
Sat Dec 17, 2011 9:26 pm
An important factor to remember on any planter is that the seed needs to be planted at the correct depth consistently. These planters do not do that unless you help them out. A tube that will keep the seed falling into the seed slot is what is needed. I made a funnel out of the top 3" of a water bottle for the Cole planter. Since I use it to plant larger seed, it worked pretty good even tho the seed is falling about 3 to 4" without guidance. On the Jang, since I use it for small seed, I think they fall out of the slot as often as in it. I will be making the tube longer to control the fall until the seed is in the slot.
If you are into planting pumpkins, watermelons, ect. that cole planter is the way to go. You can get your spacing as much as 72" apart. It will drop 2 maybe 3 seeds at a time. My rows are 5 feet apart. I will thin them out to 1 plant per 6ft. I use the cub to sidedress some fertilizer just before it starts to vine out.
Oh, I just remembered that on the Jang the drive chain is too loose. While watching it I noticed that the chain jumped a tooth every now and then. I will need to figure out a way to tighten it up. One idea is to use two sewing machine thread bobbins and make an automatic tensioner. Gonna take a break. Please ask some questions if you have em.....Greg
Sat Dec 17, 2011 9:31 pm
Thanks Greg for this post, I am in need of a small seed planter for our small organic farm. I will be looking for a Jang Clean Hand
I almost bought a earthway a few weeks ago but, as you stated it does look it did look cheap.
Great post at a Good time for me.
Thanks Bill
Sat Dec 17, 2011 10:14 pm
Bill: I purchased mine from Mechanical Transplanter in Michigan. Very nice group of people to work with. I bought the two row solid frame with 3 pt hitch on my first try. Did not work well. Your seed bed needs to be "perfectly level". I had many failures. Now I have a two row independent floating planter. Cost close to twice as much, but I'm confident it will work. Planting failures are very discouraging.
Which model are you thinking of getting? Greg
Mon Dec 19, 2011 9:50 pm
Hey Greg, I have not decided yet which way to go. I will probally research them a little more in the next few days. Which model # did you end up getting?
Thanks Bill
Fri Dec 23, 2011 3:46 pm
Bill!---pm sent about the artichokes!

The planters that I am going to test are Planet jr # 25, Keystone , and New Columbian! ---all antique units! thanks; sonny
Mon Dec 26, 2011 7:59 am
Man, I'd like to see these planters hooked up to tractors!
Thu Dec 29, 2011 8:08 pm
Sorry i've been gone for awhile. Some nasty winter bug bit me and I been out of commission. This weekend it''s suppose to be in the 50's here. I'll make special effort to get pics. Then I need to relearn how to post them...lol... I even might throw in a pic of a Brinley planter. That one I have not tried yet. Needs a little TLC.
Sonny, would like to see pics of the planters your going to be testing.
The model Jang I'm going to use is the 3 pt, two rows, independent floating small seed planter. I tried the solid frame 3 pt, and depth control was terrible. Greg
Fri Dec 30, 2011 3:06 pm
Just got these this summer, so dont know much about them,--- cant find any info on any of them.
Planet jr. #25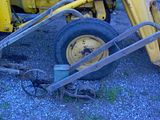 New Columbian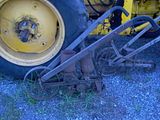 seed can on the columbian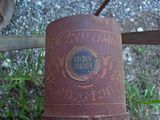 Keystone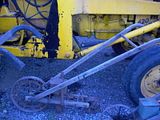 All 3 of these are in good solid working condition and I wanted to use one of them for sweet corn!--That will be my biggest volume crop this year to plant.
cant find any info on them as to how to set them, so its a lot of just guessing as to how the setting goes! thanks; sonny
Wed Jan 04, 2012 8:16 pm
Sonny, the Planet Jr should drill be relatively the same as the newer models.
http://www.coleplanter.com/Assets/Plane ... nual09.pdf
Fri Jan 06, 2012 11:40 pm
Thanks for the link Ray!!! thanks; sonny
Sat Jan 07, 2012 8:23 am
For those interested, My family operates the Farmers Daughter in Auburn, Ma. We have a distributorship with Cole. If interested, kindly drop me a pm with any questions on them and I will do my best to help you out.
http://thefarmersdaughterauburn.com/PlanetJr.aspx