Mon Dec 26, 2011 5:41 am
A friend gave me this old saw the othere day, and i would like some info. on it, like who made it ? what size engine was on it ? what color it was, i'm not sure what i will do with it but i'm sure i won't be cutting any thing with it, maybe Yard Art.
Mon Dec 26, 2011 6:43 am
Well Chief, that brings back some memories but not the details. Dad bought a brush saw similar to that years ago to clean off some grown up land. I don't remember the size of motor or the brand but if I were to guess it would be similar to a Briggs and Straton 4 or 5 hp. Was really good on sticking it into brier thickets and cutting arm size brush that was thick and hard to get into.
You had to stay between the handles cause it would kick like a mule, sideways that is. Was not much for cutting down larger trees, but you could get one down then you can flip the blade vertical and saw it up, if you keep the blade properly set, and teeth adjusted with the guide. Worked my teenage butt off. We finally borrowed my Uncles chain saw and with both finished up the work. The chain saw was a lot of stooping an kneeling but less work transporting and dragging around through, except for briers patches. Dad sold the brush saw to my daddy-in-law, who still had it several years back. My nephew bought the daddy-in-laws farm and the saw is probably still down there somewhere. Dad's also had the large bicycle type wheel and hard rubber tires on it instead of the wagon type tires. Hadn't thought about that old saw in years.
Mon Dec 26, 2011 7:40 am
Hey Chief...That old brush/tree farm saw might be turned into a reliable flat belt Buzz Saw. You would have to cut off the wheel frame at each of the vertical posts, and then fabricate a stable, heavy steel or oak skid set. You could then remove the blade, sharpen it carefully and remount it vertically onto a shortened shaft just after the upright frame. You would need to fab up a saw table and then your Massey would supply the flat belt power to run it.
On SECOND THOUGHT, if you really want a buzz saw...buy one for your Cub
! Then just boom carry the old saw to the side of the road with a BIG "FREE" sign on it (after taking a length of garden hose and slicing through half of it length wise and wrapping it around the blade as a safety cover
...'Country'
Mon Dec 26, 2011 8:52 am
I am probably wrong but I seem to remember J C Higgins made one of those and sold it through Western Auto stores. I was scared to death of the only one I ever saw running.
Mon Dec 26, 2011 10:05 am
Thanks guys for the info. and i would be scared to use it also, i'm just going to paint it up and put it in the yard some where.
Mon Dec 26, 2011 11:50 am
EEEWWWW thats scary
Maybe you could loan it out to a Horror Movie Studio
Mon Dec 26, 2011 3:33 pm
Down here before chain saws came along, the pulpwooders used that kind of saw to cut down the trees and then turn it 90 degrees and cut the tree in pulpwood lengths. We had a lot of one legged and one armed men around then because you had to roll the thing on the bicycle tires over logs and limbs and occasionally the blade would be turning and it would hit a log and jump. Of course, you had the guys who used them a lot and got familiar which leads to carelessness and they were usually the ones who got hurt. It would scare me to death to use one of those things. Mary Lou was amazed because a friend had one in great condition and wanted to sell it to me but I refused. She said I have never seen you turn down an old tool or machine. I told her I was afraid to have that thing in the barn even if it was not running.
Mon Dec 26, 2011 3:51 pm
Hi brichter: Thanks for the info. but do you know who made it ??? i know it is dangerous and don't plan on using it except for Yard Art, Oh the shaft still turns just like new,
I see you have a 1951, here is a picture of my 1951 and my Dog Jerry Lea,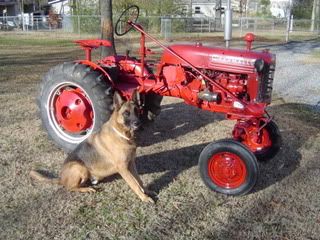 Mon Dec 26, 2011 10:22 pm
MY dad had one simular to that one can't remember exactly what it looked like been probably 45 or 50 years but the one he had had a clinton motor and I think it was made by monark or something like that. The one he had also had a mower blade and a shield so you could mow grass or weeds with it.
Last edited by bear10 on Tue Dec 27, 2011 8:27 pm, edited 1 time in total.
Tue Dec 27, 2011 7:16 am
A buddy of mine used to say: " If you're scared, say you're scared!"
J. C. Higgins was a Sears Roebuck brand, not Western Auto.
Tue Dec 27, 2011 10:07 am
You are absolutly correct about JC Hggins and Sears. In my haste I was confused. I have a JC higgins shotgun that I had when a teenager during the 50's.
Tue Dec 27, 2011 4:15 pm
Mike, I don't mind admitting I am scared of those old wheel saws. You are right, J.C.Higgins was Sears line of sporting goods, such as guns and rods. Western Auto's would have been a Wizard.
Tue Dec 27, 2011 9:27 pm
Sears farm equipment was David Bradley.
Tue Dec 27, 2011 10:52 pm
Yup, One of my chums who happens to be a Sears tech is quite the David Bradley fan and he is pretty sure most of Sears Farm Equipment was David Bradley and their Lawn Equipment was Simplicity . Some of their equipment was also made by Roper, Poulan and others mainly product lines of American Yard Products (AYP).
J.C. Higgins
was primarily recreational equipment.
Wed Dec 28, 2011 7:38 am
Roper bought the Sears lawn and garden line in 1962 and produced it in the Bradley IL plant until it was phased out in 1967. All was MTD after that I believe.

Western Auto's L&G equipment was "Wizard". There sporting goods "Revelation".